Hemp weaves a Joy-ful future for Black farmers
By Naomi Tomky, guest contributor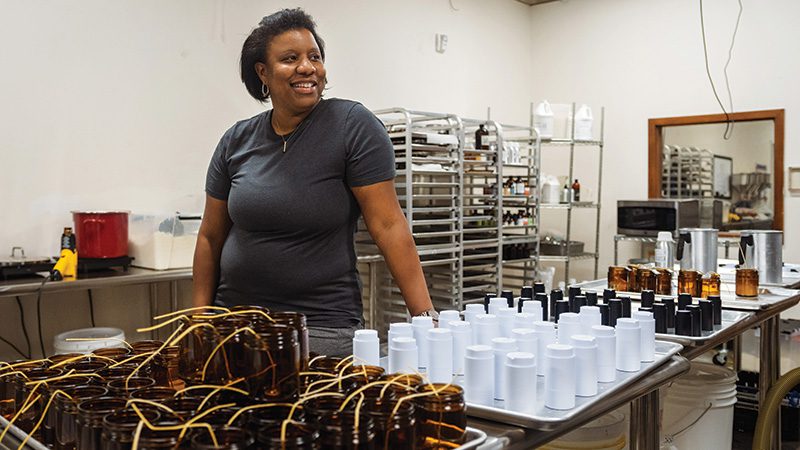 The Hollingsworth family broke new ground as the first Black-owned adult-use cannabis farm in Washington (and, possibly, in the country) when their Shelton farm opened almost a decade ago. But in support of their ambitious goals for equity in their industries, the Hollingsworths now look to a different crop recently legalized at the national level: hemp.
In 2020 the family converted a tiny segment of their 30,000-square-foot cannabis farm to hemp, which they use to make vegan candles with hemp fiber wicks and hempseed oil beauty products such as lotion, conditioner and soap. They recently began producing a private label lotion for PCC (see details below), produced by Joy Hollingsworth from hemp grown by brother Raft Hollingsworth III, based on recipes from salves they developed for family members.
"It won't get you high," Joy Hollingsworth laughs, answering the most commonly asked question about their products. 
Various parts of the hemp plant are used around the world for food, made into building materials and woven into cloth. Hemp comes from the same Cannabis plant people use to get high, but, legally, from only cultivars with less than 0.3% THC—the cannabinoid with intoxicating effects—and with CBD as the dominant cannabinoid. Hempseed oil contains neither CBD nor THC, but does have natural anti-inflammatory, moisture-balancing and hypo-allergenic properties. 
For the Hollingsworths, third-generation Seattle residents, it also holds life-changing potential.
Their entry into the cannabis industry in 2012 broke barriers from the start, fighting through the racist systems that destroy intergenerational wealth in Black families and deter Black farmers. Black people make up only 4% of people working in adult-use cannabis (also known as recreational cannabis). They are only 1.4% of all farmers in the U.S., according to the 2017 U.S. Census of Agriculture, and faced a long history of government discrimination (see "Support for Justice for Black Farmers Act").
Blazing new paths is a family tradition. Dorothy Hollingsworth, Joy and Raft's grandmother, was a groundbreaking civil rights activist and educator. She was the first Black woman to serve on a school board in Washington state and the first director of Seattle's Head Start early education program, among other accomplishments.
The cannabis connection: Dorothy Hollingsworth, who passed away last summer at age 101, had started using cannabis in her 90s to stimulate her appetite. Joy and Raft's mother had also used medical cannabis to ease pain after spinal surgeries stemming from scoliosis. So, when adult-use legalization passed in Washington in 2012, Raft proposed that his family take his small indoor growing experiments outside and scale them into a legitimate operation. He convinced the family to invest their labor in the business, leaving their day jobs, and also their money—a necessity given the lack of banking options available to even legal cannabis businesses. They applied in the first round of licenses to grow adult-use cannabis in Washington in 2013 and opened the farm shortly thereafter. 
As pioneers in a new industry, they found the same systemic bias that affects Black businesses around the country rearing its ugly head. Joy recalls going to dispensaries to sell their products and answering endless questions about every detail of their business and process. "Then another person walks in, that does not look like us, and those questions are not asked." They struggled to find landlords willing to rent them space, eventually making decisions that compromise their comfort on a variety of levels, including safety. Joy, a former professional basketball player, makes sure to leave the hemp company before dark.
Beyond that, the shaky, state-specific legal status of adult-use cannabis prevented the cannabis company from capitalizing on the enthusiastic support it received as a Black-owned, barrier-breaking farm. "It's so secretive," explains Joy. "You can't market it; you can't have Instagram." 
Anthony Bourdain featured the Hollingsworths on his Seattle episode of Parts Unknown in 2018, introducing Joy and Raft to viewers across the country, along with "Auntie, Mom and Dad." With bucolic music and images of the equally pastoral plants, the star extolled their hands-on farming and commitment to quality, how they took a slower, more personal approach than corporations trying to cash in on the crop. "But if they (cannot) go to a store to buy your product, they cannot support you," Joy says. "It's just really hard to capitalize off a market that's so closed and constrained and highly, highly, regulated." They also found new biases against the cannabis industry as a whole, like the difficulty of getting crop insurance as a cannabis farm, partly due to its uneven legal status.
When the 2018 Farm Bill made hemp a legal crop throughout the nation, the expanded market created an opportunity. With the addition of the hemp company to their portfolio, the Hollingsworth family connected with allies in states with much larger Black populations—and where cannabis laws often lag behind those of Washington. In the Hollingsworth story, Texans, Georgians, and others see a future that includes a legal, equitable cannabis industry.
In their near-decade of farming, they watched the real-time effects of climate change in slow changes and a slew of extreme weather events including massive snowfall, inconsistent rain, and, once, a peculiar but ferocious combination of wildfires and hornets. With the hemp business, they saw an opportunity to align with multiple parts of their mission. "Hemp is going to be a really big anchor in creating this sustainability ecosystem where we can help restore our planet from all the deforestation."
The Hollingsworth family hopes to use their accumulated knowledge and land to restore something more personal, too. "We have a responsibility, being at the forefront, to use our platform to bring awareness of the disproportionate impact that the war on drugs has had on people of color, particularly the Black community," Joy explains. She sees legalization and President Joe Biden's recent national pardon for possession convictions as starting points but hopes to see the country move beyond decriminalization and figure out how to reinvest in the decimated people and neighborhoods left behind by the incarceration of so many Black men. "I want people to think about, 'OK, this is great, but how can we reinvest in these communities and continue to build them up?'"
One of her answers comes back to the farm, where she and her family break the mold of typical American farmers—white people with an average age of 57. "What we want to do is take our knowledge and our intellectual property, what we learned, and continue to get more farmers that look like us to actually grow food as well," says Joy. As she and her family expand into hemp, they bring new products to shelves and connect with national audiences. They start to imagine how they can use their land and experience to create a more sustainable and equitable future—one filled with young, successful Black farmers supporting their communities.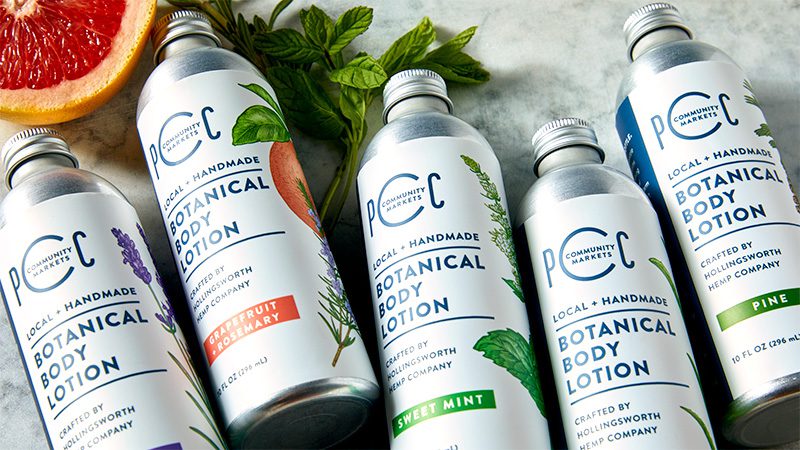 Hollingsworth and PCC lotion
Interested in sampling the botanical body lotion created by the Hollingsworth Hemp Company for PCC? Look for a $2 off coupon in the print edition of the Sound Consumer, available at all PCC stores, valid until March 15, 2023.
The Hollingsworth family's thoughtful approach is why PCC has partnered with them to create new botanical body lotions, scented in lavender, sweet mint, pine and grapefruit + rosemary (plus an unscented lotion).
Raft Hollingsworth grows the hemp for their products without synthetic pesticides—only neem oil and ladybugs protect their crops. From there, the hemp heads to White Center, where Joy derives the hempseed oil and combines it with aloe and essential oils. Joy had initially reached out to Steven Jamieson, PCC's health and body care merchandiser, about carrying Hollingsworth products and said it took a year and a half after that to formulate a lotion that met the co-op's product standards. The long process, she said, "made me a better business owner and a better producer of quality products." She shares the co-op's priority on health and is cognizant of the risks of various chemicals in body care products—her own wife has serious fragrance allergies. As she phrased it, with typical bluntness, "We didn't want to put any bullcrap out there." She loves that PCC is local, connected with neighborhoods and "intentional"—just as they are, especially with their family name on every label.