Growing for Good reaches new heights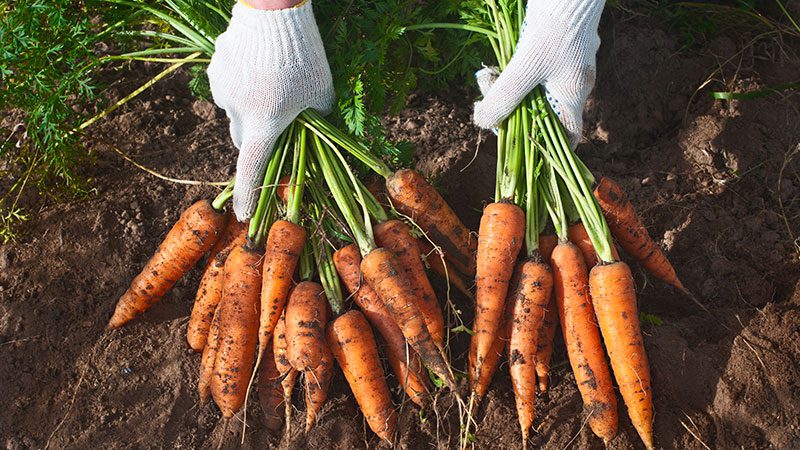 Local hunger relief agencies are getting stable, long-term sources of farm-fresh produce as a partnership spurred by the COVID-19 pandemic moves into a new era. 
Growing for Good, a partnership between PCC Community Markets, Harvest Against Hunger and Seattle Neighborhood Farmers Markets has secured three years of community funding for the program, which directly connects small farms with food banks. The commitment will fuel even greater impacts across Washington state.
"It is deeply inspiring that "with the collective power of our partners, and tremendous support from the co-op's staff, members and community, we will dedicate the next three years to grow this program while strengthening our relationships with local farms and food banks," said Rachel Tefft, senior manager of community food systems.
Growing For Good has been funded by the community for the community since it began in 2020, with a contribution of more than $300,000 between 2020 and 2022. Over the next three years PCC will provide approximately $300,000 in funds raised in its stores, specifically designated to support the purchase of local food from farmers by hunger relief agencies, plus an additional $75,000 from the co-op. With that combined $375,000 of funding, the program can continue to evolve from emergency response to more sustainable support.
Currently, 21 hunger-relief agencies use Growing for Good funds to buy produce directly from 16 small, local family farms. The program allows the agencies to choose diverse fresh produce that meets their clients' needs—to the point where a farm might plant vegetables that they wouldn't otherwise have grown—and gives the farmers upfront payments and predictable, guaranteed sales. More than 114,000 pounds of local produce—the majority of it certified organic—has been purchased through the program so far.
The alliance began in 2020 when Seattle's farmers markets and restaurants were shut down during the height of the COVID pandemic, leaving farmers without their usual sales outlets. At the same time, food insecurity increased significantly as people lost jobs and school meal programs were disrupted. Large food distributors prioritized retailers to ensure public food security, so even hunger relief organizations with financial resources were unable to purchase through their usual sources.
All participating farms remained in business throughout the pandemic. That was especially valuable given that many are already in categories that have faced extra challenges and barriers to farming in the Northwest: More than 65% of participating farms are owned and operated by farmers who identify as Black, Indigenous, and People of Color (BIPOC), many of whom are first- and second-generation farmers, bringing their family's farming traditions to the U.S. 
According to David Bobanick, executive director of Harvest Against Hunger, the partnership "is a perfect example of how a community-based and-supported program can build and expand new approaches to help families and individuals facing food insecurity thrive."
To contribute to the program click here.
In an added bonus, Harvest Against Hunger was also recently awarded a $100,000 grant from the King Conservation District to continue supporting its King County Farmers Share program, a sister program that inspired the development of the Growing for Good partnership. Combined, these programs will continue to provide significant support for local farmers  as well as thousands of pounds of fresh, healthy and local food for those who receive assistance from hunger relief programs throughout our greater Puget Sound region. 
Bobanick noted the importance of continuing consistent funding for its farm-to-community program work. "We've seen how strong ties between local growers and hunger relief partners will make healthy, nutrient dense and culturally familiar foods available to individuals and families across our region. We're also increasingly seeing the longer-term health and social benefits that regular and reliable access to such foods have on previously underserved communities." HAH Farm to Community Program Manager Maddie Price added that, given continued pressures of fuel and supply costs on food prices, "it's heartening to see continued committment for investing public funds in 'good food' that  prioritizes the long-term health of people and the planet, as public goods."