Sustainability Report: From baguettes to breadcrumbs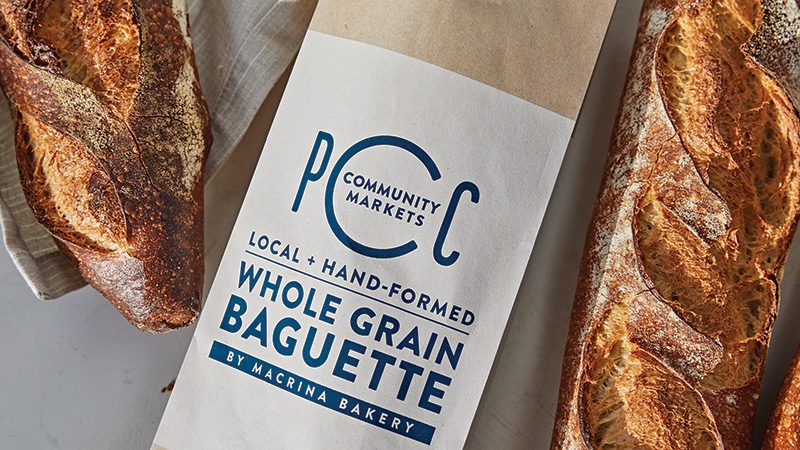 PCC's private label "field to table" baguette is a standout artisan bread. It's made by Northwest landmark Macrina Bakery from organic wheat that's locally grown and milled, delivered fresh daily to all stores. 
The problem: "By design, fresh bread displays in all grocery stores generally have leftovers at day's end and present a huge food waste and grocery rescue challenge," explained Rachel Tefft, PCC's senior manager, community food systems. 
A partnership with Macrina, PCC and FareStart is trying to find fresh life for those loaves, inspired by PCC's participation in the Pacific Coast Food Waste Commitment, a public-private partnership of food businesses working toward a shared ambition of effective, industry-wide actions that prevent and reduce waste food along the West Coast. 
The "upcycling" project is aimed at reducing food waste at PCC and keeping undesirable food out of food bank supplies—and also out of landfills, where food waste is a major contributor to greenhouse gas emissions. The project also supports new skills training and sales opportunities at FareStart, a long-established Seattle nonprofit providing industry job training and community food programs. 
FareStart, essentially told PCC, "We've got cooks. We can figure this out. If you reuse the bread you have, what can we make?" said Tracy Marik, PCC's fresh director.
It's a complicated endeavor that involves a significant commitment from everyone involved.
Upcycling isn't unheard of within the co-op. Leftover roast chickens, for instance, can be stripped of meat to go into a number of deli items like chicken noodle soup. But developing a new product with outside agencies was a different level of project.
"If this were easy, it would have been done a long time ago. We've got some great partners and we're all willing to consider the possibilities," Marik said.
Most grocery stores wind up with around 15% of artisan breads left over at the end of the day. Ordering isn't an exact science. Sales vary enough that a sellout order on Tuesday might leave piles of leftovers on Wednesday; the goal is to have bread available when customers want it. "You have to have a very consistent offering for your customers, otherwise you will lose sales and disappoint people," Marik said.
To start the project, Macrina, which delivers bread daily to all 16 PCC stores, agreed to pick up leftovers so FareStart can collect them. There's no extra work required for PCC store staff: Stale baguettes wind up in the back receiving area for all pickups, whether they're destined for donations or test kitchens or compost.
For upcycling, they determined the baguettes could be ground into breadcrumbs for recipes like PCC's turkey meatloaf, cut and baked into croutons, even sliced and toasted for crostini. 
The potential benefits add up fast. PCC uses about 400 pounds of croutons per week alone in its salad bar and composed salads. It incorporates about 250 pounds of panko crumbs as well, which could be switched to baguette-breadcrumbs. If the project progresses, Marik could imagine adding other breads and bringing in stuffing mixes or other bread-based additions.
Croutons are the first test case.
FareStart developed a PCC recipe from day-old baguettes and Marik and his team tested the first version, suggesting a slightly smaller crouton size and a bit of paprika for a golden hue. With three garlic options, granulated garlic won out with taste testers over fresh garlic or garlic-infused oil, adding a hint of saltiness while maintaining a "fairly neutral" flavor profile that could work in a wide range of foods. (An added benefit: It's also less expensive than the other options. Anything that keeps the price competitive with other options improves the project's chances of success.)
The next step: A large-scale batch that store staff can test and see how it performs in deli foods. The earliest finished products should be available to pilot in PCC deli products by mid-2023. 
The true test for it all, though, will be calculating financial models and making a marketable product. We'll look forward to updating the research and its edible results.