Fresh new ways to use fermented foods
By Rebekah Denn, Photos by Meryl Schenker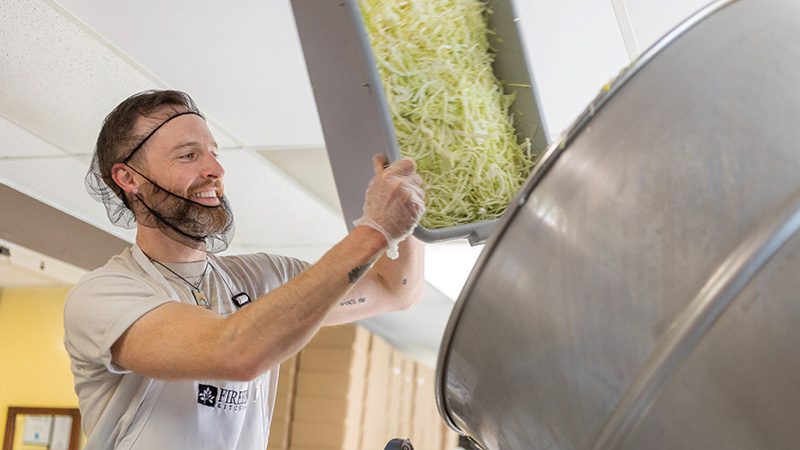 The U.S. Department of Agriculture says there are five major food groups. If Julie O'Brien were in charge she might add a sixth: probiotics.
For more than a decade, O'Brien and her team at Firefly Kitchens have produced award-winning sauerkrauts, kimchis, gingered "Yin Yang" carrots, even hot sauce and a "kimcheese" cream cheese spread. They've been honored with national Good Food Awards for "tasty, authentic and responsibly produced" foods. But O'Brien's dedication to the products—naturally fermented, certified organic, raw and vegan—is a passionate quest as much as a business.
"I'm trying to get people to think of kraut not as a condiment, but as an ingredient," she said recently at Firefly's Ballard production plant, surrounded by hundreds of pounds of organic cabbage and heaps of organic Honeycrisp apples.
"That's when you can have those positive impacts on your health, when you're eating it every single day."
Benefits of raw, naturally fermented foods are fairly well-accepted, especially with research focusing in recent years on how gut health affects the body. A 2021 study in the journal Cell, in just one example, suggested fermented foods might improve the diversity of the microbiome and combat the bodily inflammation that is "pervasive in industrialized society."
In O'Brien's own diet, kimchi and kraut might top quiche or scrambled eggs or a bowl of savory congee. Forkfuls are mixed into her wraps and salads, scattered on grain bowls, blended into smoothies and dips and salad dressings. O'Brien—searching for every avenue to appeal to a wide audience—offers generally mild flavors at Firefly. There's the dill-and-kale flecked Emerald City Kraut, the bright lime and cilantro of Salsa Viva, the comforting caraway kraut that contains just four ingredients, with two of them being sea salts. (The other two, as you might guess, are green cabbage and caraway seeds.) In recent years, looking to add fresh fuel to the field, Firefly developed salts to sprinkle on foods, fermented brine tonics for sipping, even a new pureed kraut for those who don't like the texture or "squeak," as O'Brien describes it.
"Everyone wants convenience and ease…you can stir (pureed kraut) into baby food, you can stir it into your oatmeal, into yogurt, into hummus, into guacamole, all your favorite things that you already have," O'Brien said.
Her passion stems from her intense belief in the benefits of "true" fermented foods, made without sugar or vinegar, which are credited with improving digestive health. Her interest turned into a vocation while pursuing a second-career degree as a nutritional therapist.
While O'Brien would, of course, like people to buy Firefly's products, she shared their key recipes in a 2014 cookbook, "Fresh & Fermented" and offers several recipes on Firefly's website. It's all the same to her if you make it at home, to her thinking, so long as you're eating it.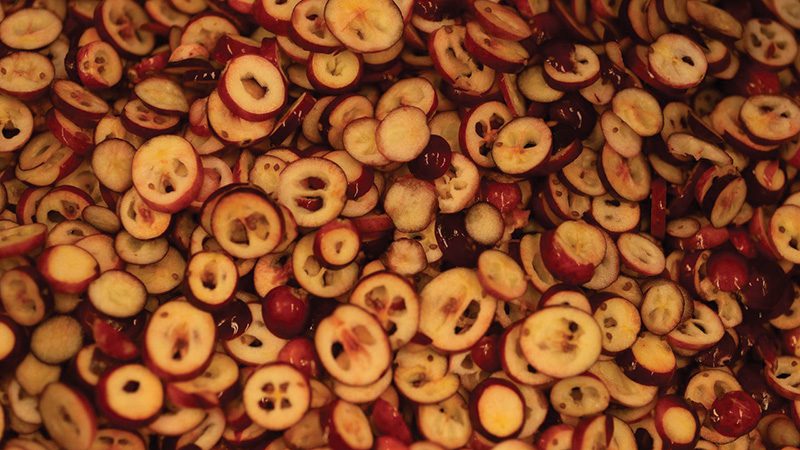 On one fall production day, Firefly's staff was starting their annual tradition of a limited edition Cranberry Kraut (it should be available at PCC through February). General Manager Debra Dubief said the team had been watching closely and waiting for the cranberry harvest to be ready.
Organic cranberries are already a rare crop in the Northwest, and they were unseasonably late last year, as were many other harvests given the cold, wet spring of 2022. The seasonal kraut's four-week fermentation time meant processing them immediately so they'd be ready for Thanksgiving tables and then a few months longer in stores.
"It'll be ready exactly the day we want it picked up to go out to stores to get in people's hands," Dubief said.
A ton of cabbage—sometimes as much as 2,500 pounds—goes through the facility on typical production days.
On this one, Linda Harkness, a longtime worker who's known O'Brien since before the business began, washed and sorted rivers of scarlet berries, then sliced and cored her way through 32 pounds of apples. Honeycrisps command a premium price, but the variety's particular mix of sweetness and tart crunch make them the best variety for the recipe, O'Brien said. All Firefly's products are certified organic; there was never a question about that, she said, with a focus on health and preserving natural microbes.
Another hefty Cambro container stored the peeled oranges Harkness had already processed, awaiting a blitz into the mixture along with pieces of zest. Another table was weighed down with cored and wedged cabbages, ready to be machine-cut into thinner ribbons along with the thin-sliced circlets of cranberry and half-moons of Honeycrisp.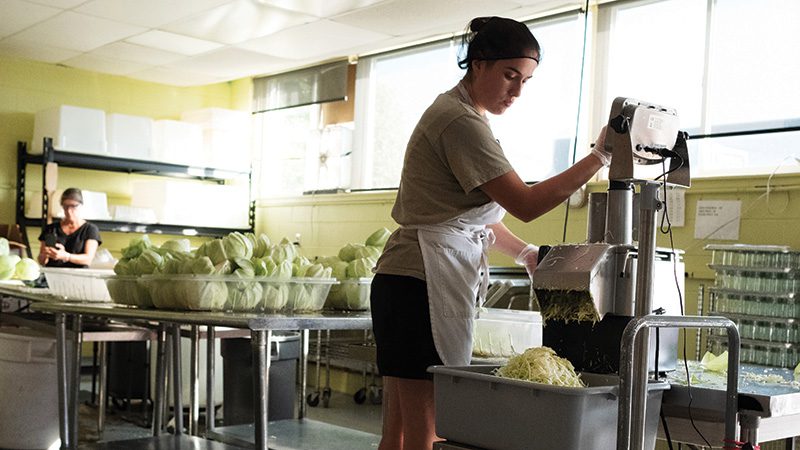 Along with sea salt, spices and water, Troy Moore-Heart loaded them into a 55-gallon drum that rotated gently and tumbled everything together. As the timer sounded, the handful of workers on the line gathered around to watch the green and red-flecked river of produce cascade into a barrel. The fermented mixture would produce 300 jars, half the year's production. It's packaged by hand as well as processed that way, with workers using what looks like a modified silver milkshake container to measure equal portions into each jar before it's labeled, fermented, and ultimately shipped to stores or sold at farmers markets or packaged for mail orders.
"We're like farmers," O'Brien said. "Secondary farmers."
It's a lot of hands-on work in a 1,500 square-foot production facility. It's also something more than a manufacturing job.
Boxes that head to stores have cards inside thanking employees for their hard work stocking the shelves.
Harkness, who credits fermented foods with major health effects in her own family's life, blesses the jars before they leave the building. "I just think that good energy is really important and it shows up in the food. I have always had this belief that everything has its own form of consciousness…," she said.
"I always talk to the food and I tell them—the cabbages—thank you, and (thank you to) everybody that's touched it and when I pack up the pallets to go out or, I'm bringing some for somebody to take away I just put my hands on it and say thank you and bless you, with love and gratitude. Go out there and make everybody healthy, happy, prosperous and free, including us."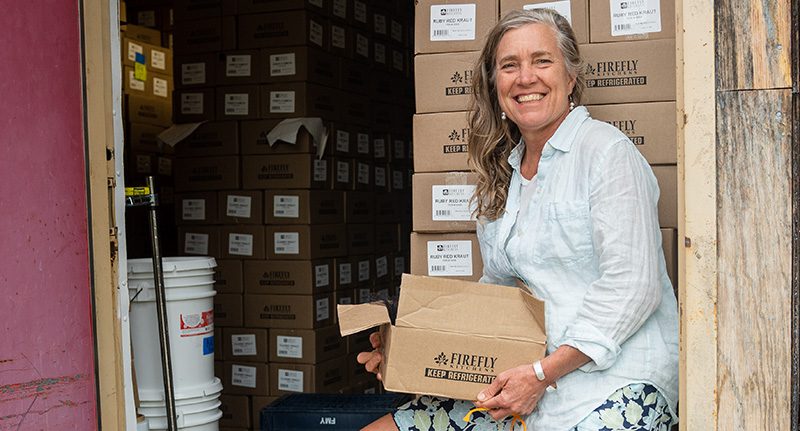 Learn about fermented foods
Firefly Kitchens co-founder Julie O'Brien will teach PCC cooking classes on how to make probiotics and fermented foods part of your daily diet, with out-of-the-box recipes from fruit smoothies to Firefly's popular Kimcheese dip.
Sign up here
Curry Quinoa Salad
This is a lunchtime favorite at Firefly Kitchens. Quinoa, with its high protein content, along with all the flavorful ingredients, make this a delicious and nourishing staple. Add fresh mint or other seasonal herbs to tweak this salad's flavor. You may also toss in garbanzos, white beans, or sliced chicken or turkey to make a more substantial meal. This salad is a great one to make ahead because the flavors develop after resting in the refrigerator overnight, so it tastes even better the next day.
Makes 4 servings
1 tablespoon apple cider or rice wine vinegar
¼ cup lemon juice
2 teaspoons curry powder
⅓ cup extra virgin olive oil
¼ cup chopped basil or Italian parsley
¼ cup chopped cilantro
1 ½ cups Yin Yang Carrots (jars available in PCC stores, or the recipe is available in the "Fresh & Fermented" cookbook)
1 ½ cups chopped red bell pepper (about 1 medium pepper)
4 cups cooked quinoa
½ cup chopped dried cranberries or cherries
½ cup chopped pistachios, almonds or cashews
salt and pepper
Combine the vinegar, lemon juice, curry powder, olive oil, basil and cilantro in a medium-size bowl. Let sit 5 minutes. 
Take the carrots out of the jar with a clean fork, letting any extra brine drain back into it. Toss the carrots with the bell pepper, quinoa, cranberries and nuts. Pour the carrot dressing over the quinoa and toss to coat. Season to taste with salt and pepper. Serve right away or refrigerate for up to 3 days.
— Recipe courtesy of Firefly Kitchens