Secrets of shopping the bulk bins
By Rebekah Denn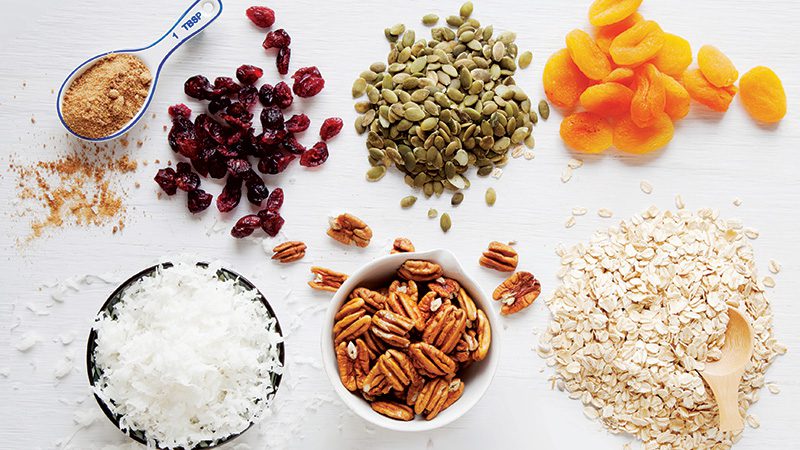 Smart grocery shopping advice almost always includes a suggestion to shop the bulk bins. The floor-to-ceiling containers filled with grains, nuts, spices and more are usually hailed as a way to save money—and they often are! 
Their benefits, though, go beyond the dollar savings.
PCC was an early pioneer in bulk sales (see below)—after all, the co-op was originally founded as a bulk buying club in 1953. As we celebrate our 70th anniversary this year, here's an update on what bulk bins can offer in 2023, and tips for how they can benefit your kitchen and home.
Variety
A well-stocked bulk section provides a lot of choice, frequently offering more options than packages on the shelf. At PCC's Green Lake Aurora store, for just one example, the bulk section offers 17 different kinds of rice, from organic red rice to forbidden rice to sushi rice to long-grain brown rice. Oats are available in every form from quick rolled oats (which are finely cut and cook faster than other varieties) all the way up to whole oat groats and oat bran.
Dried pinto beans? Check. White chia seeds? Those too. Lapsang Souchong tea leaves, dulse (seaweed) granules, slippery elm bark powder, tamari-roasted almonds, Lavender Lullaby bath salts? All of the above. PCC stores generally stock more than 400 bulk items, with some variations depending on store size and layout.
Fresh flavors
In well-stocked stores the contents of bulk bins turn over quickly and may be fresher than packages on the shelves. Nuts, oats and flour are generally refilled every day or two, and coffee might be refilled twice daily, said grocery merchandiser Noah Smith. The benefits don't come any fresher than the single-ingredient nut butters that shoppers can grind on the spot like coffee. For bulk peanut butter, PCC uses organic CB's nuts, which are grown in the U.S. and roasted in small batches in Kingston, Wash. All stores also carry almond butter grinders filled with organic almonds from Equal Exchange's Burroughs Farm in California, the first almond farm certified as Regenerative Organic by the Regenerative Organic Alliance.
More than food
PCC offers many health and body care items in bulk at selected stores, from protein powders to rosewater to liquid soaps to hair care. (The West Seattle, Ballard and Kirkland stores have expanded bulk sections for the largest selection of these items.)
Reduce packaging waste
Thanks to recent changes in state regulations supported by PCC, shoppers can use their own clean reusable containers for many bulk foods, which reduces use of plastic bags and twist-ties. (Have the cashier weigh your containers before filling them.) Due to health department regulations, reusable containers still can't be used for some bulk items, most notably foods it classifies as "ready-to-eat" in scoop bins, including herbs and spices, sugar and oats.
Plastics use is also slashed by using selected bulk goods where PCC has established "closed loop" packaging (see "Behind the Bulk: PCC Adds "Closed Loop" Body Care Products and More"). For those items, containers are returned to manufacturers to be cleaned and reused rather than discarded or recycled. Moon Valley liquid soaps are delivered in 5-gallon buckets that are cleaned and reused on the farm. The owner of Shephard Moon delivers bulk Epsom salts in 10-pound reusable bags.
Organics
Around 65% of PCC's bulk items are certified organic by the United States Department of Agriculture (USDA). Organic items get precedence in selections, Smith said, supplemented with non-organic items for lower-priced options, unique offerings, or to fill gaps where organic items aren't available.
Shopping small
Bulk bins let shoppers buy just the quantities they'll need for a recipe or to sample a product, rather than leaving lots of leftovers that might go bad or stale. This is especially relevant for items like nuts and whole-grain flours, which turn rancid with long storage. Small quantities are also valuable for shoppers with limited pantry space for extras.
Goldie Caughlan, PCC's former nutrition education manager, told Seattle's Museum of History and Industry in a 2004 oral history, "When you hear the word bulk, 20 years ago we used to talk about buying a large amount, and that that was a way of saving money." Over time she came to realize buying huge amounts of food wasn't necessarily the best way to either save money or preserve nutrients. "It's far more important to think in terms of being able to buy (a) little."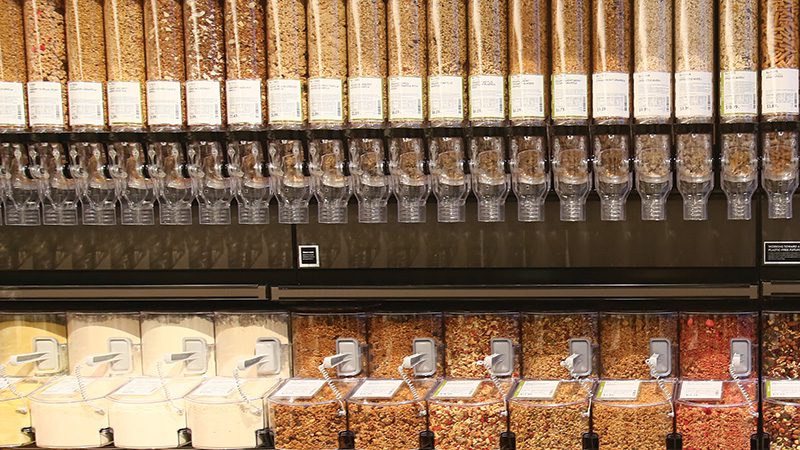 Shopping big
That said, some shoppers, especially those with large families or other supersized cooking commitments, do need hefty quantities of bulk goods. Bulk bins offer the option to choose whatever quantities they need, including amounts that might not be available pre-packaged. (Note: PCC offers a 10% discount for buying a full case or bag of any item; the quantity varies depending on the item.)
Buying in large quantities also lowers the odds of running out of necessities. Health and Body Care Merchandiser Steven Jamieson noted that he always has extra dish soap on hand in the kitchen from bulk purchases. If your preferred soap is the foaming variety, he said, "save your favorite foaming soap container and refill with castile soap from the PCC bulk department once empty. The ideal ratio is ⅓ castile soap to ⅔ water and is fantastic for cleaning dishes—my favorite scent is the Lemon Rosemary from Moon Valley—perfect for the kitchen."
Spice it up
Spices combine some of the best benefits of the bulk bins. They typically offer some of the biggest savings, costing a fraction of their jarred equivalents. "You'd be paying around $4 a jar for what would cost 25 cents in bulk," Smith said. Spices are also most aromatic and powerfully flavored when fresh-ground, benefiting from frequent smaller purchases rather than a jar that might languish in the pantry for years. (Extra bonus: You can buy spices like nutmeg whole and grate them as needed.) With pricier options like whole vanilla beans, it's an added layer of security to confirm before purchasing that they are plump and moist, rather than risking dried-out beans in a sealed jar.
Make to order
Bulk bins are a powerful palette of ingredients for creating foods just the way you like them. From granolas to cereals to trail mix or soup mixes, they offer nearly infinite ways to mix-and-match as you like (see recipes below). Even your own herbal tea blends are options with bulk ingredients like organic dried hibiscus flowers, chamomile or peppermint leaf.
Savings
Many if not most bulk items cost less than their packaged equivalents. Spices are one highlight, but Smith noted that bulk oils (available at some PCC stores) are the "hidden gem in the value department," often priced dollars cheaper per pint than bottled oils.
Information online
Wondering how to cook a particular bulk item like falafel mix or French green lentils? Wondering about their nutritional data? PCC's website has a search function providing that information for all bulk items. Bonus: Unsure whether that bag in your pantry is spelt flour or multigrain pancake mix? Simply type in the bin number into the bulk search for the correct ID.
Whole Grains, Nuts and Seeds Granola
Makes about 1 quart (8 [½-cup] servings)
3 ½ cups rolled oats (not quick-cooking)
½ cup unsweetened coconut flakes
¼ cup flaxseeds
½ cup raw nuts (your favorite variety)
¼ cup white sesame seeds
¼ cup sunflower seeds
1 teaspoon kosher salt
¼ cup high-heat oil, such as sunflower or refined peanut oil
½ cup honey
1 teaspoon vanilla extract
2 cups dried fruit, chopped into bite-size pieces
Preheat the oven to 375 degrees F. Line a baking sheet with parchment paper.
In a large bowl, combine the oats, coconut, flaxseeds, nuts, sesame seeds, sunflower seeds, salt, oil, honey and vanilla. 
Spread the mixture on the prepared baking sheet. Bake for 20 to 25 minutes, stirring three times during the baking process. The granola should be a toasted golden brown.
Cool the granola completely before stirring in the dried fruit. Store in an airtight container in the refrigerator for up to 2 months.
Note: Granola can be a great way to simply use up the odds and ends in your pantry, but if you want to make a special batch, here are some favorite dried fruit and nut combinations. With larger dried fruits like figs and mango slices, it's best to cut them into bite-size pieces before adding them to the granola.
Hazelnuts and dried cranberries
Pecans and dried peaches
Pistachios and dried cherries
Walnuts and dried apples
Sliced almonds and dried mangoes
Whole almonds and dried figs
Macadamia nuts and dried apricots
From "Cooking from Scratch" by PCC Community Markets (Sasquatch Books, $24.95)
Instant Pot Red Lentil Soup
This recipe is lightly adapted from Madhur Jaffrey's "My Mother's Red Lentil Soup" in her cookbook, "Madhur Jaffrey's Instantly Indian Cookbook" (Alfred A. Knopf, $22). Jaffrey's original includes wedges of lime or lemon, plus finely chopped cilantro to sprinkle on top. In all honesty, Jaffrey says both those ingredients are essential—but we think the soup is excellent without them too, and omitting them means all ingredients are shelf-stable (and available in bulk). The recipe makes a great last-minute meal backup. The quantity of spices can be adjusted to your tastes. 
Makes 4 servings
1 cup red lentils, well-rinsed
¼ teaspoon ground turmeric
⅛ teaspoon ground clove
⅛ teaspoon chili powder
¾ teaspoons salt
Place all ingredients in the inner container of an Instant Pot or other electric multicooker along with 3.5 cups water. Close and seal the lid and cook at low pressure for 5 minutes. Release the pressure manually. Open the lid carefully, venting the steam facing away from you. Stir and thin with hot water if you prefer a thinner texture. 
Bulking up on history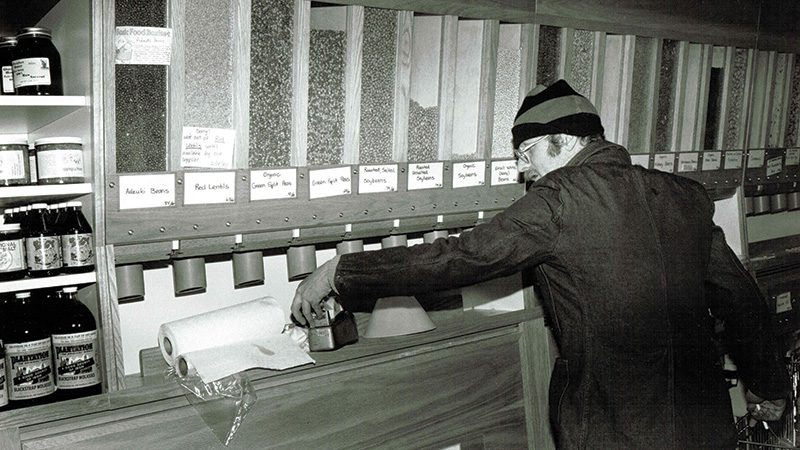 PCC was founded as a 15-family food buying club led by John Affolter in 1953 (it officially became the Puget Consumers Co-op in 1961). Bulk purchases were key both before and after its first store opened in 1967. A few early looks at its development:
Listings in its 1965 newsletter, the predecessor to the Sound Consumer, priced out 10 pounds of beans and 10 pounds of unsweetened cocoa, a gallon of maple syrup and a 2-pound package of rye flour.

 

Even in 1966, interest in packaging was keen, with members urging "heavier containers, longer twistee closures, and use of coffee cans."
A 1968 assessment hailed how, even "without a slide rule," there was no question PCC bulk goods offered "realistic price advantages."

 

And in 1973, "an anonymous customer failed to close the spigot on the Dr. Bronner's (soap), the result is approx. five gallons of Dr. Bronner's on the Co-op floor. At $1.11/qt, five gallons equals $24.65 of spillage." Two gallons of molasses were lost the same way. "It is fortunate that molasses flows slow in January, but it still is a good reminder to bulk liquid users to be sure the spigots are all the way closed." (PCC still carries several types of bulk Dr. Bronner's, though the containers are now better secured.)