Behind the bulk: PCC adds "closed loop" body care products and more
By Rebekah Denn
This article was originally published in March 2020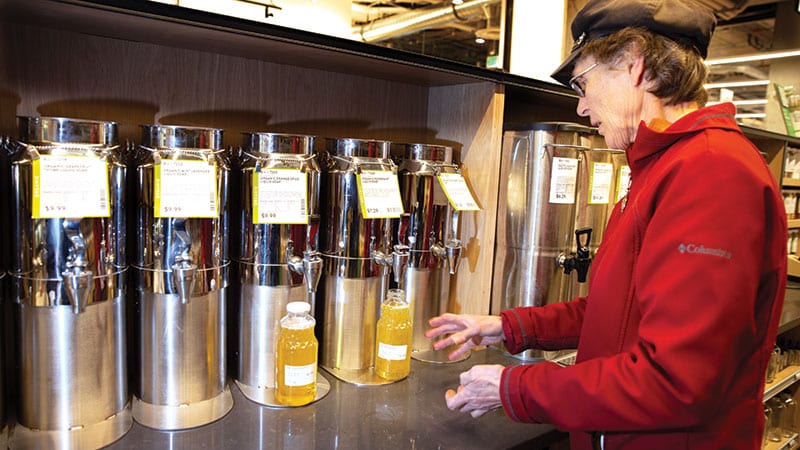 ---
For more and more shoppers, solutions to the problem of single-use plastic waste now come in bulk. And while we often focus on the food that's available in supermarket bulk bins, health and body care products offer an underappreciated opportunity to reduce our packaging waste.
For PCC, a carefully-developed pilot program at our West Seattle store aims to not only expand our bulk health and body care offerings, but also offer more environmentally sustainable packaging options behind the bulk.
Stretching out into an expanded new space, the West Seattle PCC bulk health and body care section offers organic almond oil and witch hazel and dried calendula flowers, elderblossom body lotion and bath salts, rosewater and beeswax and grapefruit-thyme scented liquid soap.
Some of the new products are even stocked through an innovative "closed loop" system where containers are returned to manufacturers to be cleaned and reused rather than discarded or diverted to a recycling bin. Other products are supplied in jumbo containers that avoid excess waste. The store also eliminated plastic refillable containers in the bulk section, selling only containers that are made from aluminum or glass (customers may still bring their own plastic refillable containers).
"We knew when we were reopening in West Seattle that we wanted to do bulk better than before," said Steven Jamieson, associate merchandiser for health and body care.
The community already had a strong interest in bulk goods, and the new store allowed space to experiment and grow.
"We wanted this to be kind of an experimental store, let's see how it resonates," he said. (The new Ballard store has the same lineup in its health and body care department.)
---
Adding the new bulk health and body care items was a challenge for many reasons, including the fact that PCC's prior supplier for bulk shampoos and conditioners had stopped selling bulk products in wholesale quantities.
As Jamieson and merchandiser Terry DeBlasio reached out to manufacturers, though, they found some of their favorite companies were willing to work with PCC even to the point of developing new products and new distribution methods.
Jody Berry's Wild Carrot company in Enterprise, OR, for instance developed the unscented elderflower lotion, which DeBlasio called "a phenomenal product," perfectly textured and made with intention and with wildcrafted ingredients.
The lotion is delivered in gallon glass jugs that are then returned to Wild Carrot to sterilize and reuse. Removing labels was one concern (as was keeping the glass intact on its return trip), Berry said, but PCC elected to use metal label collars attached by a chain, eliminating the need to find a removable label.
The program—Berry compared it to the old-fashioned milkman model—is still in its infancy, but Wild Carrot has already gotten jugs back and is successfully reusing them. Berry thinks it's the kind of program that can cause real change.
Closed loop systems are starting to make inroads into packaged foods (Nature's Path is one pioneer in the field) but aren't as common for body care products.
"Each brand we're doing this closed loop system with has their own unique way of doing it," Jamieson said.
The owner of Seattle-based Shepard Moon, for instance, delivers bulk Epsom salts to the stores in 10-pound reusable bags.
"Eventually a goal for us is to standardize how we manage the closed loop system, we would love to have standardized containers that we're shipping back and forth."
Even when we haven't reached a complete closed-loop system, we're working with producers to reduce plastic waste. Seattle-based Moon Valley Organics now packages liquid soap for PCC in 5-gallon buckets that can be washed and sanitized more easily than the previous narrow-necked 1-gallon jugs. The buckets are currently reused on the company's farm.
The goal for PCC was to bring in the best-quality items possible, said Jamieson, asking, "what can we offer that's local and really special to our marketplace?" In some cases that opened the door to value-added products such as organic versions of a product at more competitive prices.
"We want our co-op to be accessible to everyone at every income level. It's important that we offer some body care as well as food items that are more affordable and yet still the same quality," DeBlasio said.
Other times the suppliers were able to source a more user-friendly format, such as the bulk beeswax, which is sold in pellets that can be used to make homemade lotions and salves more easily than packaged bricks.
Storing bulk body care products and presenting them in a way customers could easily measure out was another challenge. Items like the cold-pressed body oils are expensive per pound and often oxidize quickly. After some research, they are being dispensed from stainless steel containers that allow shoppers to fill containers with one hand, and that do not easily drip or spill. Merchandisers also had to source extra-sturdy pumps that wouldn't clog or leak to stock bulk quantities of thicker, more viscous materials like conditioner.
Avoiding hidden waste was another goal.
Jamieson credited Redmond-based Uncle Harry's, which supplies PCC with products like the new bulk rosewater, for its focus on zero-waste packaging, and for highlighting issues like the "hidden plastic" that can plague bulk systems. Essentially, their point was that bulk bins aren't as environmentally sound as they look if stores just fill them by dumping in supplies from multiple small plastic containers.
"We were inspired by her response with that. How can we limit the plastic, what can we do about this? And the best way to do that is a closed-loop system," Jamieson said.
Bulk departments are already labor-intensive for grocery stores, between cleaning containers and refilling them. Environmental considerations add another layer of effort, but a worthwhile one. PCC hopes to eventually offer bulk health and body care products in at least one store in each region it serves.
The ultimate goal would be an entirely closed-loop system, though it's a distant one, considering how much of the industry hasn't even considered the concept.
"There's no road map for it," Jamieson said.
We are at least on a good path to creating one.
"We're intentional in who we choose for partners, people who have similar values and are looking at the same challenges that we are looking at and who understand the importance of it," DeBlasio said. "That makes it so much easier."