Trimming costs for holiday meals
By Kim O'Donnel, guest contributor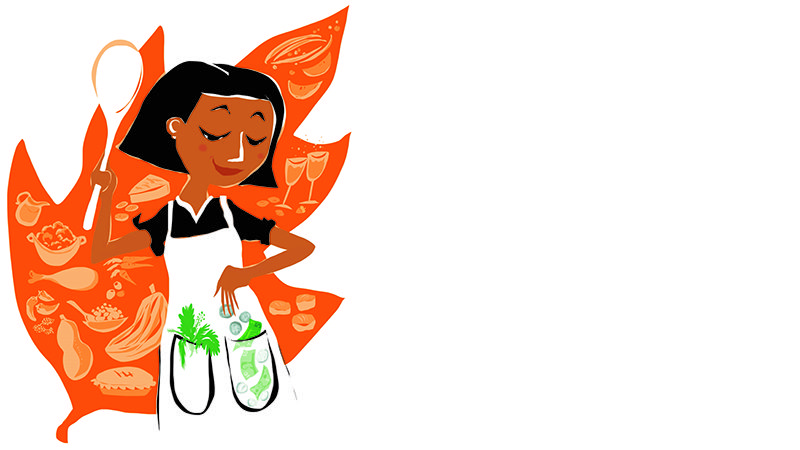 Festive holiday meals don't have to break the budget. We have tips for a sumptuous celebration that's still mindful of your wallet.
The suggestions that follow are both practical and psychological, a mix of dollar-stretching tricks and tough-love guidance for anyone who has a hard time adjusting to change (whether that person is you or the lone guest at your table who insists on—and is the only one to tuck into—the creamed onions 20 years and counting). 
To be clear, there is no singular solution for shrinking your grocery bill in a festive season, or any season. Do whatever makes sense for you and your family and be aware of the tradeoffs. 
For one tradeoff, time is money. If buying a pumpkin pie (versus making one) saves a few hours you don't have, is that pie still expensive? Then again, can you put a price tag on an afternoon making pie dough with your kid or a neighbor?
Nostalgia also has its price. Why do we spend money on out-of-season green beans to recreate a casserole from 1955? (The original version was created that year in a Campbell's Soup Co. test kitchen.) If the tradition is invaluable to your family, more power to you. If not, see below for potential substitutes.
Stating your priorities is the most important first step: What are the must-have items on your menu and what is negotiable? Write it all down and spend time with your list. This step is critical to getting clear about what makes the meal special. You'll know when you know. And when you do, consider the following ideas:
About that turkey…
 Turkey is typically the highest-ticket item on Thanksgiving tables. Beyond inflation, an outbreak of avian flu earlier this year introduced added uncertainty about supplies and price tags. 
Turkey diehards, keep an eye on sales as the holiday nears if you're flexible.
For a guaranteed savings, though, consider downsizing. Smaller parties of two or three could go for a turkey leg/thigh combo—or opt for a whole chicken instead. 
Go team squash
Consider taking a year off from poultry altogether and explore the multicolored world of winter squash. Sliced in half lengthwise, many varieties make terrific entrée-sized boats, which you can stuff with your favorite grain. Pumpkin shapes can be roasted whole and filled with your favorite bread stuffing or oozy cheese. 
For newbies, my pick is the delicata, a small, oblong variety that tastes like a mashup of sweet potatoes and corn. Weighing in at about 8 ounces, the delicata is as long as most kitchen knives (6 to 8 inches), dimensions that make it easy to hold in one hand (a rarity among winter squash). Its thin skin means it's easy to pierce with a knife, making prep a breeze. Those boats roast up in about 30 minutes. I love the color contrast when they're filled with red rice (see recipe below).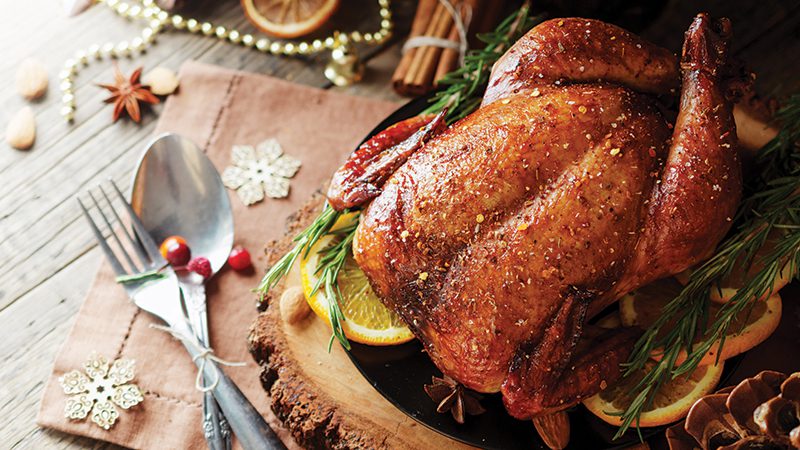 Check out substitutions
Some simple swaps can maintain the table's abundance without a painful price tag. 
Rather than mixed salad greens, for instance, consider raw options like a vinegar slaw of red or green cabbage, or a massaged kale salad. Those hardier greens are often easier on the budget and will also provide longer-lasting leftovers, another form of savings.
Green beans and asparagus are both out of season in November, which means they too are traveling great distances to get to your holiday table and are usually priced accordingly. 
Plan B? Brussels sprouts. Not cabbage-cheap by any means, but this cabbage relative is a good value and a Northwest fave with plenty of festive ways to dress them up (click here to see some options).
Just say yes to…
Soup as a first course, especially one that is pureed (and can be made ahead and frozen, saving another valuable resource: time). Vegetable purees are an elegant and filling way to kick off a feast—and typically affordable, especially since you can often choose among several ingredients for the lowest-cost option of the week. Use the fall bounty as your muse; carrot-fennel, potato-leek, apple-turnip and broccoli-ginger are among my favorites. 
Do it yourself
Stock up on stock!
Poultry people: Get a freezer bag going and when you get about five pounds of chicken backs, wings and feet, you're good to go. Make the stock ahead and freeze; it's one less thing to do the week of Thanksgiving. 
The same rule applies for the veg set: Get a stash going of onion skins, parsley stems and woody parts of leeks and keep in a freezer bag until full. There is a certain thrill about making something from scraps, especially when the bill amounts to zero.
Get another freezer bag going for bread cubes. Loaf remnants that are too small for sandwiches can be cubed and stored until you're ready to toast and ready them for stuffing. 
Speaking of bread, this is me shouting from the rooftops: Make your own dinner rolls! It's fun, it's easier than you think, and it feels like a true accomplishment. I loved the results of my inaugural batch of the Parker House rolls from Coyle's Bakeshop in Seattle. I took owner Rachael Coyle's advice and baked them a few weeks in advance and made more room in the freezer. Not only did the rolls reheat beautifully; they kept well for months after the holidays (see recipe below).
Make your own veggie tray. Cutting a few carrots and celery stalks is a fraction of what a catered party platter will charge you. What you are paying for is someone else's knife skills. You decide. Cover the crudité with water and store in the fridge to keep super crisp. Drain when ready to serve.
Meet pie's cousins
If making your own pie dough still creates anxiety and you can't afford pre-baked shells or pies, why not fruit cobbler or buckle or crisp? They're all in the same family of Colonial-era desserts. No dough skills are necessary. 
Sharing is caring
Are you the perennial host? Are you also the host who refuses help? Well, this year is gonna be different. Make this a true potluck, and as host, you can decide who brings what. It does require some admin skills, but the reward will be in the savings. At last, you are not on the hook for the whole meal. 
If wine is involved, everyone brings a bottle. As a group, you could buy a case, which often comes at a discount. (PCC offers 10% off four bottles.)
Sharing also includes kitchen tools—roasting pans, racks, potato mashers, serving platters, mixers. Embrace the spirit of the borrow and swap. "I'll trade you my roasting pan for your stand mixer."
You need rosemary and sage for stuffing and your neighbor has herbs aplenty in the garden. This is your kick in the pants to make the ask. 
Don't forget thrift shops and yard sales for tools and dishware; the treasures—and bargains—await. 
Parker House Rolls
Adapted from Coyle's Bakeshop, Seattle
These call for a two-day slow rise in the refrigerator, which means you can focus on other make-ahead projects in the meantime. And yes, they are delicious and you will thank me when you're smooshing your very own rolls in gravy and cranberry sauce later this month. 
Makes 25 to 30 pieces
Ingredients for sponge:
2 cups cold whole milk
½ cup boiling water
1 tablespoon active dry yeast
3 ¼ cups all-purpose flour (or 390 grams on a scale)
2 tablespoons plus 2 teaspoons granulated sugar
Combine the milk and boiling water in a large bowl. Sprinkle the yeast on top and whisk until blended. 
Cover and let sit for 10 minutes. 
Add the flour and the sugar, whisking until the mixture looks like lumpy pancake batter. 
Cover with plastic or a kitchen towel and let the sponge proof at room temperature until doubled in bulk and bubbly, about 1 hour. 
Ingredients for final dough:
3 cups all-purpose flour (or 360 grams on a scale)
1 tablespoon kosher salt (or 2 teaspoons fine sea salt)
4 tablespoons (2 ounces) very soft unsalted butter
To make the dough in a stand mixer, use a dough hook attachment. Add the sponge first, followed by the flour and the salt. 
Mix together on low speed. 
Cut the butter into small pieces and distribute around the bowl. 
Mix on low speed until the dough comes together; stop and scrape any dry bits on the side and bottom of the bowl as needed. 
Turn off the mixer and let the dough rest for 10 minutes. 
Resume mixing on low speed until the dough is smooth, pliable and just barely sticky, about 10 minutes. 
(Plan B: Mix by hand in a large bowl until the dough is too stiff to stir. Dump the dough onto a lightly floured work surface and knead for 8 to 10 minutes. Dough should be smooth and pliable.)
Transfer the dough to an airtight container that is at least double the volume of the dough. 
Refrigerate for 48 hours. 
After the first 24 hours, press on the dough to deflate; this helps keep the dough from over proofing.
Ingredients for shaping, proofing and baking the rolls:
Soft butter for greasing, plus 4 tablespoons melted, for baking
Coarse salt for sprinkling
Press on the dough to deflate and dump onto a lightly floured work surface. Grease a sheet pan with soft butter. 
With a sharp knife or dough scraper (aka bench scraper), divide the dough into portions weighing about 55 grams each (or about the size of a small tangerine or hacky sack). Shape the rolls into taut balls and arrange on prepared pan, about 1 ½ inches apart. Lightly dust tops with flour and cover loosely with plastic. 
Let the rolls proof in a non-drafty spot until doubled in size, about 1 hour. When fully proofed, the rolls may be starting to touch; that's OK. 
Preheat the oven to 350 F. When oven is ready, brush the tops of the rolls with the melted butter and finish with salt. 
Bake on the middle rack of the oven for 10 minutes, then rotate pan from front to rear. Bake until rolls are golden brown, 10 to 15 minutes more. 
Completely cool before storing in the freezer. 
To reheat frozen rolls: Keep in freezer until ready to reheat. Preheat oven to 325 F. Arrange on a sheet pan and bake for 20 minutes. The outside should be crisp and the inside should feel soft. Wrap in a kitchen towel until ready to serve.
Roasted Delicata squash with red rice stuffing
Serves about 6
Delicata squash
Neutral oil or olive oil
Salt (optional)
Red Rice Stuffing* (see below)
Preheat the oven to 400 F.
Line a sheet pan with parchment paper. 
Wash three to four squash (depending on size) and remove any stuck-on dirt, then towel dry. Trim both ends. 
Slice in half lengthwise, then scoop out seeds and stringy pulp. 
Place in a medium bowl and coat with enough oil (neutral or olive oil is fine) until squash is slightly glistening, 1 to 2 tablespoons. Salt if you like, about ¼ teaspoon. Not a big deal if you don't.
Arrange in a single layer on lined pan. Roast until fork tender and the flesh begins to recede at the edges, 30 to 35 minutes. 
Fill each squash half with ⅓ cup of filling. 
Return to oven and heat for about 15 minutes, until warmed through. 
Red Rice Stuffing*
Excerpted from "The Meat Lover's Meatless Celebrations" by Kim O'Donnel
1½ cups water
1 cup Bhutanese red rice (or long-grain Wehani)
⅛ cup olive oil
½ cup fresh parsley, chopped
½ cup unsalted shelled pistachios, chopped (Plan B: walnuts or almonds)
⅓ cup dried cranberries or cherries, chopped
1 teaspoon fennel seeds
1 teaspoon peeled and minced fresh ginger
Zest of ½ lemon or orange, plus 1 or 2 squeezes of the juice
A few pinches of ground chile pepper of choice
Bring the water and rice to a boil in a medium saucepan. Lower the heat to low and cover. Cook at a simmer, 20 to 25 minutes. Keep covered off the heat for 10 minutes. Drain any residual water as needed.
Transfer the rice to a large bowl and the olive oil, parsley, nuts, dried fruit, fennel seeds, ginger, citrus zest and chile pepper. Stir until the rice is coated with the oil and evenly mixed. Stir in the salt.