New hope for avoiding "forever" chemicals
By Lisa Stiffler, guest contributor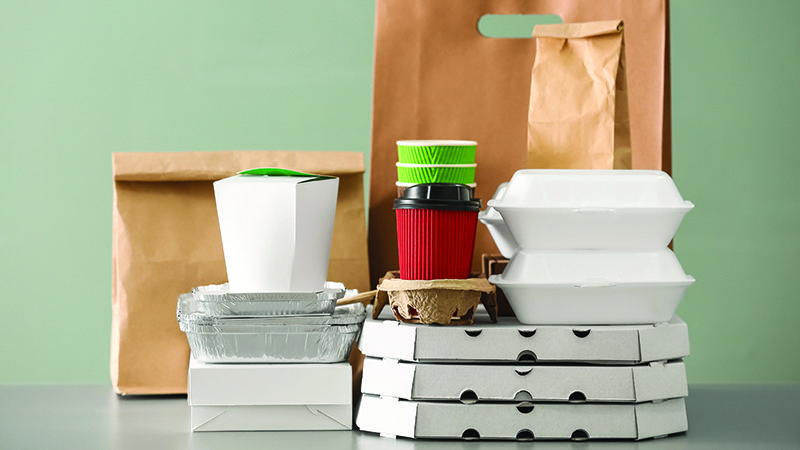 If anything should be untainted by pollution, it's food for newborns. 
But when researchers tested breastmilk from women around Seattle, they found PFAS—a class of "forever chemicals" added to a wide range of consumer goods including food packaging, carpets and fabrics, non-stick pans and firefighting foams. 
They found it in the milk from all 50 mothers who provided a sample. 
"It raises a concern about exposure when you have baby's first food contaminated," said Erika Schreder, science director for the nonprofit Toxic-Free Future, which helped write last year's peer-reviewed report alongside university researchers. 
Now, some 80 years after the chemicals were first created, the U.S. Environmental Protection Agency (EPA) is preparing to designate as hazardous two forms of PFAS, an acronym for per- and polyfluoroalkyl substances that's pronounced "p-fas." The EPA rule will require companies to report releases of the chemicals in the environment and will make them responsible for cleanup costs under the federal Superfund program. 
Exposure to PFAS can cause multiple harmful health effects. That includes reduced immune response, developmental effects or delays in children, increased incidence of some kinds of cancers, and hormonal impacts, such as decreased fertility and higher blood pressure in pregnant women.
The EPA rules would apply to perfluorooctanoic acid (PFOA) and perfluorooctanesulfonic acid (PFOS), two of the more common PFAS. They are no longer manufactured in the U.S. but are still imported in consumer goods. The umbrella group of chemicals includes some 9,000 related substances. Manufacturers over the decades have added a variety of PFAS to products due to their abilities to repel water, stains and grease, with varying levels of data available on their health effects. 
The 2021 breastmilk study found both current-use and phased-out PFAS in the samples, with contamination levels that often exceeded national screening levels for children's drinking water.
Luckily for Washington residents concerned about these long-lasting, hazardous chemicals, the state is already taking more aggressive actions than the federal government. Agencies in Washington are creating and enforcing bans of the entire PFAS class in consumer goods and working to keep PFAS out of drinking water systems.
"Stopping exposure to people is the first step," said Barbara Morrissey, senior toxicologist with the Washington Department of Health (DOH), which is leading the drinking water program. 
Beginning next year, 2,600 water systems in the state will have three years to test their water supplies for a full panel of PFAS. Earlier sampling of some of the larger systems found contamination at a handful of spots around the state, including locations near military bases. If PFAS are detected at levels higher than state action limits, the utility is required to report the finding to DOH and its customers, and to continue regular monitoring. Many systems have also taken steps to filter the water or switch to different wells as their source, Morrissey said. 
And how did PFAS wind up in drinking water in the first place? The state Department of Ecology says that firefighting foam is the suspected source of the chemicals in all of the contaminated water. In 2018 state lawmakers approved a ban of PFAS in firefighting foam manufactured or sold in Washington, and its use in training practices. 
Starting in 2023, the state will begin rolling out restrictions on the use of PFAS in a variety of food-related products. Beginning in February, it will be illegal to sell PFAS-containing food wrappers and liners, plates, food boats and pizza boxes. The following year, the ban extends to paper bowls, bags, food trays, cups and clamshell containers. 
Bans like these, health officials say, are the best solution, taking the responsibility to limit exposure off the shoulders of concerned consumers. 
"It's frustrating," said Holly Davies, a DOH senior toxicologist. "I stand in the aisle of the grocery store looking at paper plates and I don't know what's in them."
Washington agencies are developing restrictions on PFAS-containing carpets, indoor furnishings, bedding and consumer sprays used to waterproof and stain-proof fabrics and shoes. Rules for these goods are set to be finished in June 2023. 
Earlier this year, Toxic-Free Future released a study testing for PFAS in rain jackets, hiking pants, mattress pads, comforters, napkins and tablecloths. It found the chemicals in 72% of products labeled as stain- or water-resistant—including PFAS phased out in the U.S. The research also found at least one item in each category that was touted as repelling stains or water but didn't contain PFAS, suggesting that it's possible to achieve those properties without the chemicals. Goods not labeled as stain- or water-resistant did not appear to contain PFAS. 
Perhaps the most important aspect of Washington's strategy to addressing the chemicals is its holistic approach. The state looks at the research on health impacts and contamination levels in people and the environment for specific forms of the chemical. But when it comes to protections, it takes into consideration the whole PFAS family. 
Just because there's a lack of information about each of the thousands of PFAS does not lead DOH to assume that they're safe, said Davies. "We're going to treat the whole class the same." 
Given the widespread use of PFAS, existing environmental contamination and their persistent nature, what's a concerned person to do? The DOH, Ecology and Toxic-Free Future share tips for avoidance on their websites. 
Here are some of their suggestions: 
Avoid purchasing products labeled stain- and water-resistant.
Shop the brands that vow not to use PFAS (click here for more information).

Vacuum and dust frequently, as the chemicals can gather in carpets and dust.

Avoid nonstick cookware using PFAS, such as nonstick alternatives including ceramic pots.
Environmental reporter Lisa Stiffler writes for local and national publications that include Geekwire, NPR and The Seattle Times.
PCC's guidelines for PFAS
For many years, PCC has worked to restrict use of per- and polyfluorinated substances. Among its practices and policies:
PCC's Health and Body Care standards do not allow PFAS in any health and body care products sold at PCC.
PCC's Packaging standards do not permit PFAS in deli food packaging or in packaging in our café or deli self-serve stations.

 

PCC is currently developing standards for cleaning products and household goods and anticipates those standards will prohibit PFAS in such products sold at PCC.

 

PCC has advocated in support of legislation to eliminate PFAS in cosmetics, food packaging and other consumer products.

PCC is the first grocery store to obtain Petal Certification from the Living Building Challenge, the world's most rigorous green building standard (at its Ballard, Bellevue, Downtown, Kirkland and West Seattle stores). The LBC works to avoid use of PFAS in building materials.