The best fruits & vegetables to buy organic
By Rebekah Denn | Illustration by Jessie Moore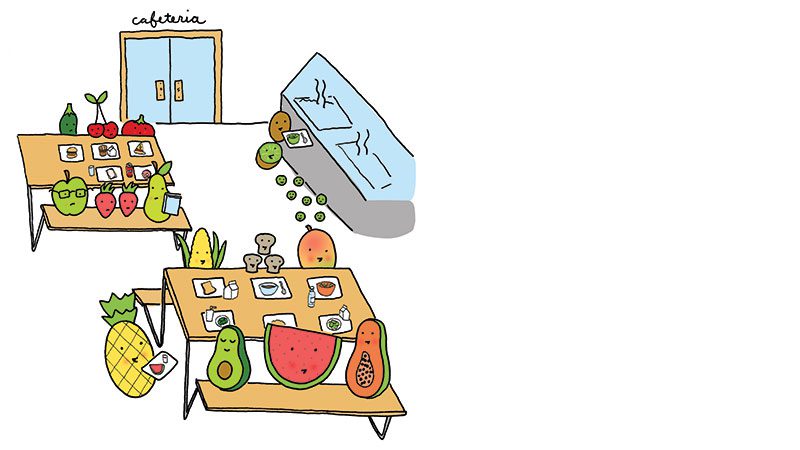 Strawberries, spinach and certain leafy greens top the 2022 "Dirty Dozen" list of conventional fruits and vegetables that showed the highest level of pesticide residues in tests by the U.S. Department of Agriculture (USDA) and Food and Drug Administration (FDA).
The annual list compiled by the nonprofit Environmental Working Group (EWG) is paired with a "Clean Fifteen" list showing the lowest levels of pesticide residues. The 2022 Clean Fifteen list is led by avocados, sweet corn and pineapple. 
The Dirty Dozen list is popular but can be controversial, in part because the presence of a pesticide on a sample, or the number of different pesticides found, doesn't always correlate with how toxic they might be. 
Critics note that most pesticide residues found in the federal tests fall within the legal limits allowed by the U.S. government. Advocates counter that legal does not automatically equal safe, especially when it comes to infants and children and accumulated long-term exposures. And nutritionists generally agree that the known benefits of eating fruits and vegetables, even those on the Dirty Dozen list, far outweigh the known drawbacks. 
What, then, is the purpose of the information? EWG recommends it as a tool for guidance and encourages seeking out organic versions of the "Dirty Dozen" fruits and vegetables rather than conventional versions if all organic is not possible. Knowing that organic fruits and vegetables often cost more, though, the agency also suggests prioritizing foods from the Clean Fifteen list if organics are not an option. (Washing the produce would not improve the results; the federal tests that EWG compiles are conducted after scrubbing and [if relevant] peeling the samples.)
While organic does prohibit the use of most synthetic pesticides (think glyphosate), organic does not mean pesticide free. USDA organic certification does allow the use of specific pesticides, chiefly ones derived from natural sources (e.g., neem oil). It allows a discrete list of synthetic pesticides only after review and approval by the National Organic Standards Board. The producer must also exhaust preventive management practices before utilizing one of the approved exceptions.
These restrictions translate into a growing body of evidence that, as one journal article put it, "an organic diet may reduce exposure to a range of pesticides in children and adults."
More than 70% of conventional Dirty Dozen produce tested by USDA and the FDA contained pesticide residues, but less than 30% of the conventional Clean Fifteen produce did, EWG said in a press release.  
By nature, the picture is also incomplete, as the tests do not look for residues of all common pesticides. 
"For example, glyphosate is the most heavily used pesticide in the U.S., and it can be found in high levels on several grains and beans, such as oats and chickpeas. But the USDA has not analyzed these crops for glyphosate," according to the EWG report. "This is troubling, because tests commissioned by EWG found almost three-fourths of popular oat-based food samples, including many popular with children, had pesticide residue levels higher than what EWG scientists consider protective of children's health."
The bulk of the new Dirty Dozen and Clean Fifteen lists were unchanged from last year. 
Mangoes, watermelon and sweet potatoes joined the Clean Fifteen, replacing eggplant, broccoli and cauliflower. This reflected, in part, a lack of data: The EWG noted in its pesticides report that broccoli, cauliflower and eggplant had not been tested by the USDA "in six, seven and 14 years, respectively." (Cauliflower ranked just below sweet potatoes on the 2022 list.)
In the largest shakeup in recent years, kale rejoined the Dirty Dozen list in 2019 after a long hiatus. It's now ranked #3, paired with collards and mustard greens.
The current list draws from nearly 45,000 samples taken between 2002 and 2020, according to EWG. Future lists will have one important difference: In 2021, after years of advocacy from EWG and many other organizations, the FDA banned the use of chlorpyrifos, a pesticide linked to childhood and prenatal brain damage, on crops grown for food. (It had been a common agricultural pesticide.) PCC supported that ban. 
Any chlorpyrifos that shows up on future tests would reflect violations of the ban, according to EWG. But that doesn't necessarily mean dramatic changes to the list's order. 
"We consider six different metrics in identifying which fruits and vegetables end up on the Dirty Dozen list, including the number of pesticides detected on the crop and the presence of multiple pesticides on a single sample," EWG toxicologist Alexis Temkin said in an email. 
"So while chlorpyrifos is a very toxic pesticide and had previously been found on some items on the dirty dozen, we don't expect the ban to drive major changes in the list since those fruits and vegetables have many different pesticides detected on them and the USDA does not samples all fruits and vegetables every year." 
The key message from EWG's standpoint:
"Everyone should eat plenty of fresh fruit and vegetables, no matter how they're grown. But shoppers have the right to know what potentially toxic substances are found on these foods, so they can make the best choices for their families, given budgetary and other concerns."
Other findings from the EWG report (all refer to conventional produce):
The pesticide most frequently detected on collards, mustard greens and kale is DCPA—sold under the brand name Dacthal—which is classified by the Environmental Protection Agency as a possible human carcinogen and which was banned by the European Union in 2009.

More than 90% of samples of strawberries, apples, cherries, spinach, nectarines and grapes tested positive for residues of two or more pesticides.
As in previous years, several pepper samples contained concerning levels of pesticides that can harm the nervous system, including oxamyl, acephate and chlorpyrifos: carbamate and organophosphate insecticides banned from use on some U.S. crops and entirely in the European Union.
Choose organics when you can, but if you need to choose keep these EWG guidelines in mind:
The Dirty Dozen
Strawberries

 

Spinach

 

Kale, Collard & Mustard greens

 

Nectarines

 

Apples

 

Grapes

 

Bell & Hot peppers
Cherries
Peaches
Pears
Celery

 

Tomatoes

 
The Clean 15
Avocados

 

Sweet corn

 

Pineapple

 

Onions

 

Papaya

 

Sweet peas (frozen)

 

Asparagus

 

Honeydew melon

 

Kiwi

 

Cabbage

 

Mushrooms

 

Cantaloupe

 

Mangoes

 

Watermelon

 

Sweet potatoes