Farmers markets focus on neighborhood cultures and "food deserts"
By Naomi Tomky, guest contributor
This article was originally published in May 2022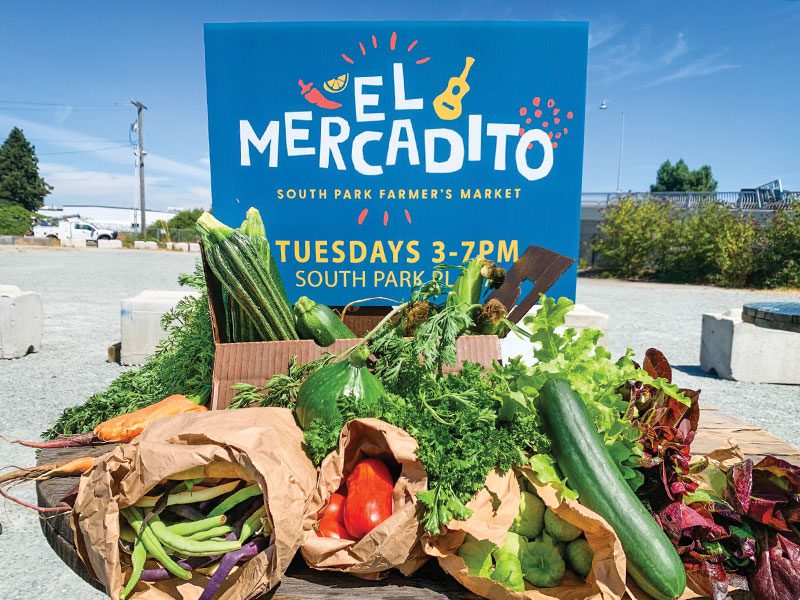 On Tuesdays in South Park, locals grab free limes and buy Salvadorean baked goods as they browse handmade Mexican jewelry and pay-what-you-can produce. Wednesdays in Tukwila, shoppers stop by refugee-owned stands for whole pepper plants, maize and amaranth. And every other Saturday in Delridge, families picnic on jollof rice as they stock up on bitter greens and Haitian pikliz. Often for the first time, neighbors are both shopping for fresh produce in their community and finding the vegetables and dishes they know and love at a farmers market stand.
The three Seattle-area farmers markets run by separate nonprofits show how a dual focus on supporting vendors and centering the local community creates culturally relevant food access and fills much-needed voids in underserved neighborhoods. But these markets also run into a variety of barriers, from systemic challenges for their vendors to haggling over the surprisingly important legal definition of the term "farmers market."
All three markets—the Tukwila Farmers Market, South Delridge Farmers Market and El Mercadito Farmers Market, entering their fourth, second and first full seasons, respectively—focus on neighborhoods dubbed "food deserts" by the United States Department of Agriculture (USDA), meaning at least one-third of the community lives more than a half-mile from a grocery store. "We call it a food apartheid zone," says Rachel Perlot, the director of fund development and food access at the African Community and Housing Development (ACHD), which runs South Delridge.  (The organization received a 2021 PCC Community Grant to help support the market.)
"(The zone) is not a natural occurrence. It happened because humans made it happen," she said. And the issue runs deeper than just the geography of supermarkets: "It's also tied with access to land and access to wealth. Local food is awesome. But who has the privilege to be growing local food in the first place?"
A training ground
The Food Innovation Network (FIN), which runs the Tukwila market, works with New Roots, an International Rescue Committee urban agriculture program for refugees, immigrants and asylees (people who are seeking or have been granted political asylum), to ameliorate that issue. FIN started in 2017 by selling produce grown by New Roots farmers under a consignment model for 10 weeks inside a local YMCA. The main feedback they received from the community was "Don't close."
It also served as training for growers to operate their own farmstand, explains Kara Martin, the program director at FIN—demonstrating skills like how to bunch greens and get produce ready to sell. By 2019, Krishna and Nir Biswa, a couple from Nepal who sold produce from their Namuna Garden through the program, graduated to their own stand. They were followed last year by Beatrice Shimirimana and Assumani, from the Democratic Republic of Congo, who sell from their farm, Umoja N'inguvu, transforming the farmstand into the current four-stand Tukwila Farmers Market.
"A lot of the folks we work with, English is not their first language, and so dealing with bureaucratic systems like public health, or WSDA (the Washington State Department of Agriculture) is super intimidating and not intuitive," says Perlot. She found it eye-opening to guide the market and its vendors through barriers built into so many different layers of the system: One vendor waited a full year for a facility inspection just to get licensed by the state department of agriculture to sell her Caribbean-style jams.
Even if a vendor navigated these barriers alone, finding places to sell adds another challenge—many big markets have long waitlists and charge hefty stall fees. These three markets flip that script to make sure farmers get paid. South Delridge purchases any remaining produce at the end of each market to package and distribute to community elders who can't attend the market because of mobility or transportation issues, while Tukwila and El Mercadito pay stipends to the vendors.
Our goal is to get food into people's hands, and we don't really care how that happens
"The most important aspect of our market was to build trust," says Crystal Brown, the executive director of Cultivate South Park (CSP), which runs El Mercadito. The stipends played a part in that. "It was an intentional push of our market director and the team to bring in the most diversity that we could. We wanted to bring in newer businesses."
That market director, South Park resident Mónica Pérez, created what grew into El Mercadito in an effort to help her neighbors access culturally appropriate food. It began as a mutual aid event, offering tomatillos, chile peppers and masa for making tortillas—in the style of a farmers market. The current version features the concept as one of its many stalls, and Pérez serves as CSP's food director.
Until the second world war, Japanese and Italian farmers grew the produce sold elsewhere in the city in Seattle's South Park neighborhood, making it particularly cruel that the now-heavily-Latinx neighborhood had no grocery store and little access to fresh produce. Difficult-to-navigate governmental programs designed to help rarely provided ingredients for the kind of dishes these families cooked for generations. "I'm constantly venting about how inaccessible and, honestly, racist a lot of our food access programs are," says Perlot. "All you have to do is look at the WIC shopping guide that tells you what you can and can't buy with dollars and there you go." For example: it includes a wide variety of cheddar and Colby cheeses but specifically excludes both cotija and queso fresco, two staples of Mexican cuisine.
In Tukwila, Umoja N'inguvu sells a maize specific to the Democratic Republic of Congo, and Namuna Gardens grows pumpkins, but for an audience more focused on the leaves and seeds than the squash itself. Vegetables are harvested at different sizes or in different styles, says Martin, because people use them for different purposes. At South Delridge, vendors specialize in the bitter greens and spicy peppers that power the cuisines of the African diaspora.
Perlot hopes to add a vendor selling fresh halal meat this year—just the type of food that inspired the market. Students at Hope Academy, which hosts the market, conducted conversations with the community as part of an environmental and food justice curriculum. They ascertained what the diverse neighborhood most needed was access to culturally relevant food and tasked the ACHD with making it happen.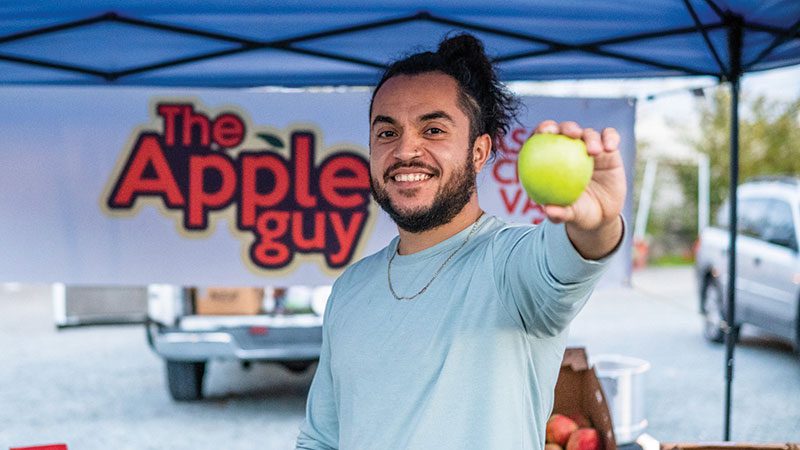 Breaking barriers
Like FIN, the main issue ACHD identified after the first season was that it needs to happen more often. "It's hard for people to build it into their routine," says Perlot. "Once a month is not often enough for fresh produce." The overwhelming need filled by these markets gets magnified when they provide additional assistance: ACHD works with a variety of government programs—SNAP Market Match, EBT, WIC, Fresh Bucks—but it also runs its own low barrier program: free bags of produce that anyone can just grab, no questions asked—and because everyone does, nobody needs to "out themselves" as poor.  "We know that there's stigma and shame around poverty and food insecurity," she says. "Our goal is to get food into people's hands, and we don't really care how that happens."
At El Mercadito, the mutual aid stand gives away produce with a specifically worded sign instructing customers to take what they'll use, rather than what they need, says Brown. "People confuse need with, 'If I need it, that means I'm absolutely poor and I'm crawling across the floor.'" Someone might use a few free lemons to make lemonade, but few categorize that as a need. The booth takes care not to offer anything a farmer sells at the market, but some farmers also created their own sliding scale.
Two-thirds of the customers at the Tukwila Farmers Market come via incentives (like EBT and similar), says Market Manager Faizah Shukru. But accepting those government programs meant jumping through more hoops: programs like SNAP Market Match require qualifying as a farmers market, for which the legal parameters include a minimum of five growers selling produce directly to customers. Tukwila has just four total stands, South Delridge six or seven including cooked food and a henna vendor, and even El Mercadito, the largest of the three, doesn't quite qualify yet, because its 14 stands include handicrafts, cooked food, processed food, and a mutual aid booth giving away free donated produce. "Farmers markets are awesome," says Perlot. "But those markets are built to support farmers, and our farming system in the U.S. is, at its core, inequitable."
For more markets like these—providing opportunities to new, smaller and more diverse vendor pools and creating barrier-free access to food that communities want, need and will use—FIN's Martin says, "We need to step out of thinking that a farmers market needs to be a certain way." Though the typical farmers markets in the area were helpful to the upstarts, the definition they stand behind creates yet another barrier, even among groups whose missions and goals are aligned: supporting local growers and connecting communities to local foods that they want. "We've become really prescriptive of what a farmers market should be," says Martin. "That is keeping communities from being able to be a part of a farmers market."
For more widespread success, the wider population and government regulations need to break down barriers with the same passion as the organizations running the markets. Markets look different all over the world, points out Martin. But they mostly share one thing: like these three, they reflect and represent the community around them.
Naomi Tomky (naomitomky.com), author of "The Pacific Northwest Seafood Cookbook," writes about food and travel.
For more information and for market schedules, see: