New guidelines for lower sodium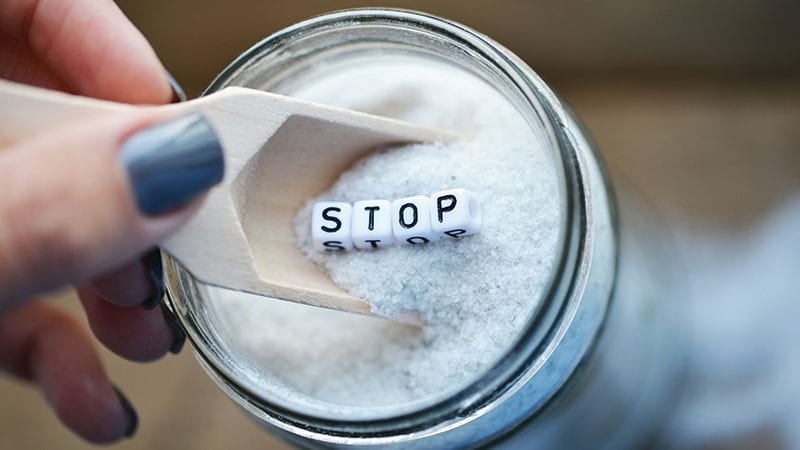 The Food and Drug Administration (FDA) has issued guidelines meant to reduce sodium in commercially processed, packaged and prepared food over the next two years.
The target goals would reduce average daily sodium intake by about 12%, according to the agency—from approximately 3,400 milligrams (mg) to 3,000 mg. Federal guidelines recommend people eat far less than even the reduction goals, advising less than 2,300 mg per day for people 14 years and older.
The voluntary guidelines were an attempt to establish "a level playing field" for both processed and restaurant foods, according to the FDA website. The agency is "especially encouraging adoption by food manufacturers whose products make up a significant proportion of national sales in one or more categories and restaurant chains that are national and regional in scope."
It's a long-awaited step for a major public health issue. Excess salt leads to an estimated 100,000 annual deaths in the United States, along with about $20 billion per year in annual health care costs, according to the Center for Science in the Public Interest (CSPI), as detailed in a recent Sound Consumer article. CSPI has worked for decades to lower the amount of salt hidden in common processed foods, where it is often used as a preservative and plumping agent as well as for flavor.
Peter Lurie, the organization's president, said in a statement that the two-year goals are a good step but that "the federal government has much more it can do to encourage the industry to adopt them, and much more it could do to educate consumers about the importance of sodium reduction."
The organization wants to see a final version of the FDA's more ambitious 10-year targets for sodium reduction, and to see the agency consider mandatory standards if the voluntary ones don't work.
The American Heart Association also applauded the move while asking for more stringent standards.
"The FDA's targets represent an important step forward, but lowering sodium intake to 3,000 mg per day is not enough. Lowering sodium further to 2,300 mg could prevent an estimated 450,000 cases of cardiovascular disease, gain 2 million quality-adjusted life years and save approximately $40 billion in health care costs over a 20-year period. We urge the FDA to follow today's action with additional targets to further lower the amount of sodium in the food supply and help people in America attain an appropriate sodium intake."