Baking beautifully with Cannelle et Vanille
This article was originally published in January 2022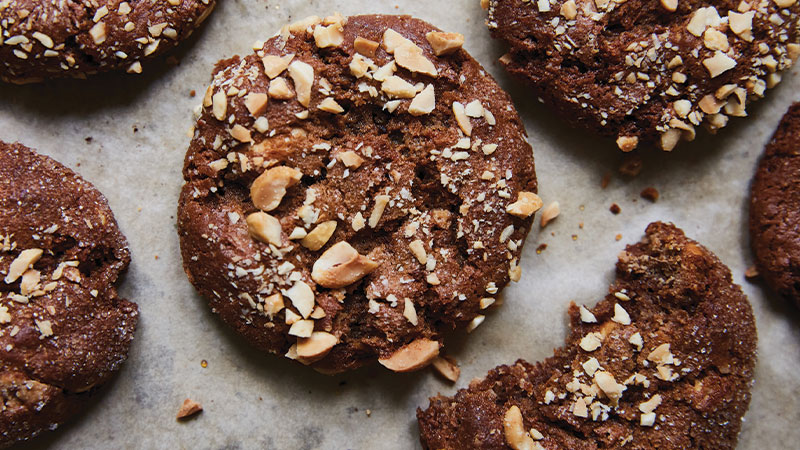 Aran Goyoaga's version of "simple" may not match everyone else's.
The stellar baker and photographer, whose gluten-free breads, desserts and other creations are often as lovely as an Impressionist still-life, says "simple" doesn't always mean short or quick.
In her new book, "Cannelle et Vanille Bakes Simple" (Sasquatch, $35) she also equates the term to clarity. Her recipes might be longer, she notes, because she's detailing them enough so readers understand the goal of every step. Ideally, they'll then be able to duplicate the marvelous flavors and textures of her sourdough boules, baguettes, puff pastry, cakes and other unlikely wheat-free successes.
The Seattle resident has earned a major following over the past several years through both the nourishing flavors of her food and the meditative food photos emphasizing light and composition.
Due to her family's own dietary restrictions and her experiments with surrogate ingredients, they also emphasize baking with alternate ingredients. All the book's recipes are gluten-free (though they can be made with wheat flours), and many are also dairy-free. Most breads are egg-free too.
Goyoaga was raised in the Basque Country of Spain, where her grandparents ran a pastry shop, and some of her trademark recipes are reminiscent of those childhood sweets. (Cannelle et Vanille is named for the cinnamon and vanilla scents she remembers from the bakery.)
While she started her career in marketing and corporate work, she had baked throughout the years. Strugglng with an eating disorder and anxiety, she wrote, that hobby helped her feel connected to her family and find purpose. Eventually, she realized her true path lay in culinary school and later her work with pastry and photography, including an Instagram feed with more than 300,000 followers.
Her goal with the new book, she wrote, was to take the knowledge she was given and honor her family, while transforming recipes through her own filters and dietary needs. Her hope is that readers will make the recipes part of their lives in turn. "Share them with your family, with your neighbors, and create heirlooms to pass along to those you love."
Peanut Butter–Banana Cookies
You would never know how decadent these cookies are by looking at the ingredient list. Because they are vegan and free of gluten and refined sugar, I feel good making these often for a nourishing snack. The coconut sugar perfectly complements the peanut and banana here. I have made several versions of these cookies with only maple syrup, but the crisp factor is not there when the coconut sugar is left out.
Makes 14 cookies
½ cup (75 g) salted roasted peanuts
2 tablespoons sugar (optional)
1 cup (240 g) unsweetened chunky peanut butter
⅔ cup (120 g) coconut sugar
¼ cup finely mashed banana (about 1 medium)
2 tablespoons maple syrup
2 teaspoons vanilla extract
½ teaspoon baking soda
½ teaspoon kosher salt
Preheat the oven to 375 degrees F. Line two baking sheets with parchment paper.
Coarsely chop the peanuts. Reserve half of them and continue chopping the remaining half into very small pieces. Put the finely chopped peanuts in a small bowl, add the sugar, and set aside. The sugar adds a bit of crunch to the exterior of the cookie, but it's not essential.
Stir together the reserved coarsely chopped peanuts, peanut butter, coconut sugar, banana, maple syrup, vanilla, baking soda and salt in a medium bowl. The dough will be thick and sticky. Let it sit for 15 minutes. As the baking soda reacts, the dough will thicken a bit.
Scoop 1 heaping tablespoon of dough into the bowl of finely chopped peanuts. Roll the dough around to coat, then roll it into a ball in your hands. Place on a baking sheet and repeat with the remaining dough. Leave 2 inches between cookies as they will spread while baking. Flatten them slightly with your fingers.
Bake for 8 to 10 minutes, until the cookies crack and their edges begin to look crispy. Do not overbake as they will continue to dry out while cooling. Cool on the pan for 10 minutes, then transfer to a wire rack. The cookies will be crispy on the outside and chewy on the inside. They will keep for 5 days in an airtight container.
©2021 by Aran Goyoaga. Excerpted from "Cannelle et Vanille Bakes Simple: A New Way to Bake Gluten-Free" by permission of Sasquatch Books.
---
Cook with Aran Goyoaga of Cannelle et Vanille at a PCC cooking class!
Baking Gluten-Free with Aran Goyoaga
Janurary 29
Sign up here.