Chopped winner "Chef Emme" brings school food full circle
By Lola E. Peters, guest contributor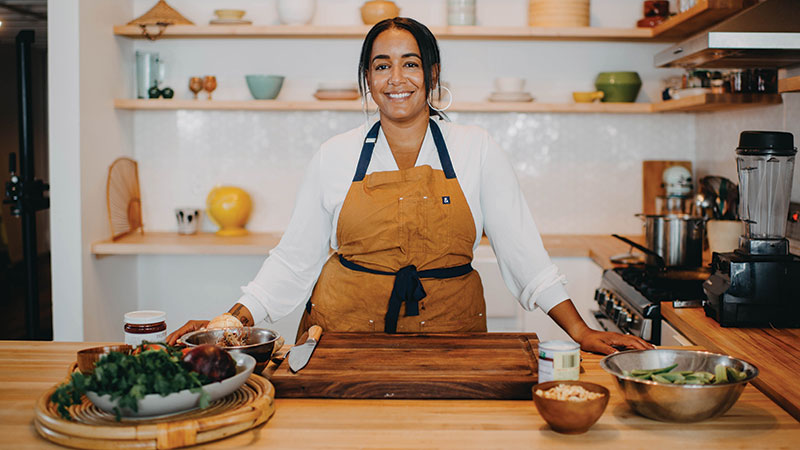 ---
Emme Ribeiro Collins and her family moved to Seattle from Brazil when she was only 6 years old, a first grader. Lunch is the main event of the day in Brazil, and school day lunches were prepared by her grandmother or mother. She remembers them as delicious, filling and made from scratch. She remembers the care and tenderness put into those meals.
It was with this memory she first entered the lunchroom at her new Seattle elementary school. Jarred into cultural dissonance by food she didn't recognize and found unpalatable, served impersonally without any connection to her culture or health needs, she often chose to go without lunch. "Foods I found okay were things like spaghetti, which was homey and comforting …I often chose to go hungry at school and just ate at home."
Now, in what she calls, "a full-circle moment that is super important to me," the executive chef of Seattle Public Schools (SPS), and recent winner of the cooking show Chopped, Collins is still amazed how poorly our culture feeds our children during their most physically and mentally vulnerable years. She and her boss Aaron Smith, director of Nutrition Services, are teaming together to reimagine how to serve this youthful clientele.
Collins joined SPS in September 2019, only six months before the COVID-19 pandemic forced overnight closure of all schools. She brought decades of experience working in her parents' University District restaurant, Tempero do Brasil, professional training at Seattle Culinary Academy, and nearly 10 years running her own business as a caterer and private chef for Eddie Vedder, Jamal Crawford and other Seattle elites.
Suddenly faced with the daunting challenge of serving meals to 119 schools during COVID-19, even as schools themselves were closed, the SPS team found opportunities for growth and change within the shutdown. First they centralized the meal distribution process—using 25 sites to reach the entire school population—then expanded to add 15 more food pickup locations. They began by distributing sandwich and salad lunches but soon realized those cold meals would not meet the nutritional needs of many who relied on them, so they switched to more substantial hot meal packages. This transition gave them the opportunity to test different recipes and a wide range of taste profiles and learn how to package them for distribution in a variety of settings.
One of the major challenges they faced, even before the pandemic, was the rigid way nutritional guidelines are structured by the federal government, which provides the bulk of funding for school lunch programs. This often led to school districts focusing on meeting the guideline numbers without thought to flavor or cultural appropriateness. For example, there were few, if any, alternative protein accommodations for vegan or vegetarian students or students with religious dietary restrictions.
SPS was part of a buying co-op made up of nearby school districts. Their purchases were reliant on reaching bulk consensus on the needs of the other districts as well as SPS. As a chef trained to create flavorful, healthy food without spending a fortune, Collins agreed with Smith's decision to withdraw from the co-op and negotiate for goods on their own.
Though they've faced some limited options this year due to supply challenges (most businesses have, even Starbucks), it has given them the opportunity to be more creative. Collins says she's "grateful for the way the staff has been flexible and worked together," to feed the school communities.
Asked whether they will be sourcing ingredients locally Collins says, "We want to do more of that, but few local producers have the volume we need." Instead, she says, "We're experimenting with having rotating specials at different schools and using local products for those." For example, they added fortune cookies from Tsue Chong to one menu. They do have some discretionary funds that don't require a request for proposal (RFP), but most of their vendors are contracted through the RFP process. They use discretionary funds for small-bulk purchases, which are often from local vendors.
As with many organizations, the COVID-19 lockdown has given Smith and Collins an opportunity to explore new ideas. In earlier decades, many cook-in kitchens at local schools were converted to warm-and-serve kitchens. Cooking was done at the central kitchen at SPS headquarters in the SoDo neighborhood then distributed to local schools. Smith, and now Collins, arrived with a vision where students could eat food they would have at home; hot food familiar and soothing in the chaos of the school day.
Recognizing the variety of tastes from neighborhood to neighborhood and house to house throughout the city, they determined to return to making the local kitchens fully functional and hiring or training staff to be well-versed in a variety of cuisines. Collins says she wants the menu to reflect the variety of foods available all over our city. For example, she explains, before COVID-19 they experimented with a build-your-own soup bar, including pho, at several high schools and it was very well received.
"This is a great opportunity to teach children about diverse cultures and let them bond over the experience of discovering new things," she says. "Food is a great connector."
Collins and Smith like to meet regularly with parent groups and students. "I like to talk to the kids and see what they like," says Collins, "Before COVID we held taste festivals at different schools to see what they would like. One [festival] was vegan. An elementary school student who is vegan wrote and asked for more meal options, so we called up a bunch of vendors and asked them to bring their vegan offerings so we could do a taste test at Greenwood Elementary … Kids were able to rate each item and we were able to bring in the items they liked."
At Thurgood Marshall Elementary School, she continues, "They wanted sushi, and so we were able to bring in sushi. We are successful when we have participation, and we're going to need participation if we're going to serve what the kids want." Says Collins, "It's very important to keep that line of communications open with the kiddos, with community and with parents." Collins and Smith have also met with Somali, Pacific Islander and Muslim community groups, for example, to ensure foods are presented authentically and respectful of the cultures they come from.
Though Smith and Collins' new concepts faced some initial challenges from longtime staff, Collins says, "In the past year, they've really been able to see the differences we're trying to make and really bought into the vision and see it a bit more clearly."
To further fulfill their goals, Smith and Collins want to invite out-of-work restaurant cooks and chefs to fill the 60 openings for kitchen staff and crew still needed to plan and cook meals at the local schools. Collins believes the inventiveness and experience she displayed on the show Chopped came from her previous training as a private chef and caterer. She wants to tap into the large pool of unemployed skilled culinary workers and direct their passion for good food toward serving our children. "I would like to see more chefs in schools to bring the creativity," she says adding, "I think that is what has lacked before."
Remembering her own lonely and isolating experience of food in Seattle schools, Collins reflects, "I really want to make a change so others don't experience what I experienced."
To reach Collins with your own suggestions, call 206-252-0675 or email culinaryservices@seattleschools.org.
Lola E. Peters is an editor-at-large for the South Seattle Emerald, where this story originally appeared. It is reprinted with permission.