"Mac's Christmas gumbo" makes any day a holiday
By Nancy Leson, guest contributor
This article was originally published in November 2021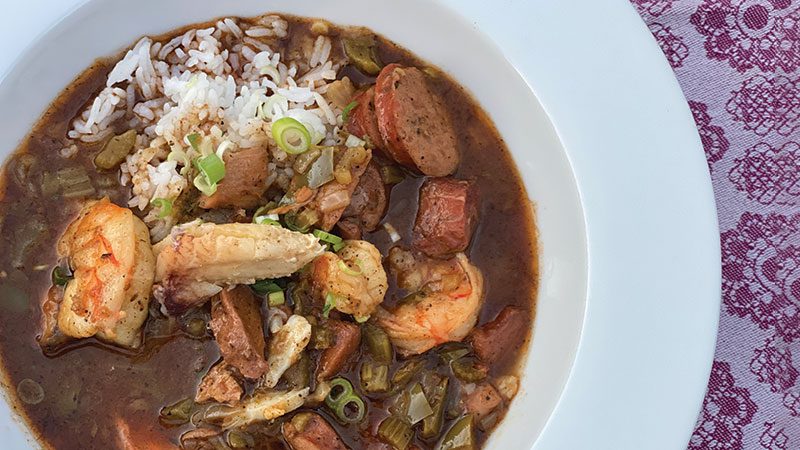 ---
My husband, born on Christmas Day, is one of the most modest people I know, but even he thinks his justly "famous" Christmas gumbo, shared with family and friends, is a dish that makes any day a holiday.
That fragrant stew caught Mac's fancy during years spent chasing maritime catastrophes in the Gulf states, where he sampled gumbo in fine dining rooms and backroad dives throughout Alabama, Mississippi, Louisiana and Texas.
Back home in the Northwest, he was determined to share the love by recreating the best of the lot, turning first to a dog-eared copy of Paul Prudhomme's "Louisiana Kitchen" for inspiration, later benefiting from knowledge gleaned at Seattle's late, great Steelhead Diner.
There, New Orleans native Kevin Davis offered up a stunning bowl of gumbo, then leaned across the counter and—comparing recipes—shared this lagniappe: "Add a smoked ham hock to the stock."
You can personalize your gumbo to suit your fancy, as Mac so clearly has. Don't eat red meat? No worries: substitute a smoked turkey leg for the ham hock and PCC's hot Italian chicken sausage for the andouille. Shellfish-averse? Lose the shrimp. Can't find filé powder? Leave it out. Or substitute okra.
It's been at least a dozen years since Mac took chef Davis' stock advice, and he's been refining the recipe ever since, with help from yours truly.
I've yet to convince him to dice the andouille rather than slice it into coins (feel free; his contention is "If it's too spicy for whoever's eating it, they can fish it out"). He has, though, succumbed to my suggestion that he ditch his technique of one bone-in chicken thigh for every bowl—he now uses boneless chicken thighs instead (much easier to eat, says me; less elegant a presentation, says my husband). I'll also take credit for upping his gumbo game by taking advantage of one of the Pacific Northwest's greatest gifts: Dungeness crab.
Each year during our annual Thanksgiving vacation, we pray to Mother Nature (and the licensing gods at the Washington Department of Fish and Wildlife), then plumb the depths of President's Channel off Orcas Island, giving our crab pots, our biceps and the 15-foot skiff we call "Small Fry" a workout. Prayers answered, I cook, clean and crack fresh crab, then freeze a quart of crabmeat to garnish our Christmas gumbo.
Adhering to the adage "waste not, want not," I oven-roast the cracked shells, making an intense shellfish stock augmented (thanks for the recipe, Jacques Pepin!) with onion, garlic, diced tomatoes, dry white wine, sweet paprika, bay leaf and thyme. Used in place of the chicken (or vegetable) stock in the accompanying recipe, it ups the flavor-ante and puts a Northwest spin on Mac's Southern belle.
We're still laughing about the year we decided to do without the Christmas gumbo and the Thanksgiving turkey: Instead, we made Thanksgiving gumbo.
Prepared in advance with frozen shellfish stock made from shrimp shells I'd been storing in the freezer (never throw those out!), one of us—we're still arguing over who—managed to leave the ready-to-heat gumbo at home in the fridge. As we boarded the Orcas-bound ferry in Anacortes two days before T-day, Small Fry in tow, Mac turned to me and said, "We've got the gumbo, right?" At which point, as he tells it, the blood drained from my face.
The Great Gumbo Fiasco was averted when our Edmonds neighbors were heading out later to join us for Thanksgiving, and together we bowed our heads in thanks—especially to our dog sitter, for being home when I called to arrange a swift handoff.
We're convinced that making gumbo up to the point where you'd add the shrimp (don't, yet), then refrigerating it for a day or two is the way to go. As with any stew, this allows the flavors to meld. Plus, it gives you time to enjoy your celebration, whatever the celebration. The one thing you should never do, though, is rush the gumbo making, especially when it comes to its defining element: the roux.
Making roux the proper way—slowly, stirring flour into fat nonstop until it turns the right shade of chocolate-y brown—is both art and science. Patience is key, and your tool of choice should not be a whisk, but a sturdy wooden spoon. Mac has exactly the right one: his beloved "Cajun Roux Spoon."
Handcrafted from cherry wood in New Iberia, Louisiana, it's a Christmas-birthday gift from my sister Sherry, who purchased it in New Orleans. Today its thick flat tip is blackened from years of patient stirring. Like his gumbo, and the recipe shared here, it's the gift that keeps on giving.
Mac's Holiday Gumbo
Serves 10
Preparation time: about 3 hours
1 pound shell-on Gulf prawns
6 cups chicken or vegetable stock
1 large smoked ham hock or shank
Vegetable or other neutral oil (for frying)
1 pound andouille sausage links, sliced into ½-inch rounds
8 boneless, skinless chicken thighs
2 cups diced yellow onion
1½ cups diced green bell pepper
1½ cups diced celery (plus a handful of finely chopped leaves, if you have them)
¾ cup all-purpose flour
½ cup vegetable or other neutral oil mixed with ¼ cup peanut oil
1½ teaspoons ground cayenne pepper
1½ teaspoons sweet paprika
1 teaspoon kosher salt
¼ teaspoon ground white pepper
½ teaspoon ground black pepper
½ teaspoon dried thyme
½ teaspoon dried oregano
2 bay leaves, crumbled
2 garlic cloves, lightly crushed
3 tablespoons filé powder (optional)
For garnish:
½ pound fresh Dungeness crabmeat (optional)
½ cup finely sliced green onions
4 cups cooked rice
To prepare the stock: Peel the shrimp and refrigerate, reserving the shells. Tie shells in cheesecloth. In a large saucepan or stockpot, bring the stock, shrimp shells and ham hock to a lively simmer, then adjust heat and cook for 20 minutes. Remove the ham hock from the stock and when cool enough to handle, slice the meat into bite-sized pieces. Discard the shrimp shells. Cover the stock and keep warm.
In a large frying pan or skillet coated with vegetable oil, lightly fry the andouille over medium-low heat until its fat begins to render. Remove andouille with a slotted spoon, leaving the oil in the pan.
Add enough vegetable oil to have about ¼-inch in the pan and increase heat slightly. Add the chicken and lightly brown on both sides. (You may need to do this in batches.) Remove the chicken to a platter, draining all but 2 tablespoons of oil (leave any crusty chicken-bits in the pan). Add the yellow onion, green pepper and celery and sauté 3 to 5 minutes, until the onions look transparent. Set aside.
To make the roux: In a 7-quart Dutch oven (or other large, heavy-bottomed pot) heat the vegetable/peanut oil until hot but not smoking. Add the flour a heaping tablespoon at a time, stirring continuously with a wooden spoon as the roux turns from blonde to light brown to dark brown. To achieve the right hue, you may have to turn up the heat. This process may take 15 to 30 minutes, depending on your stove, your cookware and your nerve. The roux will smell progressively nuttier as it browns. Turn on your exhaust fan, keep stirring and keep your eyes on the prize: do not burn it or you'll have to start over!
Decrease heat to low. Carefully add the sauteed vegetables to the hot roux, one half at a time. Stir in the cayenne, paprika, salt, white and black pepper, thyme, oregano, bay leaves and garlic.
Slowly, one ladle at a time, stir the warm stock into the vegetable mixture.
Slice the chicken thighs into ½-inch strips. Add the chicken, diced ham and andouille to the pot. Stir. Stir in the filé, one tablespoon at a time. Cook over low heat for 30 minutes, stirring occasionally. (At this point, the gumbo may be refrigerated overnight and reheated before continuing.)
To serve: Add the shrimp to the hot gumbo and cook until tender (about 5 minutes). Garnish each bowl with a big spoonful of crabmeat (if using), a sprinkling of green onions and a scoop of rice.
Nancy Leson is an award-winning food writer and radio personality who learned much of what she knows about food during her first career: waiting tables. Find her PCC cooking classes here.
---
Learn to make Christmas gumbo with Nancy and Mac at a PCC cooking class. Register online here.