Help for your holiday meals: Turkey tips, wine pairings and more
This article was originally published in November 2021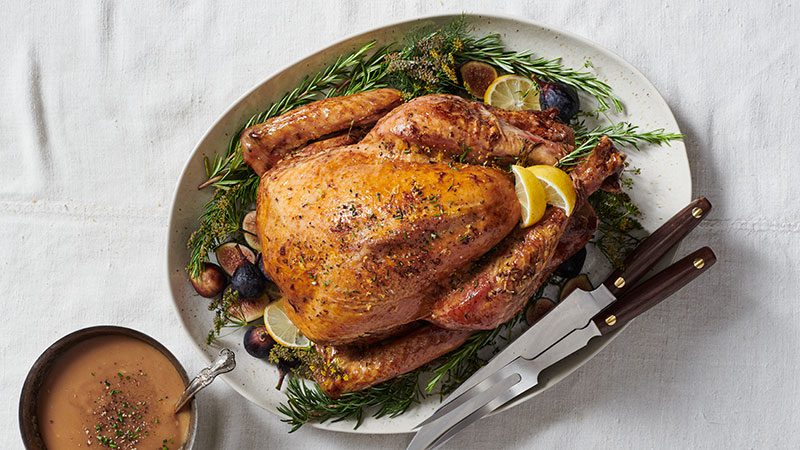 Let's talk turkey… and other holiday foods! When we gathered a panel of PCC experts at a member event last year, we heard great answers to common questions about preparing holiday foods and choosing drinks. Timeless tips and updates are printed below from that conversation with Robin Bellina, PCC's Fresh Program manager, Jeff Cox, PCC's beer and wine merchandiser, Sephi Coyle, PCC's senior culinary school program manager, and David Sanz, PCC's meat and seafood merchandiser. As always, store staff members are also willing and ready to answer additional questions, so please engage with them as you gear up to celebrate.
Q: Which Thanksgiving recipes can you make in advance? Can some be stored in the refrigerator or frozen a few days in advance? How about cranberry sauce?
RB: Making Thanksgiving items in advance is a great idea, especially if you have limited oven space. Cranberry sauce freezes beautifully and is super easy to just take out of the freezer, thaw, and serve if you want to serve it cold. You can also thaw it overnight and then pop it in a saucepan and reheat before serving.
The good news is you can freeze pretty much your entire Thanksgiving dinner in advance. If you're freezing stuffing, you're going to want to cook off your vegetables and any kind of meat first and put them in a separate freezer container. Then you can put bread cubes or frozen fresh bread in a separate container. Those can be all mixed together on the holiday and either stuffed into the turkey for cooking or roasted in the oven (we recommend roasting separately, see below). Mashed potatoes freeze great as well.
One thing to remember when you are freezing items like casseroles or other dense items, you'll need to give them a significant amount of time to thaw, so take them out of the freezer, possibly two days in advance, to thaw safely in the refrigerator. Also, you never want to put a cold glass baking dish into a hot oven, because that can result in cracks or shattering. Anything that's coming from the refrigerator in a glass container to the oven needs to be brought to room temperature for a short period of time.
Q: What is the average cooking time per pound for turkey?
RB/DS: The average is 15 minutes per pound (for a fully thawed turkey), in a 350 degree oven. Our roast turkey recipe is online and a cooking chart is here.
During the final 30 minutes of cooking, also, you're going to want to baste the bird. And on internal cooking times for turkey, you want to make sure that the deepest part of the thigh reaches 165 degrees F for safety. That is very, very important. If you do plan on stuffing your turkey, you're going to want to make sure to test that internal temperature of the stuffing also (which should also reach 165 degrees). That's why we like to tell people not to stuff their birds. Food safety is super important, and we don't want anybody getting sick over our holiday meal. Save your stuffing for a casserole dish on the side.
Q: How about vegan and vegetarian options?
RB: One of our favorite entree dishes that we like to serve in lieu of a turkey is roasted and stuffed acorn squash. It's pretty simple and super easy to make (here's one recipe) and everyone gets their own individual squash half for a nice presentation. You cut that squash in half, stuff it with anything you like—a bread or cornbread stuffing, rice with nuts, cranberries, fruits—and then pop the whole thing in the oven. It's savory and warm and super delicious as a main course. Other things that you could do with whole stuffed vegetable are portabello mushrooms. I also have had a lot of compliments on a lentil and chard parcel: You cook up your lentils with all of your savory herbs and spices that you like, wrap them in swiss chard, and everybody gets a little parcel. In terms of side dishes, any kind of vegetable casserole is good—root vegetables, delicata squash. You can do a warm winter salad (here's one). Things like crostinis with pears and blue cheese and a little honey make delicious sides.
Q: What wines pair well with turkey?
JC: The obvious easy answer is, whatever wine you like! If you want to become a little more specific than that, turkey is a rather rich bird, so you want something that has a fairly high degree of acidity. You also want to try to avoid a whole lot of oak.
To be specific with varietals, there are some things that are incredible and timed for this season. There's a great-quality Beaujolais we presently have in the stores (Paul Durdilly Beaujolais "les Coasses). Pinot Noir, especially Oregon Pinot Noir works very well, with very bright fruity flavors, Pinot gris works well also. Dry rosé is also a great choice, it tends to complement just about everything in the meal. Dry Riesling is another excellent choice. And then finally, the line really starting to take off here in the Northwest is Gruner Veltliner, which is something like the result if you imagine if Sauvignon Blanc and Riesling were to meet up and harmonize.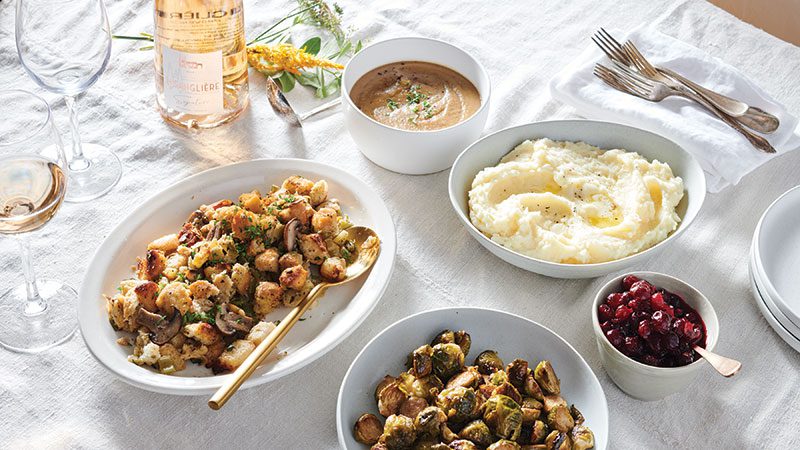 Q: What cooking classes are we offering for the holidays?
SC: There are so many! A lot are online, but we have some that are in-person in PCC classrooms again, too. They include Thanksgiving Sides, A Plant-Based Thanksgiving, Holiday Pie Workshop, Instant Pot 101: Holiday Edition, Contemporary Thanksgiving Sides, Festive Vegan Feast with Pasado's Safe Haven, Thanksgiving Skills for Young Chefs: The Side Game. After Thanksgiving we go full into holidays, including lots of kids classes. There are adult classes on chocolate truffles, macarons, Galette de Rois, a holiday cookie workshop, babka and more. We also have lots of savory classes, including a Basque holiday feast and an Italian holiday feast, Italian holiday ravioli, holiday pierogi and even holiday gumbo (see page 16). And there's a wonderful traditional holiday tamale class, which is a great way to get together with family and friends and a fun way to spend some time together. For a complete list see our cooking class schedule.
Q: Do you have to brine a whole turkey or can you just brine the turkey breast?
DS: Yes, you can brine just the breast. We will also be offering a brine seasoning in our stores this Thanksgiving season too, and will provide the bag with any purchase of a brine seasoning.
Also, this year we will have a limited amount of Diestel brined turkeys for Thanksgiving.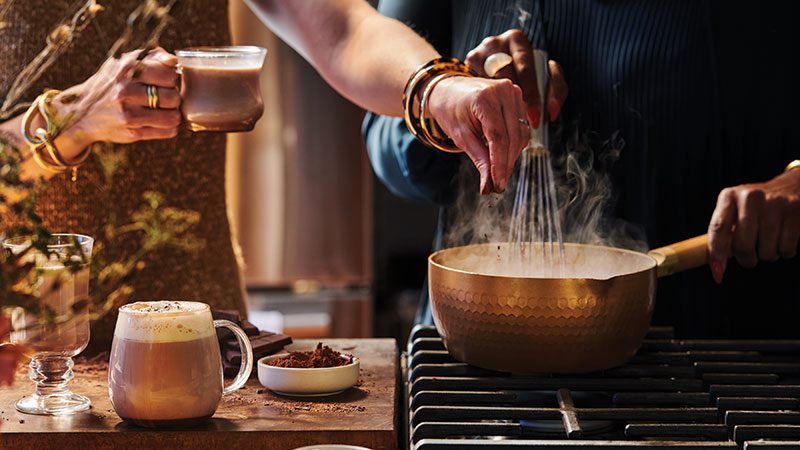 Q: What are the Thanksgiving pantry staples that I need to have, or alternatives if you can't find them?
RB: The obvious pantry staples that everyone should always have on hand would be salt and pepper, flour, sugar (or some kind of sugar substitute like honey or agave nectar), corn starch or arrowroot—some kind of thickening agent. Those things can substitute for one another, if you're out of flour and you need a thickening agent, you can use corn starch or arrowroot to make a slurry. Stock and broth are two really big ones that you should have, whether store-bought or homemade. It's also nice for substitutions to have bouillon cubes or bouillon base. There are the big holiday herbs and spices, like thyme and sage or poultry seasoning. You can substitute dried spices for fresh herbs and spices, but you want to remember that dried spices are more potent than fresh herbs, so the ratio would be one tablespoon of a fresh herbs like thyme or sage to one teaspoon of a dried herb.
A lot of people like buttermilk in their potatoes and in their baking, and if you run out there are great substitutions. The most common would be to mix a tablespoon of vinegar or lemon juice into a cup of milk as a substitute for one cup of buttermilk. You can also substitute plain yogurt for buttermilk in a pinch, but that works better for baking.
Q: Can you recommend any kid-friendly dishes and things that they can do to help around the kitchen?
RB/SC: For kid-friendly dishes, I think Thanksgiving foods are on the milder and the more approachable side. Sweet potatoes or mashed potatoes and stuffing, soups, turkey, gravy—I think it all appeals to kids.
It's great to have engaged kids helping. They can help you set the table, help prepare the meals: peeling potatoes, shredding bread for stuffing, depending on their age they can do so much. Art projects are really fun, making place cards or decorations for the table, even polishing silver.
With younger kids, where you're not super comfortable with them being close to the stove or handling sharp knives, a good job would be measuring (which is really great if you don't mind a lot of flour or sugar all over your surfaces). It's having family time, teaching them how to measure things correctly, helping pour things into the bowls as you're mixing. Or teach them how to use a hand mixer, or give them a butter knife and let them have at it with mushrooms and other things that are soft and easy to cut. It teaches a lot of food safety in the kitchen and how to clean as they go.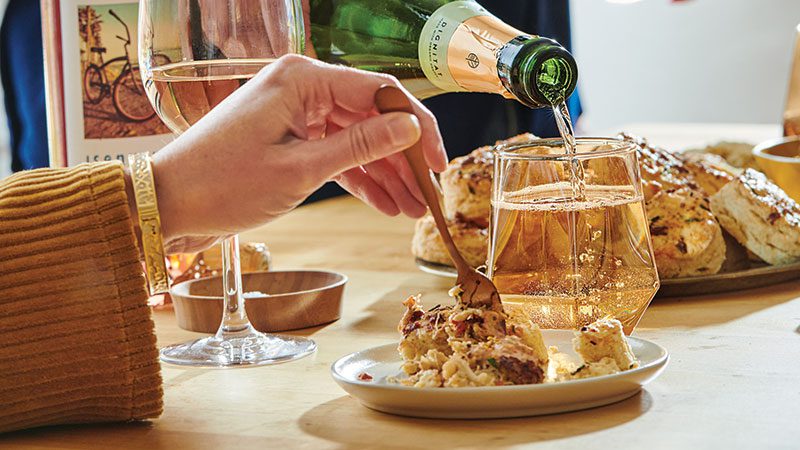 Q: Stuffing versus dressing, what is the difference between the two?
RB: Stuffing versus dressing is actually pretty regional. Being from New Orleans, Louisiana, my favorite thing to make at Thanksgiving is oyster dressing, but it's made with bread cubes. We call it dressing because I'm from the South and everything's dressing there, but traditionally a stuffing would be something that's made with bread cubes and physically stuffed inside the turkey. The dressing would be like the side rice dish, or perhaps something that's made with a corn bread or an alternative carbohydrate. But really when it comes down to it, it's semantics. There's not too much difference between stuffing or dressing, it's whatever your family wants to call it.
Q: We're looking for unusual seasonal cocktail ideas.
JC: I just so happened to have queried a couple of our cocktail wizards from our stores, John White from Ballard and Cat Warren from Issaquah, and they had some wonderful ideas. Cat has three recommendations, and all of these can be made with Northwest distilled spirits that we have here at PCC. Her Boulevardier is made with Batch 206 Old Log Cabin Bourbon, Highside Amaro Rosina and Boissiere sweet Vermouth. She also has a recipe for a "Black Manhattan" with "Sudden Wisdom," a wonderful rye whiskey from Montgomery in Missoula, Montana, and also Highside Amaro Mele, which comes from Bainbridge Island and Dolin sweet vermouth, and finally Cat recommends a Mexican hot chocolate, featuring a Sueno Azul agave spirit which is otherwise known as tequila, with a splash of Montgomery Night Owl coffee liqueur, hot chocolate and whipped cream. And John has some wonderful ideas also using the Highside amaro, a Highside Black Cherry or Plum Collins, using Highside amaro with either fresh black cherry or plum juice, lemon juice and soda water and a garnish of maraschino cherry and a salted rim on the glass. And finally, a Freeland spirits pomegranate gin cocktail for two, using two ounces of pomegranate juice, two ounces of orange juice, two teaspoons of honey, sparkling water and four ounces of gin garnished with fresh thyme and orange slices.
We are thankful for you and hope everyone has a wonderful holiday season!
---
PCC at the holidays
For information on reserving holiday meats, vegan dishes and sides at PCC, visit
• Reserve your meats.
For general holiday information, including lots of seasonal recipes, visit
• pccmarkets.com/holiday.
Check out our holiday cooking class schedule at
• pccmarkets.com/classes.
Store hours
Thanksgiving Day: Closed.
Christmas Eve: Close at 7 p.m.
Christmas Day: Closed.
New Year's Eve: Close at 10 p.m.
New Year's Day: Open 9 a.m. to 9 p.m.
Let's fight hunger together
Local food banks are responding to unprecedented levels of need this year—the PCC Holiday Food Drive is our biggest annual fundraiser supporting their work. Learn more and donate if you can at any of our stores or online.