Food Access: Getting "extra" food to people, not landfills
This article was originally published in July 2021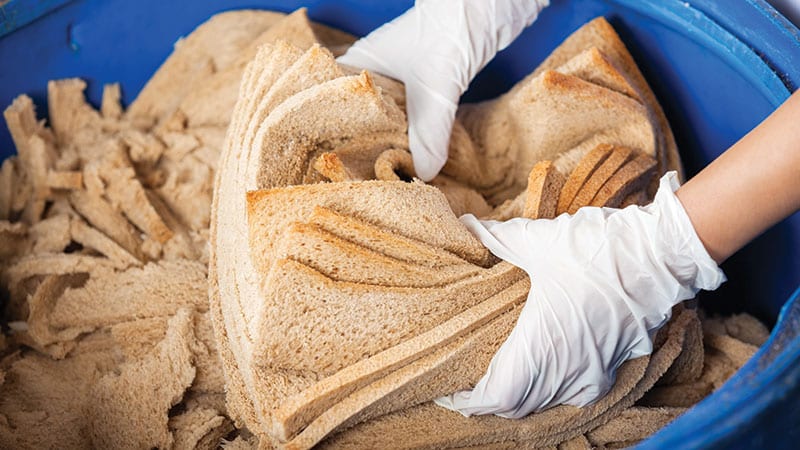 Did you know that nearly 25% of Seattle's landfills are filled with food coming from Seattle businesses, including grocers? That's 34,133 tons of food a year, or 3 million paper grocery bags each containing 20 pounds of food—a mindboggling image. 
This is a serious environmental concern. Food decomposing in landfills produces methane, a potent greenhouse gas. But it is also a missed opportunity for nutrition access: A significant amount of that food is still nutritious and appealing to eat, discarded for issues like cosmetic blemishes or approaching "best by" dates.
As an organic, sustainably minded grocer, we are committed to minimizing food waste and to ensuring everyone has access to nutritious food. Grocery rescue programs, like those at each of our 15 PCC stores, strive to do just that—setting aside daily donations that range from deli salads to dairy products (see Nutrition Access Report). For more than 30 years, the co-op has diverted much of its excess food from landfills—equating to 1.4 million meals for our community last year alone.
This system is complex, though, and inevitably imperfect. We are always looking for ways to improve our programs, so when we were invited to join a project to improve grocery rescue, we were all in.
Food rescue pilot
This collaboration around reducing food waste and improving grocery rescue began in 2018 with SPU's Food Rescue Innovation Labs, which involved research from University of Washington students and years of discussions with different groups to identify the best way to assess this system at the intersection of food waste and hunger in our city (pccmarkets.com/r/5887). SPU worked on that program with Mary's Place, a local nonprofit serving families experiencing homelessness.
In 2020 SPU contracted with Northwest Food Alliance (NWFA) to lead this work, starting by assessing our current grocery rescue operations. NWFA led conversations with PCC staff to understand how the program currently operates, from food safety to staff training and communications. NWFA also reached out to the partners who pick up food at our stores each day to see what changes could improve their experiences and supply more high-quality food. Site visits were performed at both our Green Lake Village and Central District stores as an opportunity to connect with staff, observe the current process and identify areas of improvement.
Grocery rescue challenges
While the reports are still in progress, we already know the existing food rescue system includes longstanding challenges for participants at all stages of the process.
For instance, sometimes grocers provide more bread than can be distributed or produce near the end of its life. Stores need space to store this food and staff to sort it properly so that it doesn't stale or rot before it's picked up. Grocers must train staff, coordinate pickups, develop and adhere to quality and safety standards, and sort products daily.
Food rescue agencies, in turn, require vehicles, drivers, staff to sort donations, and cold storage for pickup, transport and temporary storage. Snags anywhere along the system, from a vehicle breakdown to a shortage of volunteers, quickly lead to agencies losing out on nutritious foods, grocers scrambling for alternate backups, and organizations working in the emergency food system needing to dispose of food waste.
Starting to look at innovating this system, "Part of what excites me most is that we'll gain on-the-ground insights from PCC staff and their food donation partners," said Liz Fikejs, senior waste prevention program manager at SPU.
"We're starting with people at the center of this challenge. How can we make operations easier for PCC staff? What can we learn from them? And on the flip side, how would changes at PCC help community nonprofits? Ultimately, these changes should benefit Seattleites who are experiencing food insecurity—now and into the future."
We will share final observations from the program after it concludes, but are already benefiting from the assessment. Early feedback from SPU, for instance, suggested that we change the size of our donation bins for greater efficiency, and that we find new ways to handle artisan breads, which often are less in demand at the food banks, partly because they go stale more quickly than sandwich loaves.
Food waste and hunger
We have seen the need for healthy food in the emergency food system grow at a tremendous rate as our communities struggled through the COVID-19 pandemic, with up to one-third of Washington households considered food insecure. We know that, nationally, an estimated $408 billion is spent each year on producing, transporting, storing and disposing of food that is never eaten. PCC is committed to continuing this work and is excited to work alongside partners such as SPU.
"The facts are in, we have enough food available to address food insecurity in our communities," said Tom French, founder of NWFA and a chef who previously led the meals program at Mary's Place.
Alongside this project with SPU, PCC is also working to reduce food waste through our partnership with the Pacific Coast Collaborative. As one of the first four signatories of this U.S.-based public-private partnership, we have the goal of reducing and preventing food waste along the West Coast by 50% by 2030 (Pacific Coast Collaborative). This partnership includes working with other retailers to identify how grocers can play a role in reducing food waste, through changes earlier in the system such as when we place orders.  
Between these various programs, working to improve the grocery rescue system reaches far beyond the doors of the store.
---
Join from home
For ideas on how you can play a role in this work from your own home visit SPU's site to see their list of tips to prevent food waste.