Plantains and patience
Naomi Tomky, guest contributor
This article was originally published in July 2021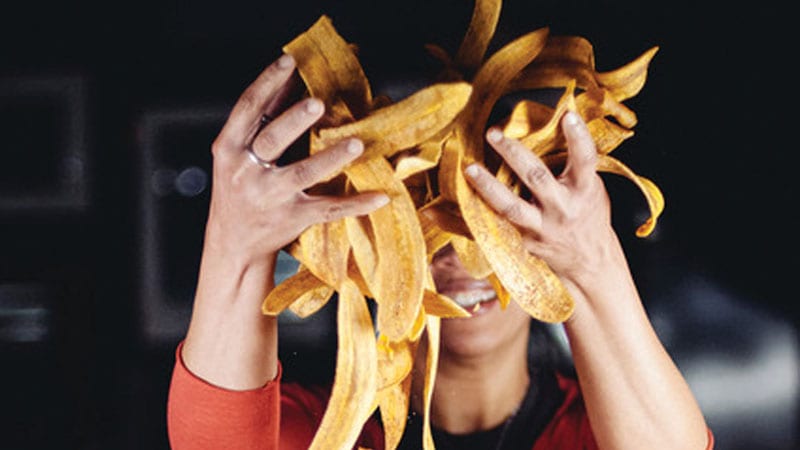 ---
Though the table in Donna Moodie's childhood home in Chicago sat only four people, she remembers more than a dozen crowding in on any given night for the spontaneity and warmth of her mother's Jamaican hospitality. They had moved to the Midwest from Jamaica when Moodie was just five, and Moodie followed her mom in the kitchen from a young age as well, learning not just how to cook, but how to capture that intangible magic that makes people feel welcome.
Moodie named her Capitol Hill restaurant Marjorie after her mom, originally going into the restaurant business to extend that joyful style of entertaining. She also used her mother's elegance as inspiration for one of her signature dishes, Miss Marjorie's Steel Drum Plantains. The packaged version of the plantains, stocked at all PCC stores, won a prestigious Good Food Award from the nonprofit Good Found Foundation this year for "Best Snack." But what seemed to come naturally to Moodie's mother takes a particular deliberateness and insightfulness to imbue into a restaurant, and even more care to communicate through a packaged snack.
First appearing as an appetizer at Marjorie, the thinly sliced, flash-fried unripe plantains come seasoned with a mix of spices packing just enough punch that they work alone to munch like a chip, but not so much as to overwhelm any accompaniment. Moodie's patience guided the business, even though it often meant sending the plantains back to her produce supplier because they were too ripe. These days, her produce supplier goes to the port and inspects the shipments of fruit before they make it all the way to her. The slow journey from starter to star snack embodies Moodie's own patience and purposefulness, while Marjorie's perseverance through 17 years—a lifetime in the restaurant world—testifies to Moodie's way of doing business. "Every year, I make a resolution," she says. Over the years, one after another, those resolutions have built her business.
She started out by committing to make the restaurant her own. Moodie and her then-husband had run other restaurants together in Seattle in the 1990s. After splitting up, they divvied their restaurants: he took Marco's Supper Club, the pair's first, which opened in 1993, and she took Lush Life and turned it into Marjorie. On a 10-day silent meditation retreat following the divorce, she says, "I didn't speak, but all I could do was think about food and menu items."
She had already come up with one beloved fried appetizer at Marco's, but she wanted a new one that would befit the restaurant she planned. "I had to overcome the sage leaves," she says, "Even though they were my idea, I needed to differentiate it." Thinking about the green bananas and plantains that she and her mother ate on trips back to Jamaica, she saw an idea she could replicate. But instead of the little discs she remembered, she sliced them long and thin, so they could be employed like chips or crackers.
When Marjorie opened in Belltown in 2003, the plantains got just the buzz she hoped for, with Nancy Leson of The Seattle Times raving about them as "Heavily salted and heavenly sided with a tropical guacamole starring rough-cut avocado and grilled pineapple." By the time the restaurant lost its lease in 2009, the plantains had their own reputation—even eclipsing that of the sage leaves.
It took more than a year for Moodie to reopen the restaurant in its current Capitol Hill location and even longer to settle to the point she could address her next resolution: figuring out how to package and sell her famous snack. But with the restaurant as her anchor, she was able to take her time figuring out how to produce plantains in a manner that did justice to their namesake.
Eventually, what started in 2015 as haphazardly sized cases delivered by hand in free moments at the restaurant evolved, year by year, resolution by resolution, into a business befitting Miss Marjorie's name. First the logistics, then packaging. "I didn't want a bag," she says, "I wanted something that looked nice enough to be a gift." She wanted to capture the flavor of her childhood but instead of evoking the bodega where she bought hers, she wanted it to remind her of those elegant dinner parties. It was, she wanted to make sure the box demonstrated, not something for the "International" aisle where stores seemed inclined to put them. "It's like a cracker," she says, and a gluten-free one at that. "I could eat a whole package with Delice de Bourgogne cheese and apple butter."
Though the plantains immediately caught on, they always appeared to be an extension of the restaurant. This year, her resolution was affirming the plantains as a separate business. Even as the pandemic swirled chaos around her, she managed to overhaul the branding, refresh the box, and get a separate website for the product.
"In retail, there's always pressure for something new," Moodie says. Still, she resists the idea of branching out into other flavors, saying she likes how the current version tastes. For now, her resolution for what's next involves where she focuses her own time. Among other work, Moodie recently taught a Juneteenth class at PCC with proceeds benefiting community groups.
Her 2020 resolution, before the pandemic even started, had been to get a new job—a standard 9-5, leaving evenings open for her to tend to the restaurant only as an owner, rather than deep in the day-to-day operations.
She had grown more and more active in the community in recent years, and found a job with Community Roots Housing. Though she started it just before the pandemic began crushing the restaurant industry, the move had no relation. "It was more like, the restaurant's 10 years old, everything feels a little autopilot-ish, and I need to start thinking about something that I can do that feels really great," she explains. "Something community oriented."
The choice turned out to be extremely fortuitous: the income from her day job kept Marjorie afloat through the pandemic.
It was a different kind of welcoming outreach, but completely in character.
From running a restaurant that supported a snack business to working in community development to support her restaurant, Moodie's inclination toward steady, deliberate change has always kept her on solid ground.
---
Click here for a full list of 2021 Good Food Award recipients.
PCC carries several of the winners, including local fontina cheese from Ferndale Farmstead (Ferndale), Vache from Samish Bay Cheese (Bow), Organic Pickled Heirloom Blueberries from Bow Hill Blueberries (Bow), Whole Grain Emmer Farro from Bluebird Grain Farms (Winthrop), Rhubarb Lavender Spoon Preserves from Girl Meets Dirt (Eastsound) and Wild Sockeye Salmon from Lummi Island Wild Co-op (Bellingham).