Chill out! Super-cool cooking tips for the summer heat
Nancy Leson, guest contributor
This article was originally published in July 2021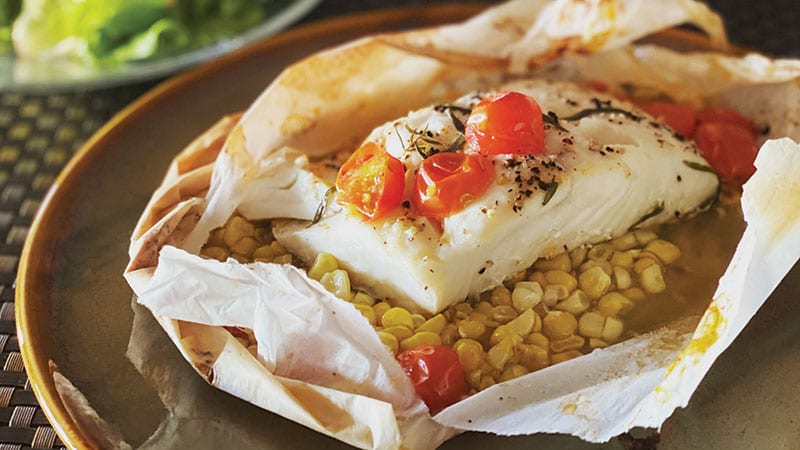 ---
Too hot to cook? Oh, stop rolling your eyes, ye from hotter climes. (And by "ye" I mean me, who still breaks into a sweat recalling the humid, un-airconditioned, East Coast summers of my youth.)
Here's a breath of fresh air: Even if you can't stand the heat, this handful of tools and techniques means you can stay in the kitchen—or at least spend less time wishing you were anywhere but there.
Making a toast
I recently treated myself to a new toaster oven whose bells and whistles are few. No, it doesn't have an air fryer (though I considered it), nor did it cost a fortune, but what a workhorse! Sure, it toasts, but the "oven" function keeps me from revving up Big Bertha and—not incidentally—pre-heating my already-pre-heated kitchen.
Small but mighty, my toaster oven has a frozen pizza preset and another that bakes a batch of cookies in 12 minutes. It's deep enough to bake a quintet of homemade bagels, or a handmade Chicago-style pizza-for-four, brimful with summer-ripe tomatoes and PCC Hot Italian Sausage. Dig potatoes? Mine go from garden to golden with a quick flick of the toaster oven "roast" button. On broil, I blister rainbow-hued sweet peppers, later peeled, seeded and glossed with good olive oil, perfect for augmenting a sandwich, pasta or an easy meal of rustic bread with cheese and/or charcuterie.
It's "Fish on!" (for about 10 minutes at 400 degrees) when I strip corn from the cob, slice a handful of sweet cherry tomatoes and snip fresh herbs to create a seasonal bed for a fillet of toaster oven-baked salmon, halibut or whatever the day's catch brings. Wrapped in parchment then slit-open tableside, this is an elegant dinner for a solo diner, and a romantic one for two. Less romantic but perfectly serviceable: the aluminum foil-wrapped variation, though you won't see the telltale "done" sign—a papery, Jiffy Pop-like puff.
Soup-er dinner
Got a blender? There's more to (its) life than smoothies. Summer's the season to transform fresh fruits and vegetables into chilled soup. Stone fruit and melon are prime pickings, though my go-to is a vibrant green, yogurt-rich gazpacho made with cucumbers, dill and a surprise ingredient: sweet grapes.
I got hip to this revelation at a dinner party where the soup was served as a first course, then mortified my husband when—as dessert was served—I stood up, poked my head into the kitchen and asked, "Is there soup left?" There was. I had seconds, then asked for the recipe. This quick-and-easy refresher (see below) is a summer staple in my fridge and dill-icious year-round.
Instant (Pot) gratification
I was slow-to-go on the Instant Pot train, but once that train left the station I never looked back. Plug it in, and with the press of a button (or two) you can produce a pot of beans, no soaking or stovetop required. Or make Instant Pot Indian Butter Chicken (Google it, you'll thank me later)! I use mine to produce fluffy quinoa, turning that nutritious grain into a homemade version of our PCC deli-department bestseller, Quinoa Tabouli.
Why heat the house when you can make an Instant Pot Cheesecake? (Really.) And don't you dare toss those roasted- or rotisserie-chicken carcasses. Instead, just add water, then set it (to soup) and forget it for a highly flavored Instant Pot stock that can't be bested by store-bought. Use the money saved to buy a dozen pastured eggs because—whoa!—hard-boiled eggs that magically slip from their shell, every time.
But wait, there's more
I don't need to tell you why your microwave comes in handy when you're trying to keep cool in the kitchen. But I do want to share this tip for using that airtight box in a heat wave: it does double duty as a pie safe, keeping pies that don't require refrigeration as well as other baked goods safe from the flies (fruit, and otherwise).
Lest you think: "Cut me a break. I have a low-tech kitchen with few if any small appliances," consider changing up how you use your traditional batterie de cuisine. When boiling a big pot of water for pasta, use it first to blanch asparagus, chard, broccoli or other pasta-worthy produce. Or do as I do when making smaller pasta portions or vegetable side dishes: use a tall-sided saute pan (the water boils faster).
There's a reason why much of the world uses a wok, which heats up and cools down in no time. It's a versatile stovetop tool that steams, stir-fries and so much more. I use an inexpensive carbon steel version turned upside-down to "bake" Middle Eastern flatbread—with great success.
That flatbread, by the way, is wonderful wrapped around meat, chicken or summer's freshest vegetables, pulled—as the evening breeze comes up—from my outdoor grill.
---
PCC cooking class instructor Nancy Leson will teach a "Do-Ahead Dinner" class July 29, sign up here. PCC also offers regular classes on cooking with an Instant Pot, click here.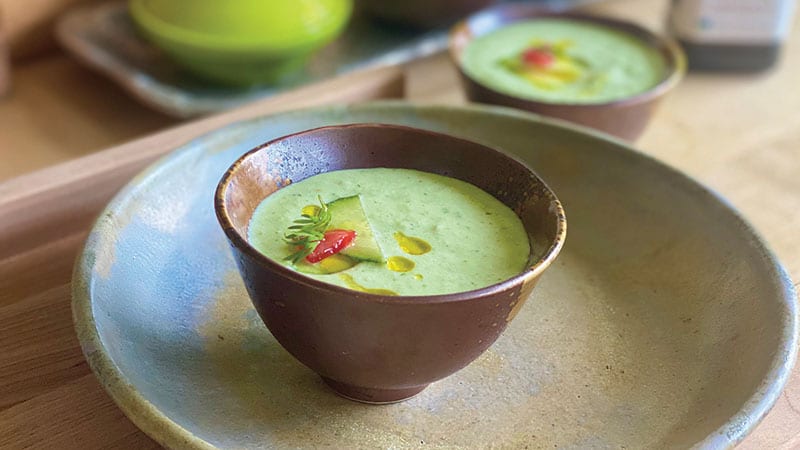 Dill-icious Cucumber Grape Gazpacho
Serves 6 
Preparation time: 15 minutes
1 pound seedless green grapes (sliced if huge)
2 cups diced English or Persian cucumber (unpeeled)
2 green onions (scallions), green parts only, chopped
¼ cup fresh dill, chopped
¾ cup half-and-half
½ cup plain nonfat yogurt
2 ounces cream cheese (optional)
1 ½ tablespoons white wine vinegar
1 ½ tablespoons extra virgin
olive oil
Kosher salt or sea salt, to taste
In a blender, combine all ingredients. Blend to a smooth puree; salt to taste. Chill for at least 1 hour. Serve cold, garnished with any or all of the following: a dill frond, sliced or diced cucumber, half a cherry tomato and, if you'd like, a splash of good extra-virgin olive oil.