"Survive the Sound" and save salmon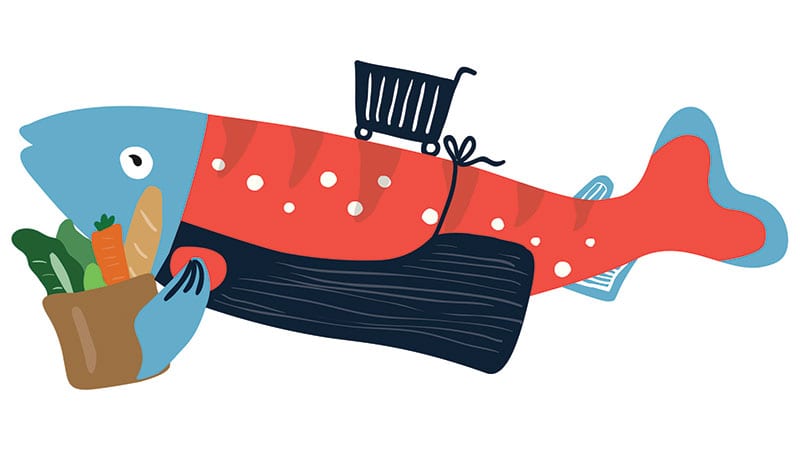 Supporting threatened salmon and steelhead populations is no game—except when we're talking about Survive the Sound. The annual online competition uses real tracking data from migrating wild steelhead to illustrate the low survival rates experienced by juvenile salmon and steelhead traveling through Puget Sound. It's the fifth year the project has been operated by Seattle-based nonprofit Long Live The Kings (LLTK).
PCC Community Markets, a longtime supporter of LLTK, will join in this year's Survive the Sound on May 3-7 with a community-sponsored fish. Check it out and join in at survivethesound.org. PCC members and other interested community members are invited to pick a fish avatar and join in as the fish battle habitat destruction, predators, disease, and other factors that have brought these icons of the Northwest to the brink of extinction.
Essentially, in the game, data from wild steelhead migrating out of the Nisqually, Skokomish and Duwamish rivers is shared with players through the Survive the Sound website. Players choose their favorite fish, add the fish to a team, and follow the risky journey to the ocean. The team with the most surviving fish at the end of the five-day migration wins.
The stakes to recover these species have never been higher. Salmon populations, once boasting numbers in the millions, have diminished to less than 10% of the historic average. With salmon struggling, so are the resident killer whales and humans that depend on them. The population of Puget Sound steelhead, a threatened species under the Endangered Species Act, has likewise dwindled to less than 10% of its historic abundance.
LLTK has worked for 34 years on research and conservation efforts to restore wild salmon and steelhead. Survive the Sound is meant as an engaging and educational way to highlight their crucial but often technical and dry projects. The fish avatars in the game represent steelhead that were tracked by LLTK.
Participation is free, but donations are welcome and will support the organization's research and work to preserve steelhead and salmon.
---
Interested in other ways to support LLTK? In an ongoing PCC partnership with Chinook Wines, LLTK receives a $2 donation for every bottle of Chinook's Long Live the Kings Yakima Valley Red or Yakima Valley White sold.