In The Nutritionist's Kitchen, "Food really is medicine"
By Rebekah Denn
This article was originally published in May 2021
---
Working for a nonprofit organization in northern Peru, Carly Knowles craved the fresh fruits and proteins that were hard to find in her rural village. At the same time, she wrote in her new cookbook, "The Nutritionist's Kitchen," (Roost Books, $24.95) she noticed unusual white spots on the eyes of many village residents. They were Bitot's spots, she learned, a marker for a vitamin A deficiency, "one of the leading preventable cause of blindness in developing nations."
A life-changing epiphany came along with that knowledge: Food really is medicine.
Knowles, a Portland native and jewelry sculptor who loved travel, returned to the U.S. with a new life goal. She wanted to attend the graduate program in nutrition at Bastyr University in Washington state (see our regular column from Bastyr contributors here), focused on evidence-based medicine, to learn as much as she could and share as much as possible.
Nutritional deficiencies and imbalances are rarely as visible and as directly catastrophic in our region as what Knowles saw in her travels. But she's found so many ways that food can support a healthy life, from hospital meals to menu plans for diabetic clients or new mothers to teaching cooking classes and providing shopping tips.
One of her favorite things to do, she said in an interview, is to tour grocery stores with clients, helping show how to read labels, how to gauge the best options for their individual priorities and families, and how to find resources like the Environmental Working Group's annual reports on pesticides to help determine which organic fruits and vegetables should be priorities if they can't afford or access all organic foods. She tells them, for instance, that organic foods like grains, nuts and beans are often more affordable in bulk. In the produce section, she lets them know that they're not restricted to the quantities listed on the pricing signs.
"You don't have to buy a whole cabbage! Your produce manager can cut the cabbage in half," she said. (That's true at PCC, affirms senior produce manager Kevin Byers. With the exception of melons, which health regulations require to be chilled before they are cut, "Anything sold by the pound we can alter for the customer."
Clients are sometimes surprised, she said, how easy it can be to make some foods at home rather than relying on packaged versions that might be more expensive or contain additives and preservatives they'd want to avoid. Nut milk, for instance, sounds much more complicated than it is, she said. "Truly, you add a handful of ingredients to a blender," strain the mixture, and flavor it as you like.
She knows that not everyone has the time or resources to make meals from scratch, that it can be "a luxury and a privilege." But there are benefits to even reading labels and making conscious choices, she said, such as choosing packaged foods that have shorter ingredient lists. "Can you pronounce your ingredients?" she said. "There's not that many cases where you can't pronounce it and it's still something we all want to eat."
The yogurt case is another favorite place to stop and consider labels, she noted. She'll discuss, for instance, the benefits of whole-fat yogurt versus lower-fat versions, which might be more processed and have more added sugars, and the trade-offs different shoppers might value. "That's a great section where just one time you spend five good minutes there, and then you never have to look again because you find the one that will work for you."
There is no one "ideal" diet, she's learned throughout the years. "We all need something different. We need different nutrients for different reasons at different life stages," she wrote. That said, "real" food with whole, unprocessed and unrefined ingredients is always a good place to start.
For more on Carly Knowles see carlyknowles.com. PCC offers many cooking classes focused on nutrition. See our latest course offerings here.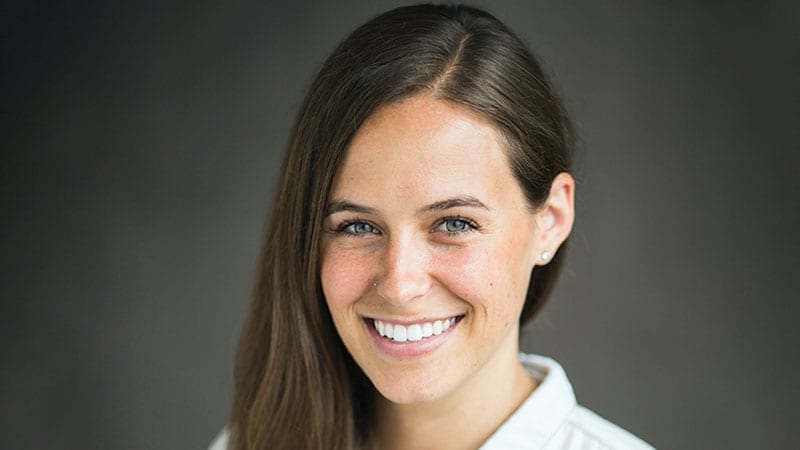 ---
Strawberry Vanilla Almond Butter Smoothie with Bee Pollen
Serves 2
1 cup frozen strawberries
1 frozen peeled banana, halved
1 ½ cups plain unsweetened plant-based milk
3 tablespoons unsweetened creamy almond butter
1 teaspoon vanilla extract
2-3 pitted dates
Bee pollen (optional*)
Add all ingredients except the bee pollen to a blender and blend on high until smooth, about 45 to 60 seconds. Pour into individual glasses, top each with a heaping spoonful of bee pollen, and enjoy. Double your recipe or store leftovers (without bee pollen) in the refrigerator in glass jars with airtight lids for 1 to 3 days. After refrigerating, shake well before drinking and top with bee pollen.
*If you are allergic to bee stings or have a history of anaphylaxis due to them, do not consume bee pollen, as it may trigger an immune response.