Kate Selting Smith is Tilth Alliance's Advocate of the Year
This article was originally published in March 2021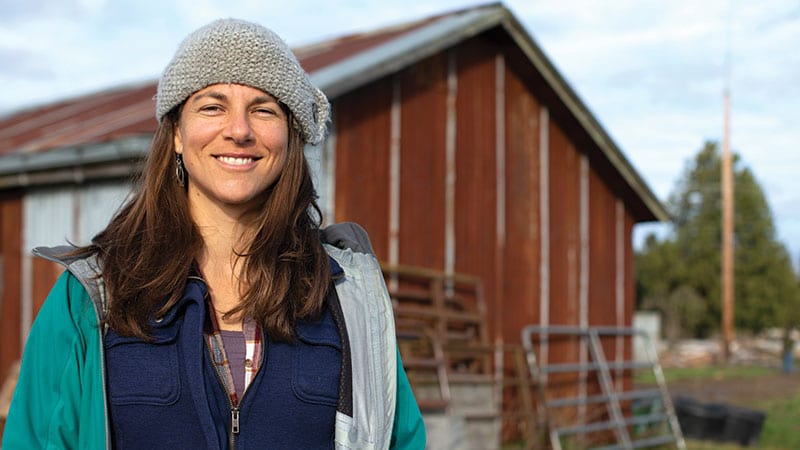 ---
Advocacy can take many forms in the world of farming, and Katherine Selting Smith seems to make use of them all.
"She combines the best strengths of a researcher, an educator and an advocate," said Marcia Ostrom, associate professor in Sustainable Food and Farming Systems at Washington State University (WSU), when announcing that the WSU extension worker was the alliance's Advocate of the Year. (Bil Thorn of Sky Island Farm was named the Alliance's Farmer of the Year; see a profile of his work in the Sound Consumer, here.)
The Advocate award honors individuals who have had a profound impact on Washington state's food system and statewide agriculture and an individual who has made a significant contribution to the sustainability of organic and regenerative farming. Smith was honored for her "exceptional record of service to small and immigrant farmers in Washington, to WSU Extension, and to the Tilth Alliance."
Smith has worked as an organic agricultural educator in the Peace Corps in Panama and was a manager of the University District Farmers Market, where her cross-cultural skills and farmer advocacy led WSU Extension to recruit her.
"Today she leads some of the most innovative bilingual sustainable farming education programs in the country based out of the Skagit County Extension Office through the Cultivating Success program. In partnership with Viva Farms, she facilitates land access for program graduates. She is a tireless advocate for creating more equitable access to land, farming infrastructure, farming knowledge and local markets.
"Over the years, she has helped hundreds of small farmers learn organic farming principles, write whole farm plans and business plans, develop websites, obtain organic certification, and apply for farm loans. She also works to develop farmer-to-farmer support and mentoring networks across race, language and culture. Aspiring farmers of any background know they will find an open door if they want to sit down and talk through any issues they are experiencing."
A former board member of the Tilth Alliance, Smith has also helped organize a bilingual conference track and Spanish language interpreting at conferences, as well as interpreting, raising scholarship funds and helping immigrant farmers participate. She's credited with working tirelessly to make Tilth and WSU Extension more welcoming environments for farmers of different incomes, cultures, races and genders.
Smith told attendees at the videoconference that she was grateful—and inspired—to be part of such a powerful movement and community. "It's really because of the actions of so many that we can have any sense of hope."
This tumultuous year, she said, has brought the essential nature of agriculture to the forefront of the public's mind. "Yet as we all know, the people who are essential to it, did not just become essential this year. Much of our agricultural system is reliant on the hard work of Latino, Latina and Latinx farmers and farmworkers. We must recognize this and listen and advocate for what all our essential agricultural workers need."
Our whole food system, she said, is made up of individuals and their stories, experiences and dreams.
"We must continue to build relationships, to listen and increase our empathy and understanding of others. I urge us each to think of who else we can bring into this movement, who has not been included (or has been excluded), because we need everyone at the table to make change."