New ways to find local foods
This article was originally published in March 2021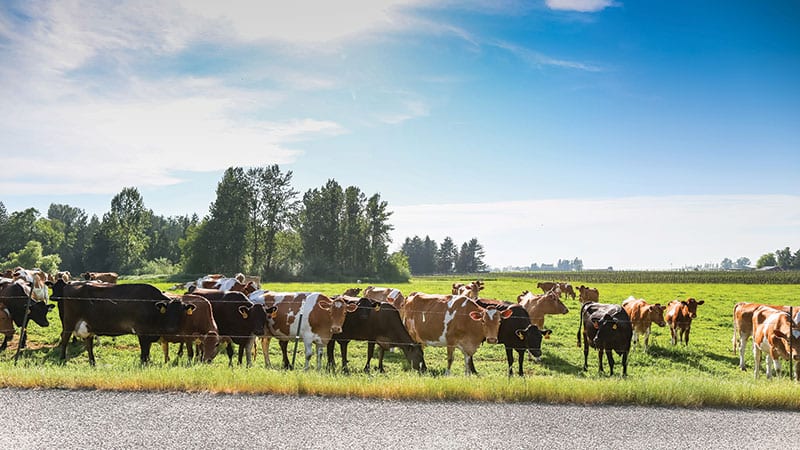 ---
Opportunities to eat local are now easier to find throughout Washington state.
The Washington Food and Farm Finder, a collaborative project between several sustainability-focused organizations, provides searchable listings of nearly 2,000 farmers, fishers, and other producers and retail outlets.
The new collaboration (eatlocalfirst.org) showcases Washington's remarkable breadth, from Bellingham-based hot pepper sauce company to a honey apiary in Brush Prairie, from lambs and artichokes in Rice to a horse-powered vegetable farm in College Place—and just about everything and everyone in between. Food banks, farmers markets and wineries are literally all over the map. An early upgrade to the project added a searchable database for Community Supported Agriculture (CSA) programs, from standard fruit or vegetable CSAs to more unusual variations like flowers, eggs, bread and even yarn.
In addition to searching by regions and types of products, the website allows users to target businesses that have chosen to identify themselves by various sustainability measures, including whether they are certified organic, focused on food access and nutrition, salmon-safe, committed to more local sourcing, or certified by a third party for animal welfare standards. Businesses could also choose to include searchable "diversity indicators," including whether they are owned by women, veterans, Black, Indigenous, and people of color (BIPOC), LGBTQ individuals or people with disabilities.
Organizers wrote that they defined "local" as food that is grown, caught, raised or made in Washington state. "But, more importantly, we think 'local' should signify an area where you could feasibly 'know your farmer.' We have an abundance of food available in our state, and 'local' food is more than just measuring miles—it's getting to know farmers, fisherman and food producers that are part of our communities."
In part, the project combined a set of what had been regional databases, including a farm guide in the Puget Sound region that the nonprofit Tilth Alliance published until 2020.
"We have an amazing state. We are an agricultural powerhouse here in Washington," with more than 300 commercial crops, noted Sheryl Wiser, Farm Guide program director for the alliance.
Among other goals, she hopes the new project helps people see that the beautiful, abundant local foods displayed at farmers markets or at stores like PCC are only the end result in a long chain—that local food is "not a movie set."
From seed to table, she said, so many hands bring these local products to fruition. And joining together also helps those agencies find more ways to work together and reach a broader audience. Plans also call for adding links to online stores for those who have them.
"I think we want to take the preciousness away from 'What does it mean to eat local?'" Wiser said.
"Access to healthy food (should not be) a privilege for some. It shouldn't be determined by your zip code or your income."
The COVID pandemic has also shifted the perspective of shoppers—and in some cases, their needs.
"You can't romanticize our food. I think COVID has helped illuminate our food system, in ways. It's been challenging for a lot of people…," Wiser said. "We're not used to going into grocery stores and seeing empty shelves, or being told 'You can't buy this much, you can only have this much.'"
Laura Lewis, Director of the WSU Food Systems Program, said in a press release that demand for local foods is on the rise, and that this collaborative statewide resource will avoid duplicating work and help organizations reach an even broader audience.
Collaborative members include The Local Food Trust, Pierce County Fresh, Sustainable Connections, Tilth Alliance, Washington State University Food Systems, and Washington State University Regional Small Farms Program with anticipated future participation from partners across the state including Genuine Skagit Valley, Gorge Grown Network, Island Grown in the San Juans, the Methow Conservancy and Walla Walla Grown.
---
PCC and local producers
PCC is dedicated to supporting farmers and producers from throughout the region and the Northwest. Here are just a handful of the hundreds of Washington state suppliers whose products we proudly carry.
Nash's Organic Produce—The Sequim-based business founded by organic farming pioneer Nash Huber is a longtime PCC supplier. Huber's connection with PCC produce merchandiser Joe Hardiman led to the 1999 formation of the Washington Farmland Trust (formerly the PCC Farmland Trust), dedicated to protecting and stewarding threatened farmland.
River Run Farm—produces organic vegetables, berries and flowers along the Dungeness River. The Sequim-based business, founded by friends in 2013, follows the principal that "When grown in healthy and vibrant soils, we believe food can be medicine."
Misty Mountain Farm, a small family farm in Deming, in the Mount Baker foothills, grows a variety of vegetables and is an egg supplier for PCC.
Grace Harbor Farms—The family-owned business in Custer, WA produces kefir, yogurt and whole-milk dairy products. The farm specializes in goat-milk products and in milk from Guernsey and Jersey cows.