Pioneering quinoa research fulfills childhood dream
By Rebekah Denn
This article was originally published in January 2021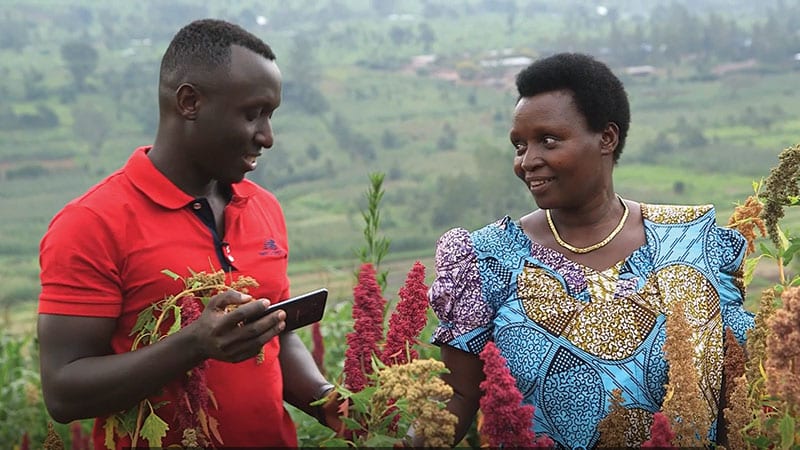 ---
At age 11, Cedric Habiyaremye pledged to fight world hunger.
The goal was uncommonly altruistic for a boy his age—and desperately personal for a youth who fled civil war in his native Rwanda and spent years living in a refugee camp. At 34, he's already made remarkable practical advances toward developing nutritious new food sources for people who need them.
"I don't like to see people going through what I went through," he said by phone from Washington State University, where he received a PhD last year and now works as a research associate as well as heading two organizations supporting sustainable farming.
"I know what it feels like to be hungry and I know what it feels like to be malnourished."
Basic science research often yields slow and incremental changes, but the results from Habiyaremye and his WSU colleagues can be measured in abundant crops and nutrition. His ongoing projects involve introducing quinoa to his home country. The quick-cooking seed, which originated in South America, is often hailed as a super-crop, packed with protein, iron and fiber, able to grow unusually well in drought conditions and in poor soil.
Washington State University professor Kevin Murphy of the Sustainable Seed Systems Lab, Habiyaremye's advisor at the school, developed a breeding program for quinoa after encountering it in Ecuador decades back. When Habiyaremye was introduced to quinoa, he thought could be a game-changing supplement for farmers in Rwanda, a country where 40% of young children still have stunted growth from malnutrition. His project began with 12 test farmers in Rwanda testing some 20 strains that seemed like a good match for the country's climate zones, he told virtual guests at WSU's annual International Quinoa Symposium. There are now more than 500 participants in the project. But he's far from finished with his dream of feeding a nation.
"There is a reason I survived, and I don't want to take this for granted."
Habiyaremye set down his unusual path at age seven, when "my country went through the tragedies of genocide." His family fled to Tanzania. At times they would go without food for two or three days, he recalled. Other days they drank water from swamps, or foraged grasses and leaves until they could find no more. He saw people dying from starvation and the effects of poor sanitation.
"It was survival, it wasn't life," he said.
The family returned to Rwanda after three years, as the country regained some stability. But food was desperately scarce there too. Devastation hit even deeper at that point; his father died.
Habiyaremye's mother saw the despair in his eyes, he said, and her words changed him forever.
"This is not the end of your life," she told him. "There's still a lot of potential. You can do a lot of good things."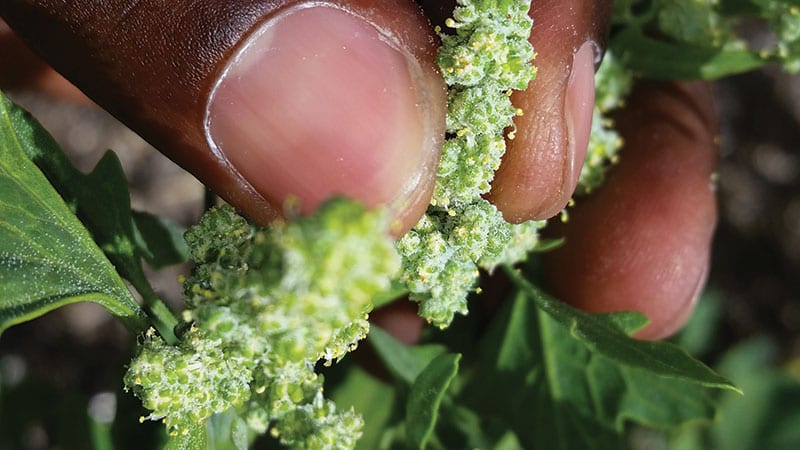 The challenge seemed harsh, he recalled, to a "hungry, starving" child. He tried to leave the room.
"She pulled me back and said, "I can see you're upset, but the only way to become what you want to become is to go to school and study."
His brother, age 12 to his 11, found him crying under a tree. They talked about his brother maybe following their father's line of business, becoming a pharmacist and helping bring medicine to sick people.
"Then it was my turn, he asked me, what about you? I told him, well… maybe I will go study agriculture and see how we can grow enough food and never go to bed hungry anymore. We did a pinky promise to stick to our dreams, no matter what."
That took grit from the very first step.
School cost the equivalent of about 25 cents per quarter, a fortune to him at the time.
He asked the school principal to delay his payments for the first two months. Then he went knocking on doors, he said, asking people to loan him a quarter to fund a candy-selling business whose profits would pay his tuition. After many rejections, one woman heard his plan and loaned him the seed money.
He bought the candy and sold it at a profit, hiding his supplies during school and worrying until he could retrieve them. "I was always thinking, if someone steals that bag of candy my future is gone."
When he returned to pay back his benefactor, she told him to keep the interest payment they had agreed on.
"I felt like a billionaire. Now, I have a future."
He learned by memorizing until he could raise enough money for school books and supplies. He progressed from his late start in elementary school to a competitive private high school on to the University of Rwanda, where he was interested in computer science and was encouraged to follow that career. "Agriculture is a dirty job," he remembers friends saying. He was able to think back on his long-ago pledge with his brother, and argued back that he could be proud of a career that made an essential impact.
"Agriculture is the foundation of everything we do. We all need to eat to do what we want to do in our lives."
His college work and his experience founding a food security program led him to work with a Canadian organization, Building Bridges, which was searching for international agriculture students.
"Do you know the crop called quinoa?" his connection there asked him. "I was like, 'What?' I didn't even know how to say it at that time."
Barriers at that level he could deal with, like sleepless nights learning English—his third language—well enough to pass the requisite exams. That led to a scholarship to a master's degree program at WSU, and then the PhD. At one point he was the youngest member of the Global Agriculture Task Force of the Chicago Council on Global Affairs.
They took (quinoa) and made it their own
Quinoa quickly earned a place in his heart, he said, because it reminded him of the bean crops that play such an important role in Rwanda. Those "magic crops" provides a staggered food source over time, with people able to eat the leaves from the plants in the field, then eating fresh-harvested beans and drying beans for later use. Quinoa can be used the same way, he learned, which he thinks helped Rwandans welcome the newcomer to their fields. He sees people eating the green leaves in salads and soups, even drying them to grind into flour.
"You can make a lot of food products and drinks from quinoa," he said—more than he would have ever guessed. "I was very concerned about the adoption, but it took me by surprise. They took it and made it their own."
New quinoa farmers in the program often learn about the seed's possibilities from his trusted "model" farmers who can demonstrate its worth and versatility.
He and others at WSU are now working with other countries in Africa that have expressed interest in quinoa. The lab is also developing varieties suited to different ecological zones in Washington state.
Beyond the nuts and bolts of seed strains, Habiyaremye's goals include development—educating people on preparing the seeds, such as rinsing off the saponins that make quinoa bitter and could lead potential diners to reject it. Crops that are grown in any quantity, also, require systems in place for processing and distribution. He's founded or co-founded two related organizations; QuinoaHub, promoting quinoa research in Rwanda, and Farmwella, SPC., aimed at supporting sustainable farming in Africa.
"We believe that food is the best medicine you could ever have. Quinoa is not a means to replace other crops. It's there to be a supplement, to help round out our diets, to lessen chronic malnutrition," he said.
And "Quinoa is not the only magic crop. There are similar other crops that have potential," he added, such as indigenous plantings that have fallen off the map.
Among his biggest boosters? Once again, his mother, who still lives in Rwanda. She grew quinoa in her back yard from seeds he gave her, sharing the seeds with neighbors. Now she virtually operates as an extension program on her own. They call her "Queen of Quinoa," he said. "She deserves it."
"I call my mom my superhero. She had that courage to see, to look beyond what was happening in that moment, and have that hope." His brother lived up to their promise as well, becoming a global health leader who is now pursuing a master's degree in Medical Science Global Health Delivery at Harvard Medical School.
"She put trust in us, she loved us, and she also showed us how the impossible can become possible."
---
For more information on Habiyaremye see cedricnotes.com. His TED talk is online here.
Note: This story has been updated since it was originally published.