POLICY REPORT: What can we expect in the next legislative session?
By Aimee Simpson
This article was originally published in January 2021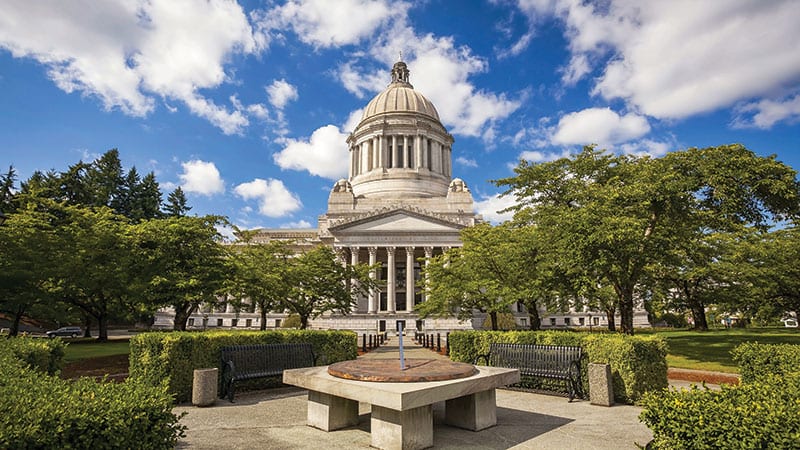 The Washington State Legislature is set to begin its regular session on Jan. 11. Because it is an odd calendar year, the session will run for 105 days (as opposed to 60 days in even years). While this might be a "regular" session, it does not take a policy expert to know that there will be very little that is regular about it.
Uncertainty, however, seems to the be new norm and we want Sound Consumer readers to be informed and ready to participate. Here are some key pieces of session information to keep in mind as we head together into the unknown:
Virtual format
Much like everything else in the COVID-19 era, state legislators will likely conduct the session virtually. House members expect to participate fully remotely, while the Senate is planning a hybrid model with up to 25 members on the Senate floor at a time and the rest virtual. All committee meetings and public hearings will be virtual, and the public will not be allowed on the Capitol campus.
Fewer bills
The number of committee meetings and public hearings will be limited by technology, and virtual negotiations will be difficult, so far fewer bills are expected to make it through the process. (Even in non-COVID years less than 15% of bills pass in the average regular session.) Those that do get introduced can be tracked here: app.leg.wa.gov/billinfo.
Lobbyists without a lobby
Lobbyists expect to be operating largely by text and email, so no more standing in the lobby and "working the doors" as described last year by PCC's lobbyist in this Sound Consumer article: "Public Policy: Bringing a Stronger Voice to Olympia". While this will potentially limit the impact and access of all lobbyists, there could be more transparency to the process as texts and emails with lawmakers can be revealed under public disclosure laws.
Budget, budget and more budget
In any odd calendar year, a big focus will be writing the state's next two-year budget (in this case, for 2021-2023). This year, however, legislators will have weighty new tasks to consider as part of that process, as they address the various COVID-related budget shortfalls and crises (public health, long term care, mental health, food security, rental assistance, unemployment, economic recovery, etc.), as well as the other crises of criminal justice reform, climate change and forest health (wildfire prevention). Congressional leadership members have indicated they will not balance the budget purely by making cuts in other areas. Instead, funding gaps are expected to be filled by a combination of cuts, new revenue and federal funds.
Carbon pricing and climate
Even with the challenges of COVID-19 weighing down on the format and focus of the session, the pandemic will not be its sole focus. Ecosystem stresses, catastrophic forest fires and other climate change-related impacts will still likely be a top priority. We expect to see significant legislation to establish either a California-style cap and trade program or carbon tax program or a hybrid of both. We also expect to see a clean fuel standard directed at transportation, which is the largest share of carbon emissions in Washington.
And much, much more
Beyond the budget and climate, Washington lawmakers are eager to tackle other priority issues, including pesticide safety reform, orca and salmon recovery and food security. PCC expects to support many of these efforts.
It is sure to be an intense session that will require active engagement from the public via comments, letters, email, calls and other means of communication, so be sure to sign up for PCC Advocates to receive updates on the legislative session and other advocacy issues.
Aimee Simpson, J.D., is director of advocacy & product sustainability for PCC Community Markets.