PCC Ballard is World's First Living Building Challenge Petal Certified Grocery Store
This article was originally published in January 2021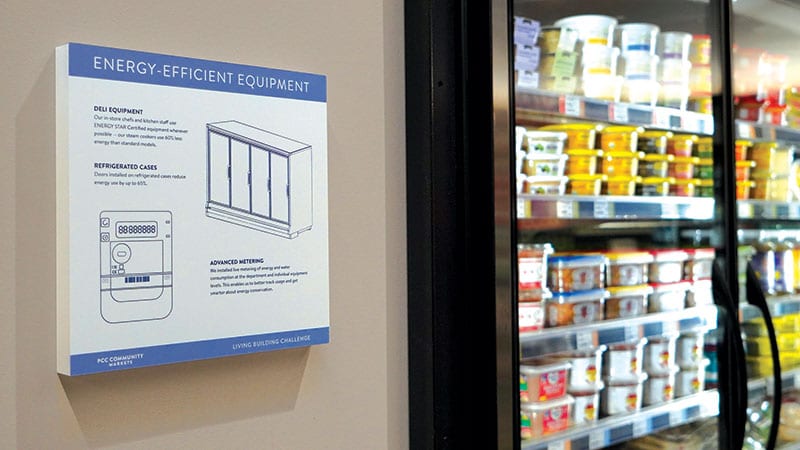 PCC's Ballard store is the world's first grocery store to earn Living Building Challenge (LBC) Petal Certification by the International Living Future Institute (ILFI), considered the world's most rigorous green building standard.
"PCC is setting the standard for grocers around the world—showing the possibilities of building for a better future," said Shawn Hesse, director of business development at ILFI, when the certification was announced in December. "We look forward to seeing how PCC continues to drive positive impacts in their community as they pursue the Challenge with their future locations."
The Ballard PCC certification comes after years of work by PCC to reimagine how grocery stores are built, creating a unique space that nurtures a deep sense of connection to the environment and the local community (see "Living Up to The Living Building Challenge"). The Ballard location is the first of PCC's stores to be LBC Petal Certified; the West Seattle store is going through the same certification process, as will the coming Downtown, Madison Valley and relocated Kirkland stores once they open. PCC pursued and met stringent requirements for three LBC "petals," or performance areas: Place, Beauty and Materials.
"For decades, PCC has worked to build sustainable and organic food systems so that we could sell food with less harmful chemicals in our stores. Through our partnership with ILFI, we were able to reduce the harmful chemicals in our stores themselves," said Brenna Davis, PCC's VP of social and environmental responsibility. "In our pursuit of the Petals, we built a stunning store with sustainably sourced and less toxic building materials, energy efficient systems that lower climate impact, and beautiful public art with the sole intent of celebrating the Ballard neighborhood."
Materials Petal
One of the most critical and resource-intensive elements of the Certification was ensuring Ballard PCC eliminated building materials that contain chemicals on the LBC "Red List." The LBC works to eliminate the use of "worst-in-class" materials and chemicals with this extensive list of over 800 toxic substances that have the greatest negative impact to human and ecosystem health. PCC spent thousands of hours over two years reviewing hundreds of building materials and pieces of equipment, down to individual components, to confirm that materials were LBC Red List compliant for the Ballard store.
To meet the rigorous demands, PCC had to find new vendors, in some instances including new suppliers, for Red List-free interior finishes, such as dry wall, concrete finishes and paints. PCC also worked with some existing manufactures to change their process and deliver custom designs:
Checkstand Belts: The initially proposed conveyor belt contained polyvinyl chloride (PVC), a Red List substance deemed harmful to human and environmental health. After an extensive search for materials, the manufacturer identified a urethane/polyester belt alternative making the belt that PCC staff, members and shoppers come in contact with safer for them and their groceries.
Lighting: Initially, one of the lighting manufacturers was using a powder coating that was on LBC's Red List. PCC worked with this manufacturer to customize their fixtures with a safer material so that they could be used in the store. The Ballard store was also designed to maximize the use of natural light—depending less on electricity during daylight hours. When natural light is insufficient, the co-op uses light emitting diode (LED) fixtures that consume 75% less energy and last 25 times longer than traditional incandescent fixtures.
PCC also looked to invest in the local economy and minimize the environmental impacts associated with transportation of goods during construction. More than one third (33%) of the building materials (by material budget) were sourced within 500 km (311 mi) of the store and 97% of building materials (by material budget) were sourced from within the U.S. Additionally, the project team advocated for the elimination of toxic substances in the marketplace by writing more than 300 letters to manufacturers promoting safe building products.
Place Petal
The ILFI's Habitat Exchange Program—under the Place Petal—works to protect existing, thriving ecosystems from compromise as a result of development. The co-op contributed funds to protect, in perpetuity, an area of land equivalent to Ballard PCC's building footprint of approximately 27,000 square feet, the size of half a professional football field.
Beauty Petal
Meeting the needs of the Beauty Petal ensures that the Ballard PCC store is more than just a location co-op members and shoppers can feel good about; it was also designed to elevate their spirits as soon as they enter. PCC partnered with Seattle illustrator and artist, Kyler Martz to create a stunning entryway installation showcasing art that aims to enrich the lives of those who pass by.
Martz's work pays homage to the nautical roots of the Ballard neighborhood and the Puget Sound, home to the world's largest species of octopus. The installation features a 16-foot-tall octopus and an underwater-themed mural—all of which also avoid Red List materials. To do this, Martz had to adjust his standard process of using Styrofoam for the initial model and instead worked with wood. He used reclaimed materials wherever possible—including 448 used ramekins from a local restaurant supply store for the octopus' tentacles.
Ongoing commitment to sustainability
In addition to the copious work done to meet the standard for the LBC Petal Certification, PCC also made design decisions that were outside of the Petal requirements and beyond what traditional grocers use, including:
Water conservation: Compared to standard models, Ballard PCC steam cookers use 90% less water and the store's dishwashers use 40% less water. The co-op also selected faucets that use 60% less water than standard faucets yet achieve the same water pressure.
Sustainable refrigeration: PCC installed a carbon dioxide refrigeration system, which boasts 3,000 times less of a global warming potential than the synthetic refrigerants used in most grocery stores.