Chinese Soul Food: Delighting in Vegetables
By Hsiao-Ching Chou, guest contributor
This article was originally published in January 2021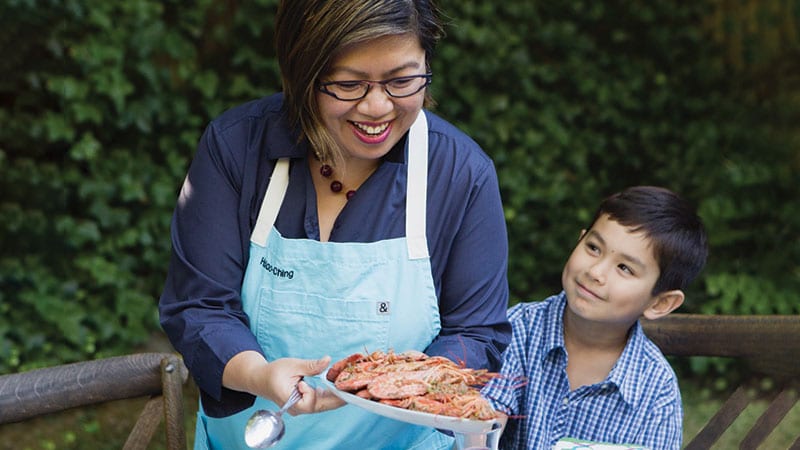 The Chinese title of my latest cookbook translates to "purest joy of eating vegetables." It's inspired by a poem from the Song Dynasty scholar and poet Su Shi, also known as Su Dongpo. The poem describes a walk in the mountains on a dewy spring morning and the lightness of being that comes from eating the vegetable shoots he gathers. Such vegetable lyricism from someone whose namesake dish (Dongpo rou) features red-braised pork belly reflects how deeply ingrained vegetables are in our cooking and culture.
Language is full of stories and the Mandarin Chinese word for vegetables, "cai," serves a range of contexts. When I ask my mother if she wants to go with me to mai cai (buy vegetables), I'm asking if she wants to go grocery shopping. Specific vegetables start with a descriptor such as you cai (yu choy), bai cai (napa cabbage), qin cai (celery), qing cai (baby bok choy). Cai also represents the dish (vegetarian or not) you cook or eat. What cai should we cook today? Which cai would you like to order from the menu? When society was more agrarian, restaurants were called cai (vegetable) guan (shop). Over time, cai guan broadened to can (meal) guan (shop)—where, of course, you can order many types of cai.
To me, vegetables are life. When I announce I need to go grocery shopping, my husband understands it's because we are low on my staple Asian vegetables: Chinese (or napa) cabbage, baby bok choy, yu choy, gai lan and gai choy are musts. The hardy Chinese cabbage holds up well in the fridge and can withstand the longer cooking times of soups or braises. The more tender leafy greens usually end up in quick stir-fries.
In Chinese cooking, it is an internalized practice to balance flavors, textures, seasonality, therapeutic effects, and, especially during Lunar New Year (Feb. 12), symbolism. If I don't cook and eat enough vegetables, leafy ones in particular, I start to feel out of sorts. That's when the pot of rice goes on and a pile of greens comes out. I then decide what ingredients will enhance the greens and what other dishes will complement one another.
After a few rounds with a searing-hot wok, I have a sumptuous meal with something for everyone in my family. I always place the cai on my end of the table, though. It's where they bring the most joy.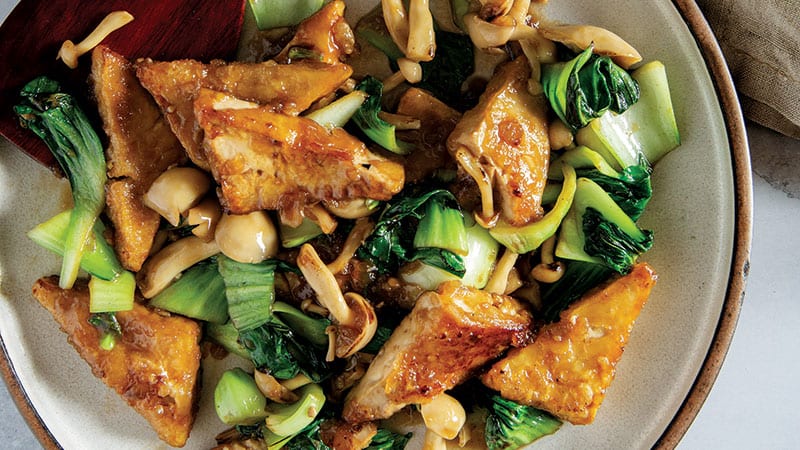 ---
Seared Tofu with Baby Bok Choy
While I use baby bok choy in this recipe, you can opt for your choice of tender, leafy greens.
Makes 4 Servings
About 7 ounces medium or firm tofu (half a standard block), cut into ½-inch-thick slices, then each square cut in half diagonally to create triangles
2 tablespoons soy sauce, divided
⅓ cup cornstarch, for dredging
2 tablespoons plus 1 teaspoon vegetable oil
3 cups sliced baby bok choy, about ½-inch thick
½ cup brown beech mushrooms or enoki mushrooms
2 cloves garlic, finely chopped
½ cup water
¼ teaspoon sesame oil
Place the tofu in a shallow dish and drizzle 1 tablespoon of the soy sauce over the pieces. Carefully turn the tofu a few times to coat with the soy sauce. Put the cornstarch in another shallow dish or plate. Dredge the tofu with the cornstarch, making sure the tofu pieces are evenly coated. In a medium skillet, heat 2 tablespoons of the vegetable oil over medium-low heat for about 1 minute. Place the tofu in the skillet, placing as many as will fit in the pan without overcrowding. Sear 1 to 2 minutes on each side, or until richly browned. Place the tofu on a clean plate. Repeat with any remaining tofu. Set aside.
Preheat a wok over high heat until wisps of smoke rise from the surface. Add the remaining 1 teaspoon vegetable oil and heat until it starts to shimmer. Add the bok choy and stir for 30 seconds. Add the mushrooms and garlic. Stir for a few seconds to combine. Add the water and stir to combine. Add the tofu and remaining 1 tablespoon soy sauce, stirring carefully to combine. Reduce the heat to medium low and let simmer for 1 to 2 minutes, or until the sauce is slightly thickened. Finish with sesame oil.
From Vegetarian Chinese Soul Food: Deliciously Doable Ways to Cook Greens, Tofu, and Other Plant-Based Ingredients (Sasquatch Books, $27)
---
Cook with Hsiao-Ching
Sign up for Hsiao-Ching Chou's PCC classes on Vegetarian Chinese Soul Food and Dim Sum At Home.