SUSTAINABILITY REPORT: New solutions for recycling
This article was originally published in January 2021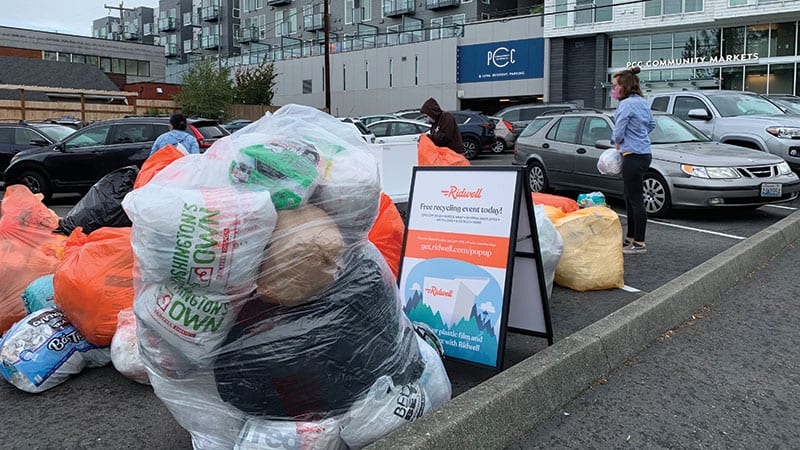 One of the most difficult materials to recycle is, surprisingly, made of recyclable material itself: Plastic film. When King County stopped accepting plastic film in recycling bins, it left many of us in a lurch. A new Seattle startup, Ridwell, is making it easy to recycle materials that aren't typically accepted in curbside recycling bins, such as clothing, batteries, light bulbs, and of course, plastic film.
Plastic film is thin and flexible plastic, including items like Ziploc bags, bread bags, the clear plastic wrapped around cartons and plastic shipping envelopes. When these items end up at our municipal recycling facilities, they jam rotating equipment designed to sort more rigid recyclables such as bottles and cans. This forces the entire facility to shut down multiple times a day so workers can climb in and cut out this tangled material by hand. When sorted and handled properly, plastic film can be recycled in industrial manufacturing processes.
The plastic film collected by Ridwell could end up being recycled into something in your own backyard. After hand-sorting this material to eliminate contaminants, Ridwell then bales and ships it directly to Trex Decking. It is then shredded and melted down into composite decking material. This significantly reduces Trex's demand for virgin plastic. Just a 500-square-foot Trex deck contains nearly 140,000 recycled plastic bags that would have otherwise jammed recycling equipment, gone straight to the landfill, or even worse, into our marine ecosystem.
PCC Community Markets recently partnered with Ridwell to host free plastic film recycling pop-ups at our stores. In two popups, Ridwell collected over five cargo vans full of recyclable plastic film, totaling more than 3,000 pounds. In addition to recycling plastic film with Ridwell, residents can drop it off at King County's Shoreline or Bow Lake Recycling & Transfer Stations, or at one of many dropoff bins located across major retail chains (find one near you at plasticfilmrecycling.org).
PCC members can sign up for Ridwell using an exclusive discount offer here.