"Look, Listen and Learn" about food and feelings
By Rebekah Denn
This article was originally published in May 2020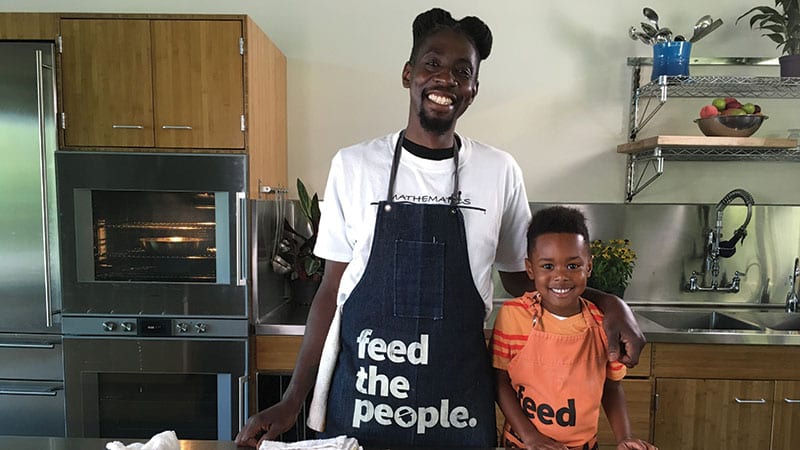 ---
Chef Tarik Abdullah needed a footstool so his cooking assistant could reach the counter. "How old are you?" asked the chef, a Seattle tastemaker known for popup dinners with North African and Mediterranean flavors.
"Six and a half," replied MarrSean, who had arrived with his mother a few minutes earlier at the Columbia City PCC.
"What's it like being six and a half these days?" Abdullah asked.
For the producers filming the interaction, the age is perfect for "Look, Listen and Learn," an early learning educational program on public access TV, aimed at children aged 3-6 and their caregivers. Val Thomas-Matson, the producer and founder, uses books, art projects and cooking to teach lessons about social and emotional learning as well as skills for school readiness. While anyone could watch and appreciate the show, she's particularly focused on BIPOC (Black, Indigenous and People of Color) viewers, providing the opportunity to see people with their own backgrounds fill starring roles.
"We're working to make education exciting and accessible to those who have traditionally fallen through the education gap in the state and city and country," Thomas-Matson said. "I am a community member who sees a need in my community, and I've kind of identified a way to begin to address it," through local children, experts, and sites that champion their mission.
Besides the cooking class hosted at PCC and instructors from Seattle Cucina, a typical show might include a visit to the Seattle Children's Museum or Seattle public libraries. Thistle Theater provides puppetry for sequences with Thomas-Matson in her alter ego role of "Auntie Lena," talking about feelings and challenges. Her warmth and caring tone gives each show the feeling of a visit to Mr. Rogers' Neighborhood. Each show ends with a practical tip for parents and caregivers.
In the show, as in so many other venues, food provides a way for people to connect.
In one scene at PCC's Burien classroom, chef Dwane Butler used a baking project to teach teamwork along with practical tasks like measuring ingredients. In another, Leika Suzumura talked about food traditions and connections to culture, telling the children she worked with—and the viewers at home—how kids in school would make fun of her for the onigiri (a Japanese snack made with rice) that her mother used to pack in her lunch. "I learned something you can say: "Don't yuck my yum…You may not like it, but I like it," she told the group as they prepared onigiri with salmon and sour plums.
At Columbia City PCC, surrounded by bundles of purple carrots and bunches of fat red radishes, Abdullah and his assistant explored the episode's topic of friendship—through the lens of Moroccan potato fritters and sweet hibiscus tea (and later, with 5-year-old Louis, another assistant, spiced basboosa cake).
"I'm really good at cracking eggs," the child assured his new friend as they discussed the afternoon's tasks. "I like the sourness of lemons."
That's all good, Abdullah said. "You got a job."
Together they smelled spices and talked about the memories they evoked, mixed their fritter batter and adjusted the seasoning ("Salt's very important. Got to have flavor," Abdullah said). They slipped some simple multiplication into their topping choices, and steeped hibiscus flowers in hot water and stirred in honey for sweetener ("SO STICKY," MarrSean commented).
After the meal was prepared, the boy gave a dubious look to the dark red tea, ultimately giving way to an enormous smile. "It tastes good!"
Children audition for new episodes through the broadcasters' partnerships with community-based organizations and service providers, including Daybreak Star Indian Cultural Center and the nonprofit First Place school. Children arrive with materials they've prepared, explain why they want to be on the show, and "they have to give us a joke," Thomas-Matson said.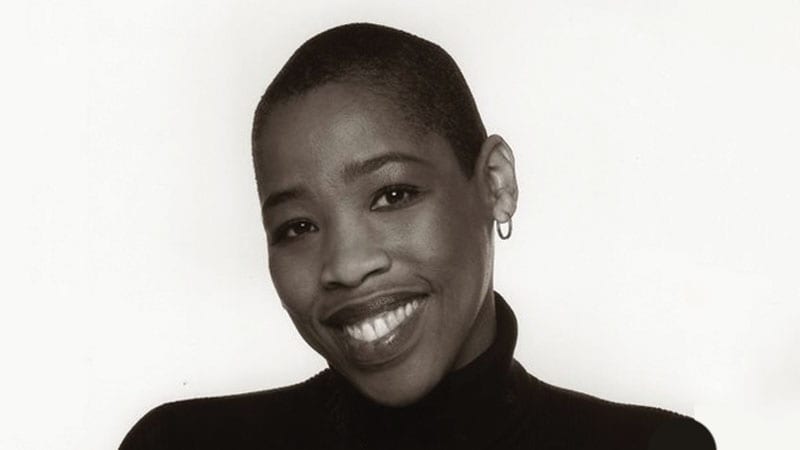 ---
The show's goals are highly personal for Thomas-Matson, a longtime host on Washington Grown, a locally produced TV program on state agriculture that's aired on PBS and on Northwest Cable News. She's also done policy and advocacy work for the Healthy King County Coalition, along with drug and alcohol prevention work for the county—and an early claim to fame with guest roles on Bill Nye the Science Guy.
A Seattle native, she grew up behind Mount Zion Baptist Church in the Central District, where her father was an associate pastor. She attended T. T. Minor Elementary School, one of the worst-performing schools in the Seattle district at the time.
"I didn't have a lot of success in school" early on, and it was the caring adults in her life who helped her overcome many of the barriers she faced.
The family later moved to Seward Park, and she graduated from Cleveland High School and attended Highline Community College before graduating from Western Washington University. She earned straight As her senior year in college and remembers wondering, "What if I could have been doing this all along?"
Even now, "We in this state and city and country continue to struggle with values around race and social justice. I was a product of a whole lot of these categories and groups, if you will. It really was impressed on me to look at what I could bring to the table to help mitigate the gap."
"Look, Listen and Learn" currently airs on the Seattle Channel and King County TV. It's supported through a King County Best Starts For Kids Innovation Grant and the nonprofit organization Shunpike, with producers actively looking for new sponsors and viewers.
The program's been years in the planning, Thomas-Matson said, with a lot of rejection along the way. What kept her going is seeing the faces of children today, remembering how it felt to be one of those kids who wasn't seen as the face of success.
"If I could help one kid not feel that way ever again, I had to keep trying."
For more information visit looklistenandlearn.org. The show is broadcast on The Seattle Channel and King County TV, with some episodes available on YouTube here.