Celebrating holidays in your own way
By Rebekah Denn
This article was originally published in November 2019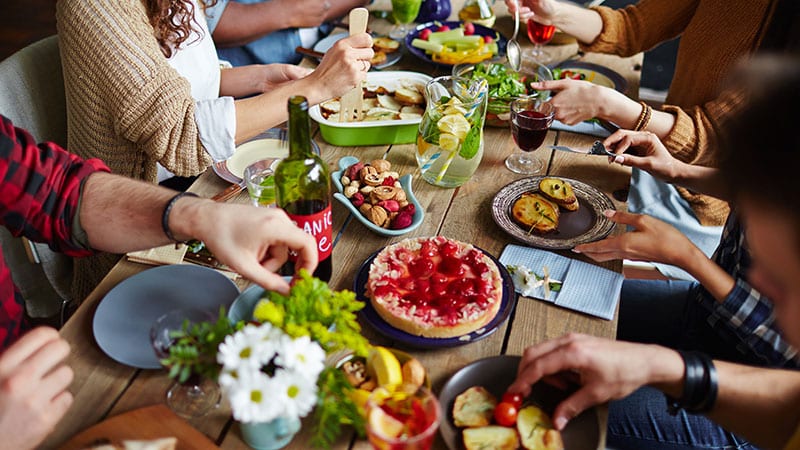 Welcome to the 2019 holiday table.
For plenty of families, it's loaded with Thanksgiving turkeys and Christmas hams. For many others, seasonal traditions call for steamed tamales or crisp potato latkes, a side of roasted salmon or a hearty lamb stew, plump pierogis or a gorgeously stuffed whole pumpkin.
No matter what your traditions, U.S. diners have expanded their definitions of "holiday dish" in recent years. With once-obscure ingredients now commonly available—and some cooks more interested in new culinary horizons—it's also become simpler to accommodate different preferences and dietary needs.
"People are thinking more and more, I wonder if I could try it another way and have it be just as beautiful and satisfying," said PCC cooking class instructor M.J. Conboy, who teaches classes on plant-based holiday menus.
"It's so much easier now than when I first started out. It's just so open now…it makes it much more fun."
Have issues with dairy or eggs? Reliable plant-based butters and creams, milks and mayonnaise and alternate proteins now fill their roles. For artichoke-spinach dip, try vegan mayo or sour cream or even tofu. Aquefaba, the liquid from canned chickpeas, whips into a glorious meringue. Even classic candied sweet-potato casserole now can be made with vegan marshmallows. In place of traditional pastry-wrapped Brie, Conboy will use vegan puff pastry and wheels of plant-based cheese from Miyoko's Creamery, dressing up the plate with nuts and dried fruits, sprigs of rosemary and a little pot of jam.
"I think for the holidays you always want to do something beautiful."
Gluten-free? Holiday baking used to require careful combinations of alternative flours and gums, now all-purpose gluten-free flour can be substituted 1:1 in many recipes.
Avoiding turkeys, hams and prime rib? Depending on the reasons why, responsibly raised meats might fill the bill—or seafood, or vegetarian entrees, or some combination of what your different guests prefer.
"You do your holiday. Whatever makes you and your family happy works for me," Conboy said.
For PCC cooking class instructor Paola Albanesi, part of what defines a holiday dish is the extra care and thought that goes into the preparation. She teaches a class on holiday lasagna, drawing on traditions from her Northern Italian family.
"It's not something you would make every day," she said—but it's a treasure, involving super-thin sheets of homemade pasta, authentically slow-simmered Bolognese sauce and creamy bechamel.
It's as local a harvest as turkey and cranberry sauce here: In southern Italy, the tradition is an egg-free semolina pasta and the cheese might include mozzarella along with ricotta. In the Emilia-Romagna region the green noodles are made with spinach. "They adapt it to the region, to what ingredients are available." Albanesi prepares the ragu a few days ahead, canning or freezing it, the bechamel the day before, then gets family and friends together to roll out the pasta and layer it and prepare several pans of the centerpiece dish.
"It's beautiful to eat the lasagnas together when we made them together," she said.
It's what her mother used to do with her grandmother, and a tradition she hopes to pass on to her own children.
Some meals, no matter which menus you choose, are about more than the food.
Here are some versatile holiday recipes from PCC's cookbook, "Cooking From Scratch" (Sasquatch Books, $24.95). However you celebrate, we hope they'll bring joy to your table.