Legacy of land
By Melony Edwards, guest contributor
This article was originally published in July 2019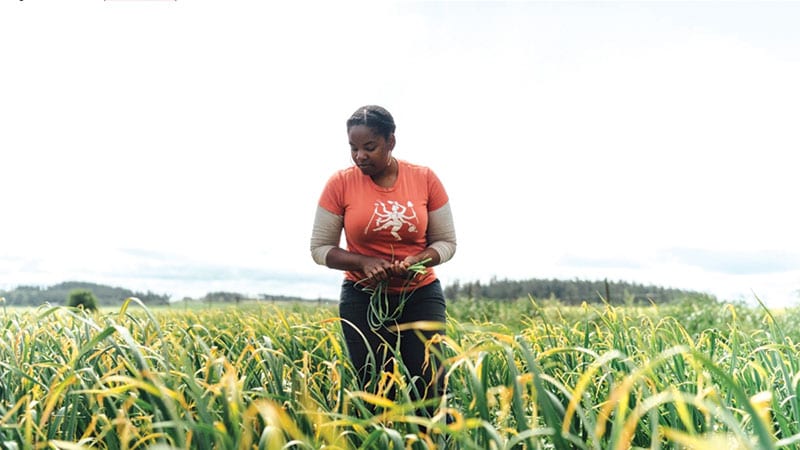 ---
I did not find farming, rather it was always within me; my ancestors simply reminded me of my heritage and called me back to my roots. Many equate farming with slavery and question my career. But our nation has forgotten that before Africans were enslaved on American farmlands, we were the great agriculturists and stewards of the earth in our homelands on the great continent of Africa.
Very recently I discovered that my ancestors, once emancipated from slavery, became tenant sharecroppers on their previously enslaved land known as Tupelo, Mississippi. They eventually became the owners and stewards of that particular land and it is still in the family today. Not all black farmers were as fortunate to keep their land. Due to systemic and oppressive disenfranchisement that continues to this day, over the last century there has been a steep decline in black landowners and black farmers. The U.S. Commission on Civil Rights even projected in 1982 that by the year 2000, there would be virtually no black farmers left in the United States. While we averted that extinction, 2017 census numbers from the U.S. Department of Agriculture (USDA) tell us that just 1.3% of our nation's farmers are black. Reasons contributing to the decline are well-documented; in 1999 the historical class-action lawsuit Pigford v. Glickman showed a routine pattern of discrimination against black farmers, resulting in $50,000 awards to each of the thousands of black farmers who filed racial discrimination claims against the USDA. In 2010 Pigford II awarded additional funds to unfiled claims.
The Pacific Northwest (PNW) has its own dark history of displacing black landowners. Oregon had three specific exclusion laws enacted in 1844, 1849 and 1857. As historian R. Gregory Nokes wrote, these laws prohibited African Americans from settling in what was then known as Oregon Country, which at the time also included parts of current Washington state. Today's current lack of land ownership for African American farmers in the PNW is a direct result of those laws.
As I engage with and learn more about the growing community of black farmers, I am aware of only one farmer who owns their land. The majority of black farmers in the PNW are leasing land with the hopes of owning it one day. But the limiting factors, such as increasing cost of land and lack of land-purchasing knowledge within the black community, add steep barriers to an already disadvantaged field.
Farming is my calling because an aging farmer population will call on my generation to claim ownership of, and tend to "over 370 million acres of land," according to the American Farmland Trust. Organizations such as Soul Fire Farm, the Northeast Farmers of Color Network and National Black Food and Justice Alliance are leading the way by calling for reparations of land and resources. Justly due reparations would allow for the start of the restoration of the black farming community and their economic position stolen through decades of discrimination in agricultural and lending institutions. With land ownership we could reclaim our ancestral skills and re-associate farming with power versus slavery. Our disadvantaged and sick communities would benefit through better access to fresh fruits, vegetables, meat, eggs and dairy. With land we could build and establish generational wealth and knowledge to leave an inheritance and legacy that ensures a future for black farmers in America. As I said before, I did not find farming, rather it was always within me; my ancestors simply reminded me of my heritage and called me back to my roots.
"Revolution is based on Land. Land is the basis of ALL Independence. Land is the basis of Freedom, Justice, and Equality."
— Malcolm X
Melony Edwards is a first-generation farmer whose ancestors traveled north after emancipation in the journey known as the Great Migration, for a better life away from the fields of sorrow that they had grown to know. After completing degrees in culinary arts and hospitality, and working in all facets of food service, Edwards began wondering,"Where does our food come from? And why are there no visible black farmers at the local farmers market?" Edwards found that gaining access to entry-level farming training in the rural landscape was exclusive, but she was determined to learn agricultural skills outside of her urban setting. Her journey of reclaiming farming landed her on a 20-acre mixed vegetable farm on rural Whidbey Island where she immersed herself in small-scale agricultural practices. Edwards spent three years there advancing to farm manager. Now her farming adventures continue in Fairbanks, Alaska, where she hopes to grow her skill set and farming experience.