News bites
This article was originally published in April 2019
Endangered species in fish & chips?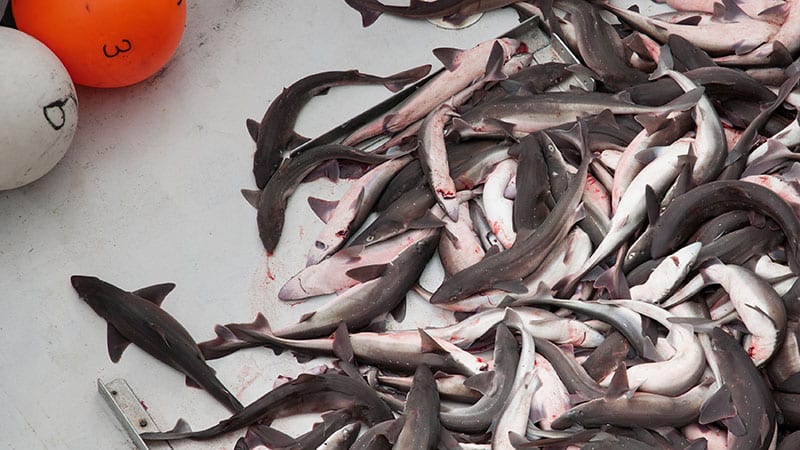 A study from the UK has found many British customers unknowingly are eating critically endangered shark species when they order fish and chips. Scientists found 90 percent of the items sold as huss, rock salmon and rock eel really were the globally threatened spiny dogfish. Researchers also found when they examined produce at an Asian food wholesaler that 40 percent of the shark fins distributed to restaurants and grocers came from the endangered scalloped hammerhead shark. (Scientific Reports)
Thinking about food?
If you're focusing on your eating habits in 2019, then be mindful of the clock striking 2:41 p.m. A survey of 2,000 Americans found that is the specific time of day when willpower is most tested and cravings strike hardest. A study by One Poll, on behalf of Blue Diamond Almonds, found Americans think about food an average of four times a day and spend 40 minutes each day purely thinking about food. That's the equivalent of more than 10 solid 24-hour days a year. (Agri-Pulse.com)
Diet sodas linked to strokes
A study by the American Heart Association and American Stroke Association reports an association between diet beverages and strokes. Drinking two or more artificially sweetened drinks a day is linked to an increased risk of clot-based strokes, heart attacks, and early death in women more than 50 years old. Previous research has shown a link between artificially sweetened drinks and stroke, dementia, Type 2 diabetes, obesity and metabolic syndrome, which can lead to heart disease and diabetes. (CNN.com)
Saving prime soil
Oregon's land use regulators have imposed temporary restrictions against solar panel arrays on high-value farmland. Solar facilities larger than 12 acres on high-value farmland have required conditional use permits in the state, but ambiguities in the regulation raised concerns among farm and conservation groups. In response, the Land Conservation and Development Commission issued temporary rules clarifying that solar projects cannot "use, occupy or cover" more than 12 acres and voted to approve new provisions prohibiting most solar development on top-quality soils defined as Class I, Class II, prime and unique. (Capital Press)
Hazardous residues despite ban
Despite a court-ordered ban on the high hazard insecticide, chlorpyrifos, California officials have found detectable chlorpyrifos on fruits and vegetables for sale. The U.S. Environmental Protection Agency deemed chlorpyrifos so threatening to human and environmental health that most home uses were banned 17 years ago. Chlorpyrifos works by attacking the nervous system and is so potent even small exposures are linked to arm tremors in children, lower IQs in kids, and physical changes in the brain that affect language and memory. (thecalifornian.com)
USDA's narrow focus
The U.S. Department of Agriculture's (USDA) National Institute of Food and Agriculture has released a "funding opportunity" for alfalfa research and lists five research priorities. According to Inland FoodWise Online, however, nowhere is there any stated priority to study how to mitigate the climate impacts from dependency on fossil fuel-based fertilizers, chemicals, cultivation and transportation and nowhere is there a stated priority to maximize building soil organic matter or reduce dependence on pesticides. Critics say USDA should include regenerative criteria in research priorities and not fund research that ignores the environmental impacts of farming practices. (Inland FoodWise Online)
Smell before consuming?
New studies suggest sniffing indulgent foods, such as pizza and cookies, for approximately two minutes leads to better personal food choices. The series of experiments was done in grocery stores and several school cafeterias. When the smell of junk food was pumped into the room, the number of people who decided to purchase it dropped in half. Researchers believe the smell of the food was enough to push through initial cravings. (ABC News)
Elk damage
In Olympia, a state bill is proposing to let farmers file claims for elk-damaged pastures. Dozens of farmers and ranchers report that their crops, pastures, fences, hay bales and irrigation systems are being damaged by a growing number of elk in a valley in Eastern Skagit County. The county assessor's office projects that elk cause $1.5 million in damages annually to farmland there. (Capital Press)
Who buys cauliflower?
Age and income play a key role in cauliflower purchases. Producer Retailer says the likelihood of a purchase increases according to both factors and that those in the highest income and age brackets were among the most likely overall to buy the cruciferous vegetable. Shoppers without kids at home were a bit more likely to buy cauliflower than those with kids, but the likelihood of a purchase increased according to the number of children in the home. (ProduceRetailer/FarmJournal.com)
"Grossed out" by GMOs?
Researchers report that after more than 20 years of genetically engineering food, consumers remain skeptical and say they are "grossed out" by genetically engineered foods. A study from Washington University in St. Louis found people tend to view naturalness as sacred and that GE food is a violation of naturalness. The International Food Information Council Foundation says the most common reason people avoid GE foods is human health, followed by environmental and animal health concerns. (Fooddive.com)
Credit union support
Credit unions across the nation worked to support members struggling to make ends meet during the U.S. government shutdown this January. Initiatives included emergency interest-free loans, installment loan deferments and budget counseling. (ncba.coop/co-op)
GE cattle?
A reproductive biologist, Charles Long, is traveling from Texas to Brazil in search of collaborators willing to take on his studies of gene-edited cattle. After 20 years of struggling and failing to win U.S. government funding for such research, Long says he has given up and is moving his project to the Southern Hemisphere. In 2017 the Food and Drug Administration released draft guidance that suggested it will regulate gene-edited animals, such as salmon and cattle, as "animal drugs," but the agency has not released any requirements, nor finalized guidelines for regulating gene-edited livestock. (Nature.com)
Is milk healthy?
Canada has released a new food guide, and one thing noticeably missing is a daily dose of dairy. The new food guide has eliminated standard elements, such as food groups, serving sizes, and the recommendation that 100 percent fruit juice can substitute for whole fruits. Canadians are advised to fill half their plate with fruits and vegetables, a quarter with starches, and a quarter with protein. (BBC News)
Blizzard kills Washington cows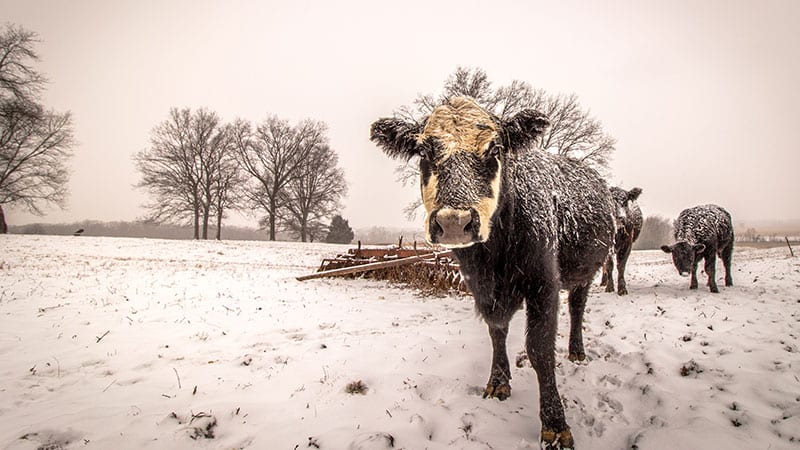 A day-long February blizzard killed 1,677 cows at about 10 dairies in the Sunnyside area of Washington state. Because of desert climate conditions, many farms in the area are open-lot dairies with cows outside or under open-sided shelters. Most of the dairies with losses were on an exposed ridge. (Capital Press)
Avocado opportunity?
As trade talks with China progress, the California Avocado Commission is seeking to advance its 14-year campaign to allow California avocados access to China, which is seeing leaps in demand for the fruit. After recent trade policy meetings in Beijing, officials from USDA's Animal and Plant Health Inspection Service notified the commission that meetings to discuss phytosanitary matters and market access would be scheduled soon. There is no established commercial avocado production in China. (ThePacker.com)
More fruit in the South
Apple orchard production in the Southern Hemisphere is forecast to increase this year, up 2 percent compared with 2018. Argentina, Australia, Brazil, New Zealand and South Africa all are forecast to increase output. A new report from the World Apple and Pear Association says Southern Hemisphere pear production also is forecast to increase 2 percent from last year. (Capital Press)