Fracking on farms
by Julia Barton and Amalie Lipstreu
This article was originally published in February 2019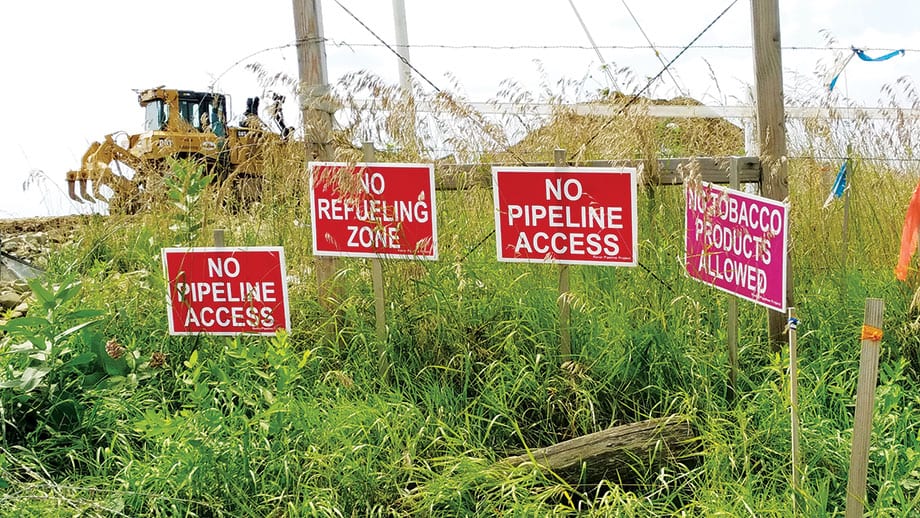 ---
Thanks to advocacy by PCC and others in the National Organic Coalition, the National Organic Standards Board (NOSB) is asking the U.S. Department of Agriculture to add concerns about fracking impacts on farms to its work agenda. This is significant and not an easy ask, since the NOSB no longer can set its own work plan. We need your help to succeed.
A growing number of farmers are raising concerns about acreage destroyed by oil and gas companies laying pipelines in rights of way. They say bulldozers scrape off the topsoil and push it aside, but once pipes are laid, companies don't restore the land as promised.
Uneven land with compacted clay has rendered many acres unfit for growing crops, and there are concerns about using so-called "produced" water from hydraulic fracking to irrigate food crops, including organic food crops.
PCC Community Markets and we at the Ohio Ecological Food and Farm Association (OEFFA) will continue working to protect farmland and farmers being threatened. Collaborating with the National Organic Coalition (NOC) and other partners, we will make sure farmer voices are heard and the integrity of organic food is protected.
According to data from FracTracker Alliance, if oil and gas extraction continues along the path we have seen to date, it's reasonable to expect an increase in the number of organic farms near such industrial activity. Currently, 11 percent of all U.S. organic farms (2,140 of 19,515) share a watershed with active oil and gas drilling. The number could climb to 31 percent if unconventional oil and gas drilling continues to grow.
We are asking the NOSB to provide clarity and guidance on how concerns about fracking on farms can be addressed, consistent with other enforcement in organic food standards.
What follows is the story of what happened to one certified organic farm.
Clover Meadow Farm
James Yoder grew up on the rolling hills of his father's Northeast Ohio farm and in 2015 became the third generation to run the 66-acre Clover Meadow Farm in Apple Creek, Ohio, where he supports his young family by milking a small herd of organic Jersey cows. James is young, energetic and passionate about farming.
He rotates his cows on 55 acres, moving fence three times a day so the animals always graze on fresh pasture. James' choice to raise dairy cows organically contributes to the health of his animals, fills demand for organic milk, and makes his small herd a profitable one.
The farm has a vantage point of neighboring farms, trees and homes — an idyllic view of rural countryside. That view, and much more, were put in jeopardy in the spring of 2015 when James was approached by a survey crew.
The surveyors wanted to look at his land and mark where a new pipeline would cut through 11 acres of the farm, diagonally across his grazing fields. Later that year, James was approached by a "land man" who requested James sign an easement for Energy Transfer Partners to construct two 42-inch pipelines on his land to transport gas from Ohio to Canada. The gas was extracted by hydraulic fracking, a technique that has turned America into the world's leading energy exporter.
James' first thought wasn't about how he would be compensated, or even about stopping or rerouting the pipeline.
"My first concern was losing my organic certification. It would put me out of business," said James. He was worried about the impact that pipeline construction would have on his cows, his farm, and his soil. James and his father already had spent seven years rebuilding their soil after many years of conventional farming.
James knew that fracking brings many environmental risks that threaten farmer livelihoods. Spills at the drilling site, faulty pipelines, and poorly constructed wells have contaminated drinking and irrigation water. Spills also poison farmland. Salty wastewater, contaminated by a cocktail of chemicals, including radioactive material, can make land unproductive for decades.
James reached out to us at OEFFA to see what resources might be available to help navigate this challenge. Together, we worked to utilize an Organic Agriculture Impact Mitigation Plan (OAIMP) that dictates what practices would need to be in place to protect the farm's organic certification. James used the plan to negotiate with the pipeline company. The company eventually agreed to follow it.
The OAIMP requires certain practices to mitigate the effects of heavy machinery, construction, drilling and holding pools common in fracking or pipeline operations. The plan requires the energy company to work in collaboration with the farmer, a trained organic inspector, and the organic certifying agency to identify construction practices unique to each farm that will minimize the potential for decertification of land or animals.
Although the construction process was stressful for farmer and animals alike, the energy company adhered, under the supervision of the organic consultant, to the terms of the mitigation plan. James' organic certification was maintained.
James still is dealing with the impacts of heavy machinery, which compacted the soil on his grazing fields, and with drainage issues impacting the viability of his land. But his business — his family's livelihood — was left intact. Although James and his family never wanted a pipeline transecting their beautiful farm, he used resources available to him, yielding a relatively positive ending in a very difficult situation.
There are an untold number of other farmers across the country left in the dark, without any resources, guidance or organizational knowledge about how to best protect themselves and their businesses when faced with energy infrastructure development.
National implications
Communities across the nation deal with these impacts from oil and gas energy infrastructure, whether it is coal tar sands in Canada; the use of fracking wastewater to irrigate citrus, grapes and pistachios in central California; earthquakes caused by fracking in Oklahoma; rigs, waste pits and injection wells in Pennsylvania; or the pipelines that deliver oil and gas throughout the United States.
The NOSB, an advisory board to the Secretary of Agriculture on all matters organic, is not yet working on these impacts to farms because USDA has not put it on the agenda. USDA took away NOSB's authority to set its own agenda and work plans in 2014.
OEFFA, PCC and other NOC partners have been working to bring this issue to the NOSB's attention for years through our comments. Most recently, we worked together to organize a group letter (read the letter here), signed by 32 organizations and industry partners who share our concerns.
Additional pressure from organic consumers could be the difference that makes our campaign successful.
If you're concerned about the impacts of energy infrastructure on organic farms, join us to ask USDA and its National Organic Program to put this issue on the NOSB work agenda. See the front page column for information on how to engage.
We want to ensure that farmers, like James, have the tools and resources they need to protect the integrity of organic food and the health of our communities.
The Ohio Ecological Food and Farm Association offers one of the oldest, largest and most respected organic certification programs in the nation. It is a grassroots coalition of farmers, gardeners, consumers, retailers, educators and researchers founded in 1979.
---
Come testify before NOSB
April 24-26, 8:30 a.m. to 6:30 p.m.
Renaissance Seattle Hotel
515 Madison St., Seattle
Please come to the National Organic Standards Board (NOSB) meeting in Seattle this April. The NOSB recommends organic standards to the U.S. Department of Agriculture (USDA).
USDA needs to hear that organic stakeholders like you care about organic farmers and organic food. We need your help to support our request that USDA allow NOSB to discuss the impacts of oil and gas fracking on farms.
To read PCC's concerns about fracking, see our comments to NOSB (Asking the NOSB to consider impacts of oil and gas fracking) and (PCC comments for organic integrity)
To submit written comments or to comment orally at the April NOSB meeting, sign up by April 4 at www.ams.usda.gov.
Fracking facts
Farmers who own their land do not necessarily own the rights to the minerals that lie underneath. In many parts of the country, mineral rights generally have precedence over surface rights, meaning fracking can occur despite surface owners' objections. Surface owners bear the risks of fracking while the owners of the mineral rights get the royalties.
The Environmental Protection Agency has acknowledged fracking is contaminating some water sources. Farm animals near drilling sites are falling ill. Data from the Centers for Disease Control and Prevention show an increased risk of infant mortality in fracking areas.
We believe investigation is necessary. The USDA National Organic Program (NOP) should act to preserve confidence in organic certification. We're grateful NOSB has asked USDA to take up our concerns.
We want guidance for certifiers and farmers that will support them in navigating the issues. Our recommendations include:
Guidance to organic certifiers and organic farmers
Moratorium on using "produced water" from hydraulic fracking to irrigate organic crops
Certifiers to test "produced water" from fracking when used to irrigate crops
Guidance that "produced water" containing prohibited substances cannot be used, alone or blended, to irrigate organic systems
For updates before the NOSB meeting, sign up for PCC Advocates here.