Choosing a safe sunscreen
This article was originally published in June 2015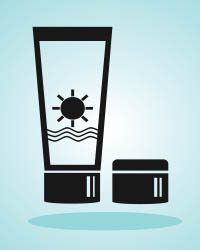 Millions of Americans depend on sunscreen for skin protection, but they shouldn't. Rates of melanoma — the most deadly form of skin cancer — have tripled over the past 35 years.
Scientists have found very little evidence that sunscreen alone prevents most types of skin cancer. Yet a good sunscreen can play a role in preventing sunburns that are a major risk factor for melanoma — provided you use it correctly.
The ideal sunscreen would completely block UV rays that cause sunburn, immune suppression and damaging free radicals. It would remain effective on the skin for several hours. It would not form harmful ingredients when broken down by sunlight.
No sunscreen meets these goals. Consumers must choose between "chemical" sunscreens, which have inferior stability, penetrate the skin, and may disrupt the body's hormone system, and "mineral" sunscreens, made with zinc and titanium, often "micronized" or made up of nanoparticles one-twentieth the width of a human hair.
Nanoparticles in mineral sunscreens
Nanoparticles in zinc oxide and titanium dioxide-based sunscreens help reduce or eliminate the chalky white tint that these minerals once left on the skin. PCC sells sunscreens with zinc oxide and titanium dioxide, which can be natural minerals but also may be the product of nanotechnology.
There's some dispute in the industry about the distinction between micronized vs. nano ingredients, but all of PCC's vendors say the titanium dioxide they use is micronized, not nano.
Based on available information, the Environmental Working Group (EWG) gives a favorable rating to most mineral sunscreens, but says the Food and Drug Administration (FDA) should restrict UV-reactive forms of minerals that would provide reduced skin protection.
PCC sunscreen standards mean all our sunscreens are free of harmful synthetic ingredients.
Beware of high SPF and additives
High-SPF products tempt people to apply too little sunscreen and stay in the sun too long. The FDA has proposed prohibiting the sale of sunscreens with SPF values greater than 50, calling higher SPF values "inherently misleading," but it has not issued a regulation that carries the force of law.
The sunscreen industry often adds a form of vitamin A to SPF sunscreens. One form of vitamin A, retinyl palmitate, is an antioxidant that slows skin aging. But studies by federal government scientists indicate that it may speed the development of skin tumors and lesions when on skin in the presence of sunlight. EWG recommends that consumers avoid sunscreens that contain vitamin A, also listed as retinyl palmitate, retinyl acetate or retinol.
You won't find sunscreens with vitamin A at PCC.
Choosing and using sunscreen
The sun's ultraviolet radiation generates free radicals that damage DNA and skin cells, accelerate skin aging, and may cause skin cancer. Sunscreens can reduce these damages but not as effectively as they prevent sunburn.
It's important to pick a sunscreen with good UVA protection, to apply enough and reapply it frequently. Take further precaution by seeking shade, wearing a hat or covering up with long sleeves.
See EWG's sunscreen guide at ewg.org/sunscreen.
Top-selling sunscreens at PCC
DeVita Solar Body Moisturizer SPF30+ — Non-nano zinc oxide, absorbs quickly, and isn't oily or greasy. A body moisturizer and sunscreen in one. Unscented.
Goddess Garden SPF30 — Non-nano zinc oxide, made with certified organic ingredients, water resistant, reef-safe. Lavender scent.
MyChelle Replenishing Solar Defense SPF30 — Non-nano zinc oxide, with kukui and macadamia oils, and red algae to reduce the look of lines and wrinkles. Unscented.
Elemental Herbs Sunscreen Sport SPF33 — Non-nano zinc oxide with organic green tea extract, organic rose hips and organic jojoba.
Badger Organic Sunscreen with Zinc Oxide SPF30 — Non-nano, water- and sweat-resistant, certified organic base of sunflower oil, beeswax, sea buckthorn and vitamin E. Unscented.
This article was compiled from the Environmental Working Group.