Your co-op community, June 2015
This article was originally published in June 2015
Community Grant winner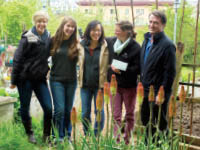 We're excited to announce our second Community Grant of 2015, which has been awarded to InterIm Community Development Association's Danny Woo Community Garden. The garden operates a space in Seattle's Chinatown/International District where elders can practice farming and gardening from their cultural heritage, as well as teach youth about these cultural histories and introduce them to the joys of gardening.
The Danny Woo Children's Garden, piloted in 2009, is located within the community garden. Children learn the process a plant takes to grow from a seed to food on their plate. Our grant will be used specifically for the cooking class portion of the Children's Garden program. Under supervision, children are responsible for tasks such as chopping produce with plastic knives and using measuring cups to pour ingredients for sauces. The Children's Garden Coordinator then combines and cooks these ingredients on a hot plate while discussions are facilitated about the natural and cultural origins of food. The grant will allow for more of these cooking classes as well as help to provide more local and organic produce.
---
Blood drive
Friday, June 5, 9:30 a.m. to 12:30 p.m.
Bloodworks Northwest will be at the PCC office headquarters collecting blood. Walk-ins are welcome. Remember to bring your ID.
---
Fremont 5K & Briefcase Relay
Friday, June 5, 4:30 to 7:30 p.m.
North 34th Street & Fremont Avenue
Support FamilyWorks by joining the Fremont 5K and Briefcase Relay. We are the official fruit sponsor of the event so stop by the PCC tent after the race for a reenergizing snack! For more information and to register, visit promotionevents.com/fremont.
---
Issaquah Triathlon
Saturday, June 6
This is a 10k race, a 5k race and a kid's triathlon that benefits Arbor Montessori School and neighboring communities. The entire family can join in the fun at Lake Sammamish State Park with vendors, food and fun.
PCC is the official fruit sponsor for this event. For more information visit issaquahtri.com.
---
Seafair Milk Carton Derby boat-building demos
Saturday, June 6, noon to 3 p.m.,
Greenlake Village PCC
Saturday, June 20, noon to 3 p.m.,
Greenlake Aurora PCC
The PCC Natural Markets Seafair Milk Carton Derby happens every July at Greenlake and this year our two nearby locations are here to help you boat with the best. Need some tips from the experts on how to improve your entry or just need to register? Seafair staff will be there to help you.
---
Big Day of Play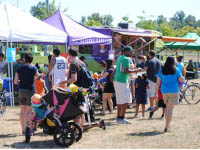 Sunday, June 28, noon to 4 p.m.
Mount Baker Rowing and Sailing Center
3800 Lake Washington Blvd. S.
Come find us at the TasteMobile where kids 12 and younger can join in on a PCC Kid Picks taste test. Next, all ages can spin the Color Wheel to test food knowledge and win prizes!
Make sure to experience all the great food, music and fun that Seattle Parks and Recreation and their partners offer our community. Learn more about the Big Day of Play.
---
Food bank packaging work parties
Help out our partnering food banks by donating your time to pack our bulk foods into family-sized portions. Join us:
Monday, June 8 at 7 p.m., West Seattle Food Bank
Wednesday, June 10 at 6:30 p.m., Redmond Hopelink Food Bank
Wednesday, June 17 at 7 p.m., Greenwood Food Bank
Thursday, June 18 at 7 p.m., Chicken Soup Brigade Food Bank
For more information, including addresses and future dates, see pccmarkets.com/foodbank.
---
PCC Cooks
Around the World kids' camps start this month, but the summer fun isn't just for kids! Registration opens June 2 for our entire summer calendar, featuring a fresh new look and a full array of classes from July through September. Discover classes such as Summer Seafood, Italian Harvest, No-Cook Dinners and Summer Brunch, plus so much more. Find the new catalog with this Sound Consumer, in stores or online at PccCooks.com.
Can't wait until July? You don't have to! We have space available in many June classes, from culinary jaunts across the globe with Japanese Small Plates, Vegetarian Indian Traditions or Quick Southern Italian Sauces, to technique-based classes and one-of-a-kind topics. Spring Chicken is a perfect resource for all your chicken-cooking questions, including the best method for tackling a whole bird. Or, you can immerse yourself in baking science with Pastry Techniques: the Egg Foam, as pastry chef extraordinaire Laurie Pfalzer employs the chemistry of eggs to create four delectable desserts. For availability, visit the Class Calendar page at pcccooks.com.