PCC food bank program award
This article was originally published in April 2014
The PCC Food Bank Program has won the Food Marketing Institute's (FMI) 2013 Community Outreach Award in the category of programs addressing food insecurity.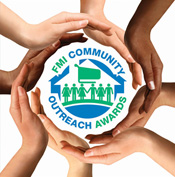 PCC's program allows shoppers to contribute cash donations and reusable bag rebates to fund the purchase of bulk food, which is repackaged at bimonthly parties at 11 partner food banks. More than 1.3 million pounds of food have been distributed since the program began — 72,000 pounds in 2013 alone.
The FMI awards recognize creative, charitable programs established and carried out by food retailers to enhance the lives of those in the communities they serve. PCC was one of six retailers to win an award.
David Fikes, FMI's vice president of communications and consumer affairs, said, "These programs serve as vivid reminders that the longstanding tradition of the neighborhood supermarket enriching the life of its community is alive and well."
USDA report: ongoing GE concerns
A new report from the U.S. Department of Agriculture says after more than 15 years on the market, genetically engineered (GE) seeds have not been proven to increase yields. USDA's Economic Research Service (ERS) says, "in fact, the yields of herbicide-tolerant or insect-resistant seeds may be occasionally lower than the yields of conventional varieties."
The report states several researchers also found "no significant differences" between net returns to farmers who use GE herbicide-tolerant seeds and those who use traditional, non-GE seeds.
The ERS says insecticide use has gone down, but herbicide use on GE corn has increased from around 1.5 pounds per planted acre in 2001 to more than 2 pounds per planted acre in 2010. Herbicide use on non-GE corn has remained relatively level during that time.
ERS also says over-reliance on glyphosate (the main ingredient in the herbicide Roundup) has caused 14 weed species and biotypes to develop resistance, making crop production much harder.