Notice of annual membership meeting
This article was originally published in April 2014
Tuesday, April 29, 5:30 p.m.
St. Demetrios Hall,
2100 Boyer Ave., E., Seattle
Dinner will be served at 5:30 p.m
RSVP by April 22
Free parking
Directions are available online at pccmarkets.com
Accessible by Metro Bus: tripplanner.kingcounty.gov
2014 annual meeting
The spring member meeting will feature annual reports from the board and management on the state of our co-op. You'll get a look at renderings of our new Greenlake Village store (now under construction and opening in early summer 2014). We also will talk about plans for our next new store in Columbia City. Construction is underway and opening is scheduled for late spring 2015.
You also will hear from our four board candidates (see 2014 election). They will each have a few minutes to tell you about themselves and why they want to serve you.
We'll be celebrating PCC's 60th anniversary. We intended to present at this meeting a multimedia piece sharing photos, documents and interviews, but we ran into a happy problem as we began work on the project. More and more information began to pour in and we realized that we would have more exhibits than we ever dreamed! To do justice to this archival project, we need considerably more time to complete it. So, we have decided to do a "sneak preview" to give you an idea of how the finished piece will look.
Once it's finished, we'll plan small meetings around our PCC communities to share this wonderful document during the next two years.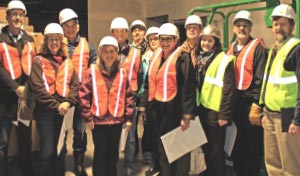 Board report
The board met in retreat on February 22-23 and had discussions on a range of issues including healthy growth. They looked at the financial impact of several growth scenarios and spent time reviewing board policies and procedures.
The board also toured the new PCC at Greenlake Village currently under construction. Director of store development, Lori Ross, walked the entire facility with the board and answered questions.
The March 28 board meeting occurred after this issue went to press. We will report on it in May. The agenda was scheduled to include a review of the 2013 financial audit and the 2013 Ends Policies monitoring reports.
The next scheduled board meeting is Tuesday, May 27 at the co-op office. The meeting begins at 5 p.m., with member comment period at 7 p.m.
2014 election
All of our candidates' photos, bios and brief Q&As are posted now on our website. Also posted are brief video conversations with each candidate. The information will remain posted through the end of the election period on May 15. Your printed information, including your ballot, can be found in the election insert inside your home-delivered May Sound Consumer.
Our candidates are:
Carol Binder (civic volunteer, licensed CPA, ret.), incumbent
Julianne Lamsek (technology director, KCTS 9), incumbent
Bruce Williams (civic volunteer, boards of directors), incumbent
Betsy Lieberman (nonprofit leadership consultant, civic volunteer)
Meet the candidates
In addition to the candidates' presentation at the annual meeting, we're planning two store visits where all candidates will be present to give members an opportunity to meet them and ask questions in person:
Saturday, May 3, 11 a.m. to 1 p.m.
Issaquah PCC
Saturday, May 10, 11 a.m. to 1 p.m.
Edmonds PCC