Raw, raw, raw!
This article was originally published in April 2013
When you hear the term "raw food," do carrot sticks come to mind? Think again! Today, raw food is not just fresh produce. It also includes raw packaged foods such as crackers, nut butters and other snack foods never heated above 116° F.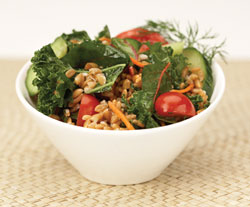 These packaged raw foods are healthy choices not just because they're made from vegetables, fruits, nuts, seeds, and sprouted grains or beans, but also because shoppers seeking raw foods also demand foods with minimal added sugars, fats and salt. Raw food advocates report that increasing raw foods provides:
Energy and vitality from consuming foods in their natural "living" state.
Enhanced digestion from enzymes present in raw food that are destroyed by cooking.
Higher nutrient levels, because heat reduces vitamins and minerals.
A better mental outlook and improved immunity, blood pressure, cholesterol levels and other health benefits.
A "crunch factor" to your diet, forcing you to slow down while you eat.
Note: There is nothing wrong with cooking food. In fact, some nutrients in foods are better absorbed after cooking. Adding raw foods most likely will improve your diet quality, but if you prefer the flavors of cooked foods, then don't worry that lightly sautéing your kale will destroy the nutritional benefits. It's still kale!
Raw at PCC
From our Deli
PCC Deli Rainbow Salad — squash, cucumbers, carrots and fresh mint.
Crunchy Beet Slaw — with a balsamic vinaigrette for tang and carrots and sunflower seeds for crunch.
Cauliflower "Tabouli" — no grains here, just raw cauliflower, organic tomatoes and yellow bell peppers, and plenty of organic herbs and spices.
Marinated Seaweed, Kale & Cucumber — with fresh ginger and sesame oil.
PCC's house green salad to go — another easy way to get a good serving of raw greens and vegetables.
The Methow Valley Salad; Emerald City Salad — mixtures of raw vegetables and greens and cooked grains. 

Snacks and beverages
Harmless Harvest coconut water — Raw organic refreshment from small, organic agroforestry farms. Coconut water contains potassium, important for heart health, regulating blood pressure and other body systems.
Artisana Organic cashew butter — A rich source of iron and essential vitamins and minerals, and the foundation of many vegan, raw recipes.
Alive & Radiant Kale Krunch — Snack chips in flavors such as Quite Cheezy and Southwest Ranch.
Go Raw Flax Snax — Craving pizza? Try these crunchy, salty chip-like snacks, made with only sprouted organic flax seeds, sunflower seeds, sesame seeds, tomatoes, salt and spices. Other flavors include Spicy, Simple, and Sunflower.
Wilderness Poets nut butters and snacks — Need a protein fix? Try individually sized packets of raw nut butters, perfect for packing in a lunch sack and spreading on bread or apples. Also don't miss the Wild Mixes, with superfood ingredients such as organic Incan berries, cacao nibs and more.
Craving sweet?
Hail Merry — PCC staff rave about the raw macaroons with organic coconut and almond flour, and Miracle Tarts in flavors such as Meyer Lemon, Persian Lime, Coconut Vanilla and Chocolate.
Jodee's Desserts — Locally made raw "pies" with nut-coconut-date crusts and creamy fillings made of fresh, young coconut meat and cashews. Flavors include Chocolate Cherry, Double Chocolate and Mocha.
Go Raw Chocolate Super Cookies — Organic coconut, dates, sprouted sesame seeds and cocoa are the only ingredients in these "cookies," which satisfy chocolate and cookie cravings.
Fearless Chocolate — Cacao has more antioxidants than blueberries or red wine. This organic chocolate bar is made with cacao roasted at a low temperature to retain the nutrients and natural earthiness.
Add a spoonful
A great way to get the benefits of raw food is just to add a spoonful of raw "superfoods" to a smoothie, salad, or your morning oatmeal, yogurt or granola. They seem exotic, but they can be incorporated into your diet with little effort. Some to try: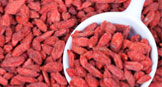 Maca powder — Maca is an ancient Peruvian superfood reportedly prized by Incan warriors to increase stamina, boost libido and combat fatigue.
Goji berries — Goji berries have been enjoyed for thousands of years in traditional Chinese medicine. They're a strong source of protein and contain an abundance of antioxidants and more than 20 vitamins and minerals.
Chia seeds — Ancient cultures throughout Central America have long enjoyed chia seeds as a key part of their food and medicine. Chia seeds have omega-3 fats, protein, antioxidants and dietary fiber. They have a mild, nutty flavor.
Cacao nibs — Cacao is a top source of antioxidants and is rich in magnesium and iron. Use nibs in everything from baked goods to salad dressings.