New PCC standard: chocolate must be fair labor
by Eli Penberthy
This article was originally published in April 2013
PCC has asked for written assurance from all our chocolate vendors that their products were made from ethically sourced cacao.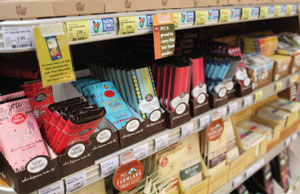 From now on, PCC will sell chocolate candy confections and cocoa powders only from vendors that provide assurance that child slave labor is prohibited and follow International Labor Organization (ILO) Fundamental Conventions.
These conventions include strict prohibitions against the worst forms of child labor, as well as provisions about age, working conditions and fair wages for all workers (see International Labour Organization, Conventions and Recommendations).
History of the issue
Child slave labor has been a known disturbing part of the chocolate industry since 1998, when UNICEF investigators found cacao farmers in Africa's Ivory Coast relied on labor from enslaved children — many from surrounding countries — to cultivate and harvest cocoa beans. An estimated 69 percent of the world's cacao comes from West Africa.
Since then, other studies have reported more than 1.8 million children work in West Africa's cocoa industry. Many work in dangerous conditions, such as applying pesticides without protective clothing. Some are trafficked and sold off to provide labor.
These practices in the supply chain are contrary to what PCC shoppers expect. That's why we set our new standard.
Implementing the standard
We often get questions about product standards in every department, from meat and fish to produce and grocery. Often the answers are complex and involve research and discussion. For this reason, PCC has a quality standards team that continually reviews ingredients and products and recommends policies to our buyers and management.
Chocolate is one example illustrating how this process works. We've been concerned about the labor issues in the chocolate business for many years. We published articles in the Sound Consumer, and our product selection includes many organic and fair trade chocolates. We didn't know all our chocolates were produced according to fair labor principles, however, so we set out to find out systematically.
Collecting information
We gathered information about each company and classified brands into three categories:
Brands with independent, third-party fair labor certification from a certifying agency such as Fair Trade USA, Fair for Life (IMO) or the Rainforest Alliance.
Brands that do not have third-party certification but provide assurance they source cacao ethically.
Brands that have no fair trade policies in place.
We were pleased the vast majority of our brands were in categories 1 and 2. Out of 57 brands sold at PCC, only three (Euphoria, Scharffen Berger, and Hammond's) were in category 3, making no claims about fair labor.
But what about those category 2 brands? If they weren't third-party certified, how could we be sure they really were sourcing cacao ethically and had fair labor programs in place?
We sent letters to all our chocolate vendors asking them to complete questionnaires about their chocolate sourcing and sign affidavits ensuring their cacao is sourced in accordance with our new standard. We discontinued brands that did not return the affidavits.
Chocolate at PCC
Brands with third-party fair labor certification:
Alter Eco Foods
Amy's Kitchen
Blanxart
Cavalier Belgian Chocolate
Coconut Secret
Dagoba Organic Chocolate
Divine Chocolate
Endangered Species Company
Equal Exchange
Green & Black's Organic
Justin's Nut Butter
Lily's
Newman's Own Organics
Nirvana Chocolates
Nibmor
Pascha
Ripple Brand Collective/BarkTHINS
Sjaak's Organic Chocolates
Solstice Chocolate
Sunridge (dark chocolate raisins and almonds)
Sunspire (chocolate chips)
Taza Chocolate
Theo Chocolate
Sun Cups
Brands not third-party certified but that have provided assurance they source cacao ethically:
B.T. McElrath Chocolatier
Blommer
Coco Polo (Blommer)
Cordillera Chocolates
Chocolate Conspiracy
Chocolopolis
Chocolove
Chuao
Dick Taylor Chocolate
Dilettante Chocolates
Enjoy Life Foods
Fran's Chocolates
Guittard
Heavenly Organics
Hot Cakes Molten Chocolate Cakery
Jo's Candies
Judy's
Lillie Belle Farms Artisan Chocolates
Nirvana Chocolate
Ocho
Original Beans
Pretzel Perfection
Rapunzel Organic cocoa powder
Righteously Raw
Seattle Chocolates
Sunridge
Sunspire (chocolate products other than chips)
TerrAmazon
Twila's English Toffee
Vintage Plantation
"This is an important step for PCC," says director of merchandising Russ Ruby. "We want our customers to know the chocolate they buy was produced with respect to the well-being of the people who produced it."