Is irrigation sustainable for Washington farmers?
by Daniel Jack Chasan
This article was originally published in September 2012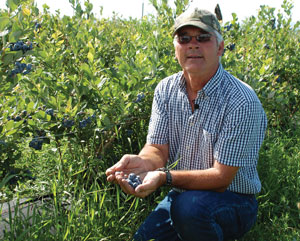 Limited water supplies and who controls them have defined the history of the American West for centuries. Conflicts over water are certain to increase with global warming and a growing population.
When Blaine Harden, who grew up in Moses Lake, took a leave from the Washington Post and returned to write "A River Lost," he was struck by the irony of the world where he had grown up: Everyone hated the federal government, but everyone lived on government subsidies or government jobs.
Today, with the rivers spoken for in many ways, every economic user of the Columbia or Yakima River is subsidized. The question becomes who gets the subsidies and who doesn't.
History
Since the early 20th century, the federal government has paid most of the bills for moving water to the dry land east of the Cascades. The mammoth Columbia Basin Project, which carried water to the Moses Lake area, was launched under the New Deal. It takes water from Lake Roosevelt, created by Grand Coulee Dam, and uses power generated at the dam to pump it uphill to a network of canals.
The original idea was to irrigate 1.1 million acres. But some farmers didn't want federal water. So the feds decided to build the project in two stages. Phase One was completed in the late 1960s. By the mid-'70s, the way seemed paved for the start of Phase Two.
But a lot of farmers didn't want the water at the going price. "We're asking for nothing," one dryland wheat farmer complained. "It's hard to get nothing."
The numbers didn't work out anyway. Washington State University economists made it clear the project would be a loser. The General Accounting Office confirmed their findings.
And yet … here we are again. Six years ago, the Washington legislature passed a law that set up a fund to study and plan new water projects. It placed special emphasis on rescuing farmers who, for half a century, had been pumping "fossil" water from the plummeting Odessa aquifer, which lies beneath Phase Two land.
An Environmental Impact Statement on building enough of Phase Two to irrigate the Odessa area shows it still would lose money. But some work already has been financed by the federal economic stimulus, and huge pipes that would take water under Interstate 90 east of Moses Lake already are in the ground.
There's plenty of déjà vu in the Yakima Valley, too. There, the federal government acquired and enlarged privately built canals at the turn of the 20th century. In the 1970s, environmentalists helped beat back a proposal to increase water storage in the Yakima system by raising the Bumping Lake Dam and flooding acres of old-growth trees. A few years ago, the Bumping Lake Dam project resurfaced, in somewhat different form. There are new rationales. But some people who fought the 1970s proposal see the same old impulses at work and don't see why society should consider new storage until people start using the existing water more efficiently.
Sustainable water use?
Some Washington farmers already use water more efficiently. Mark LaPierre, whose Zillah orchard produces fat blueberries, sweet Rainier and Bing cherries and nectarines for PCC, says, "When we first started farming, the farm did not have a sprinkler on it. It was all open-ditch irrigation. That didn't last very long."
LaPierre started with impact sprinklers, then went to micro-sprinklers, and finally to drip irrigation. Having more control over the water enabled him to grow better fruit. He soon found he "could keep the soil moisture levels longer in the optimum range," rather than just periodically flooding the soil and letting it dry.
Chinook Winery's Kay Simon and Clay Mackey produce wines from grapes grown on their small acreage near Prosser and other grapes grown nearby. They started by buying an old cherry orchard. There was a pipe at the top of the orchard, Mackey recalls. "You'd open a valve and run the water down the ditch" between the rows of trees. Now, they have a drip irrigation system, too. "During the hottest part of the summer, once a week we might put six to eight gallons on a plant."
Large areas of eastern Washington support ranching or dryland wheat farming, which means the land is not irrigated; the farmer relies on rainfall. For anything else, farmers need more water than nature provides. Is this "sustainable"?
WSU agricultural economist Philip Wandschneider says, "I guess there are 50,000 definitions of sustainability." But by any rigorous definition, the answer is "no."
"We have seen orchards where they have cut water off," LaPierre says, "and they don't make the year." After all, "we're a desert country."
Chinook's Mackey says some growers in traditional wine areas look down on growers who irrigate. In eastern Washington, however, wine grapes need roughly twice as much water as nature provides.
If foreign growers scorn irrigation, one should "just show them a picture of sagebrush," Mackey says: "'This is what it would look like if you didn't.'"
Should we be growing crops on arid land? That has been asked and answered — in the Columbia Basin, in California's Central Valley, and in Arizona by the Hohokam a thousand years ago.
Pressures on water are going to increase. The types of farming we pursue in the years ahead will determine how acutely we feel the effects of the diminishing supply.
Daniel Jack Chasan is a journalist, author and lawyer whose work often appears in Crosscut.