5 Tips for Grilling the Perfect Burger
This article was originally published in June 2017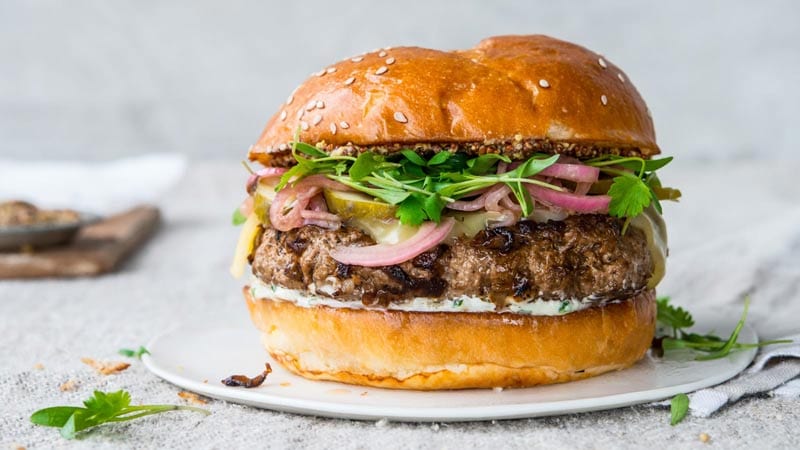 Whether you're a year-round griller or wait until the sun is out, there's no better way to celebrate summer than throwing a burger on the grill. Keep these tips in mind and your backyard barbecues will yield tastier results.
1. Fat content is the most crucial factor in grilling a juicy and flavorful burger.
If your beef is too lean, your patties will either fall apart and require a binder such as egg yolk to hold them together, or end up extremely dry — aim for 15 to 20 percent fat. PCC's 85 percent lean ground beef from Oregon Country Beef is a great option for grilling. Plus, it's Non-GMO Project Verified and ground fresh daily in-store.
2. The key to tender burgers is not overworking the meat.
Gently fold, roll and compress the ground beef in your hand as little as necessary to form a patty. Over-mashing the meat will make for a dense, tough and chewy burger.
3. The optimal thickness for a grilled burger is 3/4 of an inch thick.
Too thin and it will break apart or dry out while grilling, too thick and you'll end up with a burger that's done on the outside and raw in the middle. To prevent from puffing and bulging, use your thumb to make a deep depression in the center of each patty.
4. Keep your bun-to-burger ratio in mind.
That juicy fat that makes your burger taste great is going to melt and drip away, causing your burger to shrink! Make sure your patties are wide enough to stick out a 1/4 inch or so all the way around the bun.
5. Flip once.
Fight temptation and never press down on your burgers with a spatula! Every poke and prod will release the juice that keeps a burger moist and tender. Cook over direct heat for about 3 minutes. Flip and continue to cook for about 3 more minutes. The USDA recommends cooking ground beef to an internal temperature of 160° F.
Grass-fed beef at PCC
Besides its great taste, grass-fed beef is leaner and boasts higher levels of omega-3 fatty acids, the bonus of a diet rich in forage. If you choose to use it, our number one tip: Don't overcook! Grass-fed beef takes 30 percent less time to cook and will dry out if cooked too long or at too high of a temperature. It's best served medium-rare.
We offer certified organic, 100 percent grass-fed, grass-finished cuts and ground beef from Western Grassfed Beef, which comes from cattle raised in Northern California and the Northwest.