Raise a stink
This article was originally published in November 2016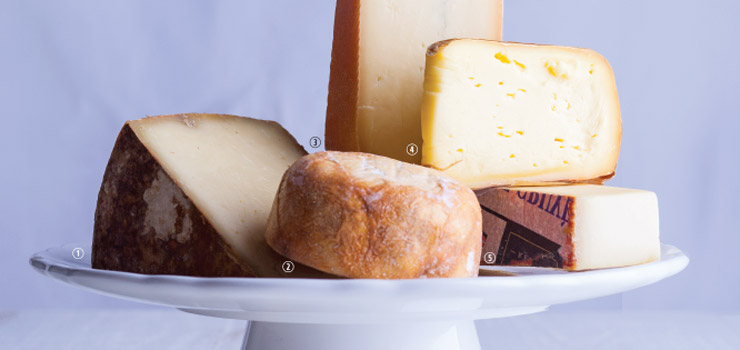 Upon first whiff, most washed-rind cheeses will you have you wondering whether or not it's time to send them to the compost bin. But that magnificent stink is nothing to shy away from. These rich, creamy cheeses date back to the monasteries of the Middle Ages, when monks began bathing the outside of the rind in saltwater or some kind of booze to help preserve the cheese and add complexity.
When the cheese is washed bacteria develops, leading to that characteristic stink along with other unique traits, including the texture, flavor and reddish-orange rind. Cheese that has a high moisture content, such as taleggio, becomes creamier and oozier with age, whereas low moisture cheeses, such as Gruyère, become firmer and drier with age.
Most washed rind cheeses have big, meaty flavors; at times, the fermented funkiness can almost taste sweet. They're best served at room temperature and with floral or fruity beverages — think Rieslings or Belgian ales.
Tieton Farm & Creamery Venus
Made from a blend of goat and sheep milk produced on Tieton Farm in the Yakima Valley, this cheese is bathed in hard cider from Tieton Cider Works and aged four to eight months for a truly local flavor.
Cowgirl Creamery Red Hawk
The wild bacteria that defines this bold, sumptuous triple cream is native to Point Reyes, Calif., where the cheese is made. Aged four weeks, the cheese is certified organic and uses milk from neighboring Straus Family Creamery.
Cascadia Creamery Sawtooth
Named for the nearby Sawtooth Huckleberry Fields on the shoulder of Mt. Adams, this semi-soft cheese from Trout Lake, Wash., has a fudgy texture. Certified organic, it's aged 60 to 75 days and offers a complex, peaty flavor.
Farms for City Kids Foundation Ashbrook
Inspired by French Morbier-style cheese, this semi-soft wheel from Spring Brook Farm in Reading, Vt., is aged 10 weeks. Proceeds from the cheese support Spring Brook Farm, which acts as an outdoor classroom where inner-city kids learn about sustainability.
Mifroma Cave-aged Gruyére
Cave-aged for 11 months in sandstone caverns in western Switzerland, this cheese is made from raw cow's milk. Hard and crumbly, it has a distinctive crystalline crunch and full-bodied flavor with an extra bite.