Spring planting
This article was originally published in April 2016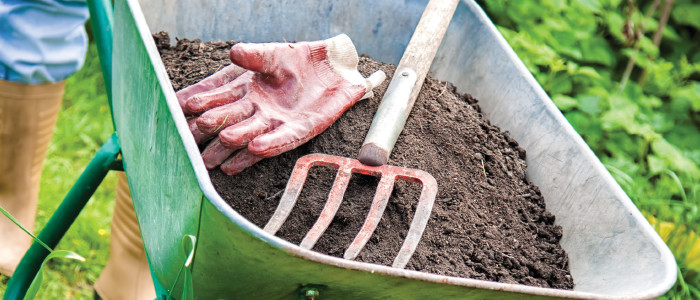 Get scrappy
3 DIY projects from the produce department 
1. Ginger root
Ginger makes a great houseplant; light sun, damp soil and a wide, shallow pot are all it needs. Choose a knob with several eye buds on it, plant with the eyes pointing up (you can break the knob into several pieces if you like) and you'll see a few green shoots within a few weeks. You can harvest small pieces from the knob in 4 months, and continue doing so as long as the plant is healthy.
2. Green onions
Trim off the bottom two inches of white onion, keeping the roots intact. If it's not the dead of winter, you can plant them straight into a garden bed or container. Water lightly (if nature doesn't provide) and you'll soon see new green growth. Snip off as needed, or let mature and harvest tasty edible blossoms in midsummer. Leeks and fennel can be grown the same way — just plant a decent section of the white base.
3. Garlic & garlic scapes
Break apart individual cloves and tuck them into a well-drained area. Each clove should be buried 2 inches deep and 4 inches from its neighbor, with the pointy end up. Water regularly in summer, and harvest a few weeks after the leaves die back. Curly and fragrant scapes are grown from hard neck garlic varieties, available to buy at the end of summer.
Spectacular seeds
Bellingham, Wash.-based, family-owned Uprising Seeds grows a wonderful variety of fun seeds to try, including three tempting new tomato varieties for 2016 (you'll want to dry plenty of Fiaschetto di Manduria plum tomatoes for winter). Two fantastically fragrant flowers are the new Nimbus Sweet Pea (with a beautiful two-tone violet petal) and the wisteria-scented, periwinkle-colored Bees' Friend. Dry beans are an easy addition to the garden: Look for the Whidbey Island heirloom Rockwell bush bean, or the inky black Basque pole bean Alubia di Tolosa. Or, for a spectacular fall treat, plant the creamy and sweet Black Futsu winter squash.
Plant starts
If you're too impatient to start from seed and want more variety than can be offered from kitchen food scraps, head to our selection of plant starts, where you'll discover popular strawberry cultivars and culinary herbs, along with peas, lettuces and other leafy greens. Unlike many plant starts, ours are all certified organic and haven't been treated with chemicals that may be harmful to pollinators.