PCC Bakery cookies
This article was originally published in April 2016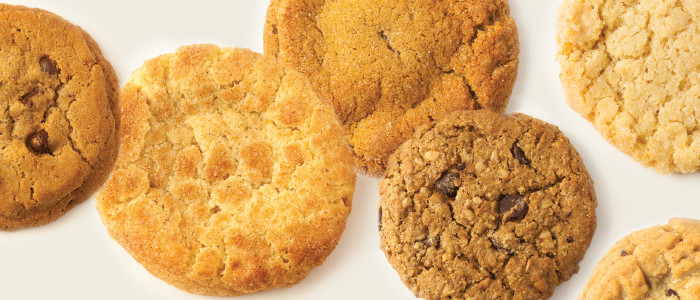 Cookies are the most popular item at the PCC Bakery and for plenty of tasty reasons. Since each batch is baked fresh with high-quality ingredients, including organic flour, cane sugar and eggs, you can feel good about these treats.
It's no surprise that chocolate chip is our bestseller — it's the most popular cookie variety across the country. We've tried to make sure everyone can enjoy nibbling on this cookie, so along with the classic butter 'n' egg recipe we also bake versions that are wheat free (with organic brown rice flour) and vegan.
You'll find a lot of variety in texture across our cookies, from a delicate gingersnap to chewy snickerdoodles to hearty flourless peanut butter oatmeal (the latter is a great breakfast cookie). Our bakers introduce new recipes, too, like a recent addition of the fresh and citrusy "put the lime in the coconut" sugar cookie.
Tubs of our mini cookies (each container holds 18 cookies) are perfect for party snacks or treats at the office. You'll find chocolate chip, peanut butter and snickerdoodle. If you want to pick up a variety, call the store of your choice for an assorted tray of our cookies, bars and brownies; they're available in two sizes.
If you'd like to read the complete ingredient lists or nutrition facts for any of our cookie recipes, you can find the PCC Bakery products search tool.
Special diets
If you're looking for vegan or wheat-free cookies, we have them! Our kitchen is not certified gluten free, but several recipes use rice flour. Cookies are clearly labeled in the stores so it's easy to spot what you need.