One ingredient, five ways: Corn
This article was originally published in September 2015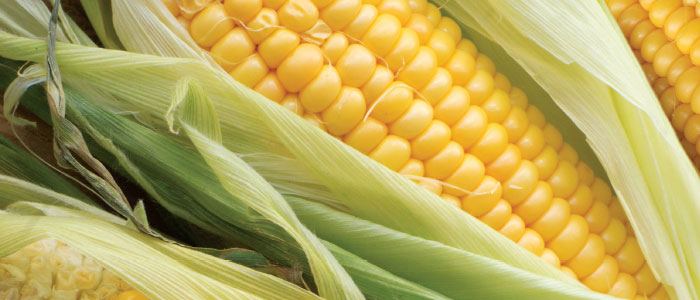 Corn on the cob is a perfect food — sweet, juicy, with just the right amount of crunch. It's a messy treat that's a symbol of summer, especially when grilled and then smothered in butter. While you should eat corn on the cob, and lots of it, the fresh kernels can be used in many other mouthwatering ways. You'll find locally grown corn from Rents Due Ranch in Stanwood, Wash., in PCC stores in September.
Pesto
Puree fresh corn kernels with Parmesan and walnuts for a creamy, rich pasta sauce in our recipe for Fettuccine with Fresh Corn Pesto. The pesto can be made on its own too and added to scrambled eggs or used as a topping for pizza or fish.
Chowder
A not-too-heavy Tarragon Corn Chowder is just right for September when outside temperatures are still likely to be warm. Corn cobs create a rich broth that is further brightened by white wine and fresh tarragon.
Cool salad
Raw corn kernels, diced cucumbers and bell peppers provide fantastic texture in our recipe for Crunchy Corn-Dill Salad with Buttermilk Dressing. The cool, creamy dressing makes it a refreshing side for lunch or dinner.
Warm salad
Grilled corn offers a subtle smokiness to our Grilled Corn and Kale Salad that features a bright lime dressing and cherry tomatoes. This dish is summer's swan song — fresh and green but hearty too.
Cake
Turn corn into dessert with a rustic cake that features a combination of masa harina and fresh corn kernels. A blackberry compote tops it all for a delicious, seasonal treat.
Or get all five recipes here »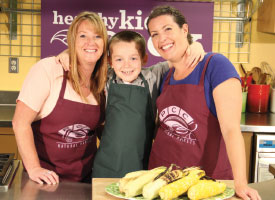 Healthy Kids Cook: Mini Corn Quiches
Use fresh corn in these easy-to-make quiches that are perfect for an on-the-go breakfast or lunch.