What's in store for July
This article was originally published in July 2015
Local hot dogs
In the meat & refrigerator cases
When it comes to easy summertime grilling, look no further than the delicious simplicity of our outstanding hot dogs. Options include grass-fed all-beef franks from Three Sisters farm in Coupeville, Wash. (they're a whopping quarter-pound each), along with Hempler's Old Fashioned Franks, made in Ferndale, Wash. They're gluten-free with no added nitrates or nitrites, and crafted from nicely spiced beef.
Vegans and vegetarians — and really, everyone else, too — will appreciate the well-seasoned, locally made, grain-based Field Roast options; the Italian Sausage variety is versatile and delicious, while the Mexican Chipotle is designed for the serious heat lover.
---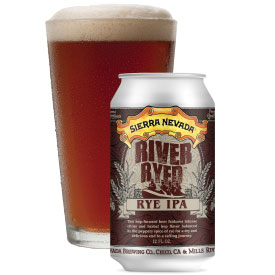 Sierra Nevada River Ryed IPA
In the beer case
This beautiful deep red beer is hop-forward, featuring intense citrus and herbal flavors balanced by the peppery spice of rye. Available just for the summer season in 12-pack cans, a portion of the proceeds is donated to the Big Sheep Creek projects of the Western Rivers Conservancy, which protects outstanding river ecosystems in the western United States. They acquire land to conserve critical habitat, provide public access for compatible use and enjoyment, and help secure the health of complete ecosystems.
---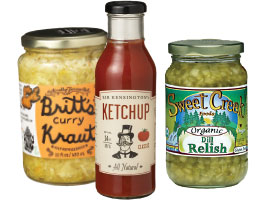 The perfect condiments
In the PCC deli & grocery departments
Britt's Pickles Black Market Kimchi, Caraway Kraut and Curry Kraut
Sauerkraut and kimchi might be top of the "love 'em or hate 'em" list, but the tangy crunch of these locally made fermented condiments are an excellent complement to the succulent richness of grilled sausages and hot dogs.
Availability varies by location.
Sweet Creek Dill Pickle Relish
For somewhat mysterious reasons, most pickle relish is made from sweet pickles, even though dill pickles are vastly more popular in the realm of pickles. Oregon-based Sweet Creek wisely cooked up a gluten-free organic dill pickle relish with a salty, tangy and lightly spiced flavor, just like your favorite dill pickle.
Sir Kensington's Ketchup
Substantially lower in sugar and sodium than typical ketchup, these two ketchup flavors (Classic and Spiced) are delicious choices for those who reject mustard in flavor of tomato-based condiments. They're both Non-GMO Project Verified, too.