Gluten-free favorites
This article was originally published in May 2015
The world of gluten-free foods has made enormous strides in the last few years, giving those with gluten sensitivities a chance to enjoy their favorite sandwich or a bowl of cereal once again. At PCC, you'll find more than 5,500 gluten-free products throughout our stores, identified by an orange marker on the shelf label. Here's a glance at some of the most popular gluten-free foods you'll find in our aisles.
Crackers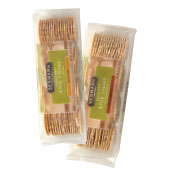 Runners-up
Sesmark Rice Thins: Lightly baked, these crackers offer toasty flavor and a delicate crunch. Try them in Brown Rice or Sesame flavors and enjoy as an appetizer with your favorite cheese or pair with soup.
Top favorite
Mary's Gone Crackers Original Crackers: Whole grain brown rice,
quinoa, flax and sesame seeds combine for a rich, earthy flavor in this organic cracker.
Blue Diamond Almond Nut Thins: Made from rice flour and almonds, these crackers offer three grams of protein per serving.
---
Breads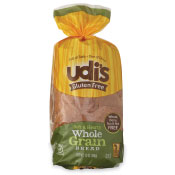 Top favorite
Udi's Gluten Free Whole Grain Bread: Enjoy the luxury of bread again with this hearty loaf that features bold, wholesome flavors. Also try Udi's Gluten Free White Sandwich Bread for a light and fluffy option, and Udi's Gluten Free Millet-Chia Bread for a bread made with hearty ancient grains.
Runners-up
Canyon Bakehouse Gluten Free 7-Grain Bread: Loaded with healthy whole grains and touched with a hint of sweetness, this bread is a tasty, versatile choice.
---
Cookies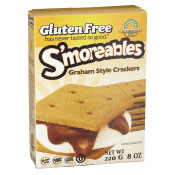 Top favorite
Kinnikinnick Foods S'moreables Graham Style Crackers: Pull out the marshmallows and chocolate and enjoy the classic campfire treat with these graham crackers, or use them to make a graham cracker crust for cheesecake and pie.
Runners-up
Glutino Gluten Free Wafers: These sugary wafer cookies are light and crispy. Try Lemon for a tart, zingy treat or go creamy with Milk Chocolate.
Pamela's Chunky Chocolate Chip Cookies: Featuring large chocolate chunks, this traditional chocolate chip cookie will satisfy your sweet tooth.
---
Cereals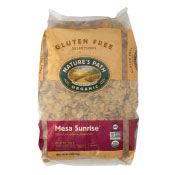 Top favorite
Nature's Path Mesa Sunrise Flakes: A medley of corn, flax and amaranth are blended into crunchy, golden flakes and naturally sweetened to offer a certified organic cereal that also is Non-GMO Project Verified. Also try Mesa Sunrise Flakes with Raisins.
Runners-up
Arrowhead Mills Organic Gluten Free Maple Buckwheat Flakes: This whole grain cereal is reminiscent of grandma's buckwheat pancakes covered with maple syrup.
KIND Vanilla Blueberry Clusters with Flax Seeds: A blend of oats, brown rice, buckwheat, millet, amaranth and quinoa mingle with the flavors of blueberry and vanilla.