Bubbles: A guide to choosing a bottle or two
This article was originally published in December 2014
The words "sparkling wine" are nearly synonymous with Champagne, which is perfectly understandable given the almost mystical aura surrounding that legendary beverage. Yet Champagne is just one shade in a dazzling palette of bubbles, each offering an expression of its region and the great majority of which can be had for a fraction of the cost of their aristocratic cousins. Here are a few of our favorite regions and producers. Cheers!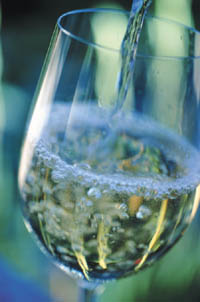 Cava!
Everyone knows about Cava: Spanish, fizzy, cheap, the stuff mimosas are made of, the fizz you drink when you're on a serious budget, right? Well, yes, sort of. But that's just one facet of a fascinating style that offers wines every bit as enchanting as their cousins from Northern France, with a distinctly Iberian accent. Cava is produced throughout Spain, but the most definitive wines, capable of the most elegant expression, tend to come from Catalonia. Using three grapes — macabeo, parellada and xarel-lo — these wines are generous, but bright and elegant, with citrus notes and a distinctly Mediterranean accent.
Bottles to try
Avinyo Reserva Brut
Girot Ribot
Vega Medien Brut or Rosé
Italian. Red. Sparkling.
Prosecco and Moscato are the darlings of Italian bubbles: stylish, easy to pronounce and pretty much ubiquitous. But among Italy's undiscovered treasures are its sparkling red wines: lively, effervescent, refreshing, and perfect for drinking throughout a meal, particularly of savory, robust fare. Lambrusco is the best known of these, but we're not talking the fizzy, sweet stuff of the '70s and '80s; instead, think dry, perfectly ripe cherry flavors and an enticing earthy waft. It's a refreshing, festive wine. We've also just been introduced to a gorgeous, dry, black raspberry-tinged wine, made of bonarda, from the Oltrepò-Pavese region. It's called Castello di Luzzano "Sommossa" and it's absurdly delicious.
Bottles to try
Coviolo Lambrusco Secco
Cleto Chiarli Vecchia Modena or Rosato
Castello di Luzzano "Sommossa"
Farmer fizz, aka "grower" Champagne
The mere word "Champagne" evokes images of luxury, pleasure and a handful of iconic brands that dominate, and define, the market. It's a lovely drink but the loveliest thing is that the most expressive, character-driven wines come from the smallest domaines and are often significantly less expensive than their more renowned counterparts. These wines literally are labors of love: produced from vineyard to bottle, from pruning to packaging, by the vignerons who grow the grapes they're made of — hence the term "grower" Champagne. For a real treat, and a taste of the character of Champagne's diverse regions, these are fascinating wines to discover.
Bottles to try
Florence Duchêne "Tradition"
Gaston Chiquet "Tradition"
Chartogne-Taillet "Ste. Anne"
R. Dumont "Tradition"
Don't forget: Effervescence is always stylish, always in season — and with these lovely, affordable sparklers, you can turn any day of the year into a celebration!