Edible gifts for the food lover in your life
This article was originally published in December 2012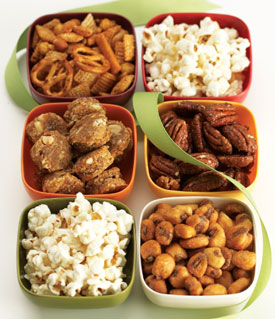 When you're on the hunt for just the right gift, consider creating a collection of favorite edibles based around a theme. Artisanal cheese, fancy caramels, gorgeous olive oil, fine salami and the like delight the senses without creating yuletide clutter.
Here are four collections handpicked by our staff.
Snack happy
Leon from our PCC Deli team recommends this collection of snacks to enjoy around the house or to stuff in the pack on trips up to the mountains.
PCC Bakery Honey Nut Clusters, which Leon describes as "little disks of tasty goodness."
PCC Bakery Party Mix, our very own irresistible snack replete with pretzels, cheese sticks, nuts, seeds, zesty spices and made savory with vegan Worcestershire sauce.
Quicos, Spanish corn kernels soaked in water and then roasted or fried to crunchy perfection.
Uncle Woody's Truffle Salt Popcorn, small batch popcorn made in Seattle with real black truffles.
PCC Spicy Maple Pecans, just right with a cold brew or hard cider.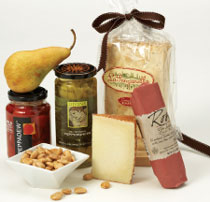 Antipasto delights
Jill from our PCC Deli team recommends this collection for anyone who likes to entertain. Add your favorite cheddar, Gruyere or Emmenthaler to complete the set.
Divina All-natural Pepperoncini, pickled peppers that make each bite merry.
La Panzanella crackers, the classic tabula rasa for nearly any topping.
Peppadew peppers, whole, brilliant, red piquant peppers from South Africa.
Some of our fine salami, including Volpi Rose, Mondo or Iberico.
PCC Marcona Almonds, the perfect mix of salty and sweet.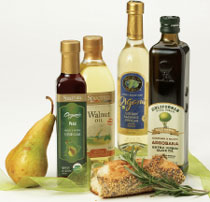 The perfect vinaigrette
These oils and vinegars just deserve to be together, declares PCC Chef Lynne Vea. Choose your favorite duo to give, or present all four to your favorite home cook.
DUO 1: California Olive Ranch Extra Virgin Olive Oil and Spectrum Organic Golden Balsamic Vinegar.
"Pretty, floral and well balanced olive oil meets slightly sweet, complex vinegar with a lighter flavor than its red cousin."
DUO 2: Priorat Natur Neus Arbequina Extra Virgin Olive Oil and Napa Valley Naturals Fig or Blood Orange Balsamic Vinegar.
"Single variety arbequina oil, the darling of Spanish olives, is perfectly matched with the Mediterranean fruits in these lighter, full-flavored balsamics."
DUO 3: Lucini Extra Virgin Olive Oil and Lucini Gran Reserva 10 Year Balsamic Vinegar.
"This blend from Tuscany — where the olive trees are literally as old as the hills themselves — smells like blossoms, stones and green peppercorns, and calls for truly full-flavored vinegar. These are two of my favorites."
DUO 4: Spectrum Walnut Oil and Spectrum Organic Pear White Wine Vinegar.
"Delicate and classic walnut oil cries out for this vinegar, which is light and full of sweet pear flavor."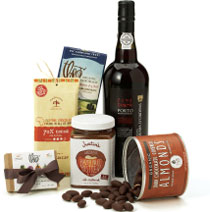 Chocolate heaven
Eli from our public affairs team is a self-professed chocoholic and has led chocolate tastings in our stores. Here are some of her very favorites.
Theo Mirepoix caramels, a new addition to the local chocolatier's sweet lineup.
Madecasse 70% dark chocolate bar, made bean-to-bar in Madegascar and "best in show" winner at the New York Chocolate Show.
Theo/PCC Farmland Trust Organic Fair Trade Cherry & Chili Dark chocolate bar ­­— Crafted with local peppers and cherries. Fifty cents from the sale of each bar purchased at PCC is donated to PCC Farmland Trust.
Justin's chocolate hazelnut butter. Says Eli, "Unlike a certain mainstream chocolate-hazelnut spread, sugar isn't the main ingredient — Oregon hazelnuts are! Delicious on crepes, apple slices or eaten by the spoonful."
Quinta Seara D'Ordens Fine Tawny Porto — A rich, velvety wine alive with the scent of dried fruit, walnuts, almonds and hazelnuts, just right to savor with chocolate delights.
Taza organic chocolate covered almonds — Organic, California-grown almonds roasted to toasty perfection, then coated in a thick layer of stone-ground chocolate.