Seasonal beverages
This article was originally published in December 2012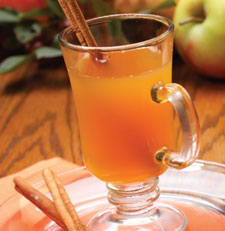 Stock up on beverages made by folks who care about what goes into their products and toast the holiday season with these festive drinks — perfect for sharing with a house full of guests or savoring privately when the crowds clear out.
Straus Family Creamery Eggnog — Indulge in this good-as-homemade organic eggnog, a delicately sweetened blend of milk, cream, sugar, egg yolks and a sprinkling of nutmeg, and you'll know that the milk came from happy cows. In fact, Straus cows graze on grass during the day and sleep on padded mats in an open barn at night. Who knew? Eggnog sold in a reusable glass bottle. Available November through January.
R.W. Knudsen Family Cider & Spice — A PCC Kid Picks choice, this refreshing medley of apples, allspice, cinnamon, cloves and citrus peel is a good one to have on hand for the whole family. Serve it cold or warm it up and fill your home with its fragrant aroma. Cider & Spice is made with 100 percent juice, with no added sugar.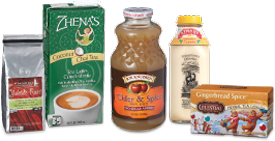 Fidalgo Bay Coffee Roasters Organic Yuletide Coffee — Skagit Valley's Fidalgo Bay has produced another outstanding small-batch Yuletide coffee this season. Savor the smooth, full-bodied, medium-dark-roast blend, replete with notes of vanilla and cocoa. Yuletide's fair-trade, shade-grown beans come from the La Florida co-op in Peru, which helps protect the region's biodiversity and uses revenues to fund educational, environmental and social program. Sold in bulk and available November through December.
Zhena's Gypsy Tea Chai Latte Concentrates — Relish the blend of organic black tea, cinnamon, ginger, cardamom and organic agave nectar, either with a touch of Caramel, Coconut or classic Vanilla flavor. Simply mix the concentrate with equal parts milk or dairy substitute and enjoy hot or iced. Zhena teas are Fair Trade Certified and the company is committed to supporting good working conditions for their tea growers.
Celestial Seasonings Gingerbread Spice Tea — Mix ginger, cinnamon, roasted chicory and barley and you have good old-fashioned gingerbread spices in a cup. All Celestial Seasoning teas are handcrafted, and Gingerbread Spice is caffeine free. During this busy season, take a moment to ponder the wisdom of one of the quotes on a Celestial Seasoning box of tea: "Nature does not hurry, yet everything is accomplished." – Lao Tzu. Available November through December.