Just the right cracker
This article was originally published in November 2012
Rather than hog the spotlight, the right crackers help a fine cheese reveal all of its subtleties. You'll know you've found them when you can't stop reaching for more. We like to keep these on hand. Find them right next to the cheese. Explore our cheese selection.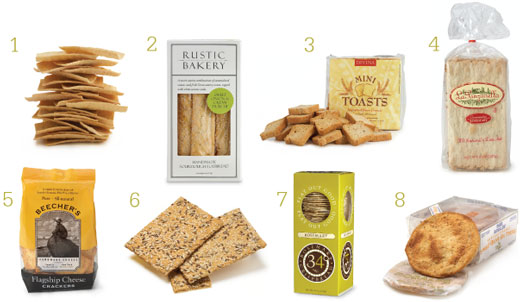 The Essential Baking Company Crackers — These versatile crackers from this Seattle bakery are a good blank slate to serve with soups, cheese, dips, spreads, just about anything!
Rustic Bakery Flatbreads — These long, slender flatbreads in a variety of flavors offer a delicious, subtle counterpoint to all manner of cheese. The Olive Oil and Sel Gris Sourdough complements all cheeses and also serves as an excellent palate cleanser for cheese or wine tasting.
Divina Mini Toasts — These fun little French imports are an ideal template for soft, spreadable cheeses. Their resemblance to tiny slices of toast makes for a sweet presentation.
La Panzanella Croccantini — These critically acclaimed, wonderfully crunchy, Italian-style sheet crackers marry well with just about any type of cheese; crack each crisp sheet into the size you need, or top with tapenade, cheese or spreads.
Beecher's Handmade Crackers — Crafted right here in Seattle, these rich, buttery, slightly nutty crackers are the ideal crunchy delivery system for Beecher's Flagship cheese.
Dr. Kracker — Pair these substantial, nutty and seed-filled snack crackers and flatbreads with sturdy cheeses like cheddar, or slather with your favorite spreads.
34° Crisps — These light, crispy, wafer-thin crackers are wonderful on their own but provide the perfect template for so many cheeses. Available in flavors both savory and sweet.
Ines Rosales Olive Oil Tortas — Wrapped in wax paper, these delicate treasures from Sevilla offer a crisp texture and slight sweetness that makes them a divine snack with after-dinner coffee or paired with your favorite Spanish cheese.
Each PCC Deli carries a slightly different variety, so call ahead to ensure your selection is available.